CrowdStrike Addresses High-Profile Breaches and More at This Year's Gartner Summit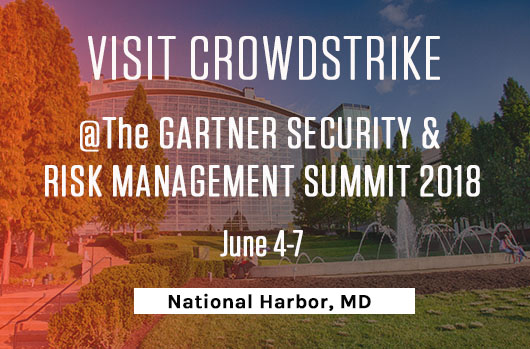 At the Gartner Security and Risk Management Summit 2018 in June, CrowdStrike CTO and Co-Founder Dmitri Alperovitch will offer a deep dive into some of CrowdStrike's most interesting breach investigations over the past year. Alperovitch will first present new methods involving attacks such as credential theft and whitelist bypassing. For each attack type, he will outline the delivery, a technical breakdown, and real-world examples of attacks against organizations. He will also discuss countermeasures that can be implemented to prevent such attacks.  
As part of the session, Alperovitch will explain new research on "breakout time"  — the interval between an initial intrusion and when the attacker moves laterally to other systems — along with what it takes to respond in time to protect an organization's data and networks. The session, called "Learning from High-Profile Breaches — and Stopping the Next," will take place on Monday, June 4, at 3:15 PM.
On June 5 and 6, CrowdStrike VP of Product Marketing Dan Larson will present "A New Definition and Market Reality For Endpoint Protection." As part of the session, Larson will address Gartner's revised definition of endpoint protection platforms (EPPs), which details a framework for facing emerging security challenges, detecting malicious activity and providing investigation and remediation capabilities to respond to dynamic security incidents. This session will focus on the opportunities and realities of deploying endpoint protection aligned to this new framework.
At the Gartner Summit, which takes place June 4-7 in National Harbor, Maryland, IT and security professionals from around the world will gather to network and learn from some of the industry's most accomplished thought leaders. Attendees will be presented with leading-edge research concerning a wide range of topics, such as cloud security, privacy and securing the Internet of Things (IoT). This year's summit is expected to attract more than 3,400 technology professionals. To see a list of all sessions, visit the the Gartner Summit site.
CrowdStrike will also hold an invitation-only Executive Dinner on Tuesday, June 5, at The Bond 45 Wine Room, hosted by CrowdStrike executives. For more information, please contact your sales representative. Attendees can visit CrowdStrike at booth #819 to speak to a security specialist and watch a variety of demos, highlighting the advanced features of the CrowdStrike Falcon® endpoint protection platform. Those who attend a demo will receive a coveted TURBINE PANDA adversary t-shirt.
Learn more about the Gartner Security and Risk Management Summit 2018.