CrowdStrike Named a Leader in the 2018 Forrester Wave for Endpoint Security Suites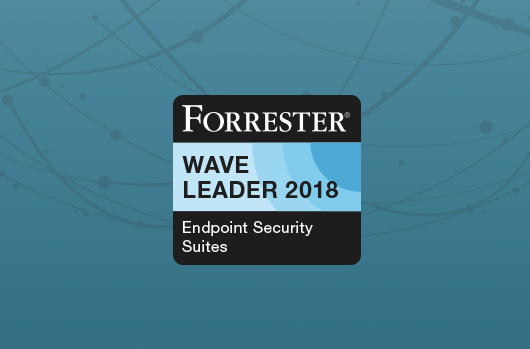 We are very excited to announce that Forrester has named the CrowdStrike® Falcon® endpoint protection platform as a "leader" in The Forrester Wave™: Endpoint Security Suites, Q2 2018. Being named the leader, in our opinion is an achievement of epic proportions — one that reflects the strength of CrowdStrike's team, focus and platform. Across the report, Falcon received the highest possible score in ten criteria, including the corporate vision and focus criterion. We think these scores not only validate CrowdStrike's position as a leader in the Wave, they are a testament to the impact Falcon's single-agent, cloud-native platform is having in every market sector.
CrowdStrike's Position Supported by the Highest Scores Possible in Ten Criteria
The Forrester Wave, an independent assessment of today's leading endpoint protection solutions, focuses specifically on the prevention, detection, response and remediation capabilities of the top solutions on the market. Not only was CrowdStrike recognized as a leader among the 15 most significant providers profiled in the report, but Forrester's experts also state that CrowdStrike has helped shape the mold for the modern endpoint security suite.
The report notes that although CrowdStrike began as an endpoint detection and response (EDR) vendor in 2012, it has evolved its offering into a highly automated suite, complete with threat prevention and multiple levels of automated detection and response. Forrester notes that compared to others evaluated in the report, CrowdStrike has superior exploit and behavioral detection capabilities.
Forrester also writes that traditional approaches to endpoint security have proven to be less effective and argues that behavioral detection has become a key differentiator in today's market. We believe CrowdStrike's alignment with this analysis is reflected in the fact that we are the only "leader" to score a perfect 5 in the area of threat detection criterion.
The CrowdStrike Falcon platform received the highest scores possible in ten criteria, including the following:
     Threat Detection
     External Integrations
     Platform Support
     Product Road Map
     Corporate Vision and Focus
     Security Community Involvement
Validation for CrowdStrike's Strategy and Commitment
We believe this year's Forrester Wave: Endpoint Security Suites is yet another critical analyst report that reflects the end-user community's acknowledgment of the rapid changes occurring across the endpoint protection market. While many security vendors have struggled to keep pace with customer demand and a rapidly changing market over the past year, we believe this report underscores how significantly CrowdStrike has distanced itself from the pack by adhering to its original strategy of developing the most all-encompassing endpoint security platform on the market. It's a strategy that continues to be validated by independent testing and analysis, and it ultimately benefits customers — where our true commitment lies. Upon our initial acceptance into the Forrester Wave in 2016, CrowdStrike had a vision of  reinventing how endpoint security is delivered and we became the first company ever to provide a complete end-to-end solution, unifying next-gen antivirus with EDR and managed hunting — all delivered via the cloud using a single lightweight agent. To date, CrowdStrike is the only company that's been able to deliver on this vision and this report provides further validation of that fact and of the efficacy of CrowdStrike's approach to endpoint security.
Download The Forrester Wave™: Endpoint Security Suites, Q2 2018.
Read the press release.
Test CrowdStrike Falcon Prevent™ next-gen AV for yourself.  Sign up for a Free Trial today