CrowdStrike "POWERS UP" Cybersecurity Professionals at Fal.Con 2018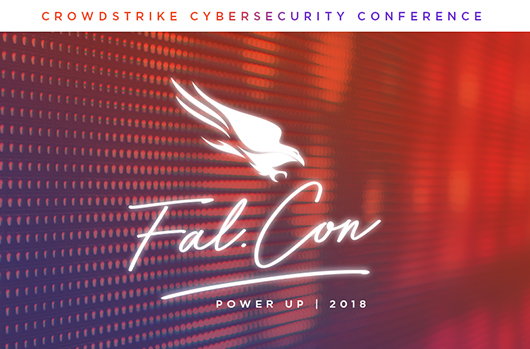 CrowdStrike's highly anticipated cybersecurity conference, Fal.Con POWER UP 2018, will soon begin and this year's event promises to be even more spectacular than the inaugural event we debuted last year. The 2018 conference is being held at the fantastic Fontainebleau Hotel in Miami Beach, September 17-19 and will bring together cybersecurity specialists and industry professionals from a wide range of organizations and regions across the globe. They will meet for 2 1/2 days of compelling keynote addresses, in-depth sessions, and the chance to share their expertise and insights with their peers.
Last year, the conference theme was "UNITE," echoing CrowdStrike's call for attendees to join us in the global fight against today's dangerous and evolving cyber threats. This year's theme, "POWER UP," focuses on helping customers and attendees better understand the technologies, people, communities and processes that empower security teams to defend their organizations against the attacks of tomorrow.
A survey of last year's attendees found that 100 percent of them would recommend the conference to a peer. Here is a typical quote from a previous attendee, "Probably one of the best conferences I have attended over the last 20 years. I thought it was incredibly valuable and was able to take a lot back to my team from the breakout sessions I attended." We were thrilled to know that our conference was so well-received and it's impelled us to raise the bar even higher for Fal.Con 2018. The good news is there's still time to register by visiting the conference registration page.
A Packed Schedule of Activities
For Fal.Con 2018, CrowdStrike® has put together an incredible lineup of renowned keynote speakers to inspire attendees and over 35 sessions offering deep-dives into the issues that are important to today's security professionals and the subjects they most want to explore. The following is a summary of this year's speakers and sessions:
Keynotes
We are very excited about this year's stellar lineup of speakers, which includes business and technology superstars such as:
Steven Wozniak, Apple Co-Founder: This Silicon Valley legend will offer a first-person glimpse of what it was like to build one of the largest technology enterprises in the world, from the ground up. Since leaving Apple, "The Woz" has engaged in numerous business and philanthropic ventures, earned a wall full of awards, and is a great storyteller and much sought-after speaker
CrowdStrike Leadership:  You'll hear from a CrowdStrike's renowned leadership team, each a highly-valued cybersecurity expert and speaker, they include: CrowdStrike CEO and Co-Founder George Kurtz, CTO and Co-Founder Dmitri Alperovitch, President of CrowdStrike Services and CSO Shawn Henry and VP of Intelligence Adam Meyers
Other Cybersecurity Leaders who will speak:
Workshops and Sessions
There will be an array of sessions and interactive workshops designed to sharpen your cybersecurity skills and expand your knowledge in a wide range of areas:
Technology and Platform: CrowdStrike customers will get a deep dive into current trends in cybersecurity technology and how CrowdStrike is applying cloud-native, next-generation tools to solve some of today's most complex security issues. Some of the session titles include, CrowdStrike Falcon® in AWS: Protection, Visibility and Response for Cloud Workloads; Adversary Tradecraft: Analyzing Threat Graph Data Through the Lens of the MITRE ATT&CK Framework; Deep Dive: Falcon Spotlight™ Product Roadmap; The Future of Container Security; Securing Cloud Environments and more.
Intel: These sessions feature CrowdStrike Falcon Intelligence™ experts offering in-depth examinations of today's most dangerous cyber adversaries, including the prevalent tactics, techniques and procedures (TTPs) they have observed: The Cyber Threat Landscape; INDRIK SPIDER: Big Game Hunting — An Inside Look at the Proprietors of Dridex and BitPaymer; Attacking Trust and the Trojan Problem; and North Korea's Cyber Threat: Breaking Down the CHOLLIMAs and more.
Customer Case Studies: Hear CrowdStrike customers discuss how the Falcon platform and CrowdStrike Services have impacted their security postures. They will also discuss the global security issues that affect organizations across a broad range of industries.
CrowdStrike Services: The elite team of CrowdStrike Services incident response (IR) experts will offer guidance on strategies, based on real-world cases they have investigated, that can improve security posture and help keep your organization from experiencing a breach — sessions include: Don't Hate. Remediate — Using Falcon Real Time Response(RTR) for Remote Remediation; and No Macros, No Problem: Attackers Use Outlook Forms for Lateral Movement and Persistence.
Falcon Training: CrowdStrike Falcon customers will get an opportunity to explore the platform's tools and capabilities in-depth, to ensure they are taking advantage of all that Falcon has to offer —  sessions include: Phishing Emails and Web Exploits — Attack Scenario; Intel Ninja Skills — How to Become a Falcon Intel Master; Falcon and the MITRE ATT&CK Framework — Better Together; How To Build A World-Class Threat Hunting Team and more.
Fal.Con POWER UP Sponsors
Our outstanding sponsors helped make Fal.Con a tremendous success last year and we've expanded our list of corporate sponsors for this year's conference. Attendees will have the opportunity to meet and power up with representatives from a vast ecosystem of respected technology partners such as Platinum Sponsors: AWS and Splunk and additional sponsors: AIG, Anomali, AttackIQ, Brite Computer, CIX, Consortium Networks, Demisto, DLT Solutions, Expel.io, ForeScout, GuidePoint Security, Interset, Ivanti, King & Union, LaSalle Solutions, NetSkope, ProtectWise, Trace3, and VMWare.
Join Us In Miami Beach
Fal.CON POWERUP 2018 will also include many opportunities to network with peers and enjoy the beautiful Fontainebleau location, right on the beach. You will be meeting and discussing today's most impactful cybersecurity issues with your peers from across all industries and regions at this global event —  hearing from world-class experts, getting hands-on training and attending in-depth technical sessions. We hope to see you there!
Register to attend Fal.Con POWER UP 2018.
Learn more about the CrowdStrike Falcon platform.
Get a full-featured free trial of CrowdStrike Falcon Prevent™ and learn how true next-gen AV performs against today's most sophisticated threats.