CrowdStrike Addresses the Need for Speed and a Proactive Approach at This Year's Gartner Summit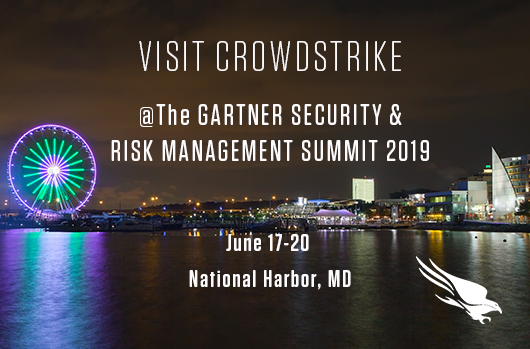 The Gartner 2019 Security and Risk Management Summit, June 17-20 in National Harbor, Maryland, will focus on the challenges presented by rapidly evolving technologies colliding with new and increasingly complex threats. CrowdStrike is uniquely prepared to meet this challenge with an understanding that speed and performance are the foundations of an effective cybersecurity defense. Our presence at this iconic annual event will focus on the need for a speedy response to threats, and the critical importance of leveraging threat intelligence to mount a proactive rather than a reactive cybersecurity defense.
Visit us at Booth #519 to participate in the compelling sessions and fun activities CrowdStrike has planned.
Solution Provider Session: The Race Against the Adversary
CrowdStrike VP of Products Dan Larson will conduct a session titled, "The Race Against the Adversary: How to Win in the Era of the 18-Minute Breach" on Monday, June 17 at 3:15 to 4:00 p.m. This important session will offer data from the CrowdStrike 2019 Global Threat Report, including new research on "breakout time," the window of time from when an adversary first compromises a machine on your network to when they start moving laterally to reach their objective.
For the first time, CrowdStrike has averaged the individual breakout times of nation-state and eCrime actors, offering organizations critical information about the targeted attacks they may be facing. You'll also learn how you can use the 1-10-60 Rule to detect and respond to adversaries before an intrusion manifests into a full-blown breach.
Executive Technology Strategy Session: From Reactive to Proactive Security
As security technology providers continue to innovate and increase their effectiveness — the adversaries targeting your organization are working just as hard to outsmart them. That's why arming yourself with relevant and contextualized threat intelligence has never been more important.
This strategy session titled, "From Reactive to Proactive: Using Threat Intelligence to Enhance Endpoint Security," will focus on the importance of keeping pace with adversary evolution and how organizations can leverage integrated threat intelligence to transcend a reactive approach and move toward predictive and preemptive cybersecurity operations. You will also learn the critical importance of automating and integrating threat intelligence via the cloud. The session will be held on Tuesday, June 18, 10:45 to 11:15 a.m, conducted by Dan Larson and CrowdStrike Director of Global Threat Intelligence Advisors Jason Rivera.
Other CrowdStrike Activities
Executive Dinner
CrowdStrike will also hold an invitation-only executive dinner on Wednesday, June 19 at the McCormick & Schmick's Seafood & Steaks restaurant. For more information, please contact your sales representative.
Welcome Reception
Join us in Booth #519 on Monday, June 17, at 5:45 p.m. for an exciting circus-themed reception where you can network with your peers and Gartner analysts and enjoy delicious desserts and beverages. You will also have a chance to participate in games and win fun prizes.
Visit our Booth and Get Your Adversary T-Shirt!
Visit our booth at any time during this event to learn about CrowdStrike's latest offerings by
speaking to a security specialist, and by watching a variety of demos highlighting the advanced, next-gen features of the CrowdStrike Falcon® endpoint protection platform. Just for watching a demo, you will receive a coveted GOBLIN PANDA adversary t-shirt.
We look forward to seeing you at the Gartner Security & Risk Summit 2019.
Additional Resources