Cybersecurity Awareness Month 2022: It's About the People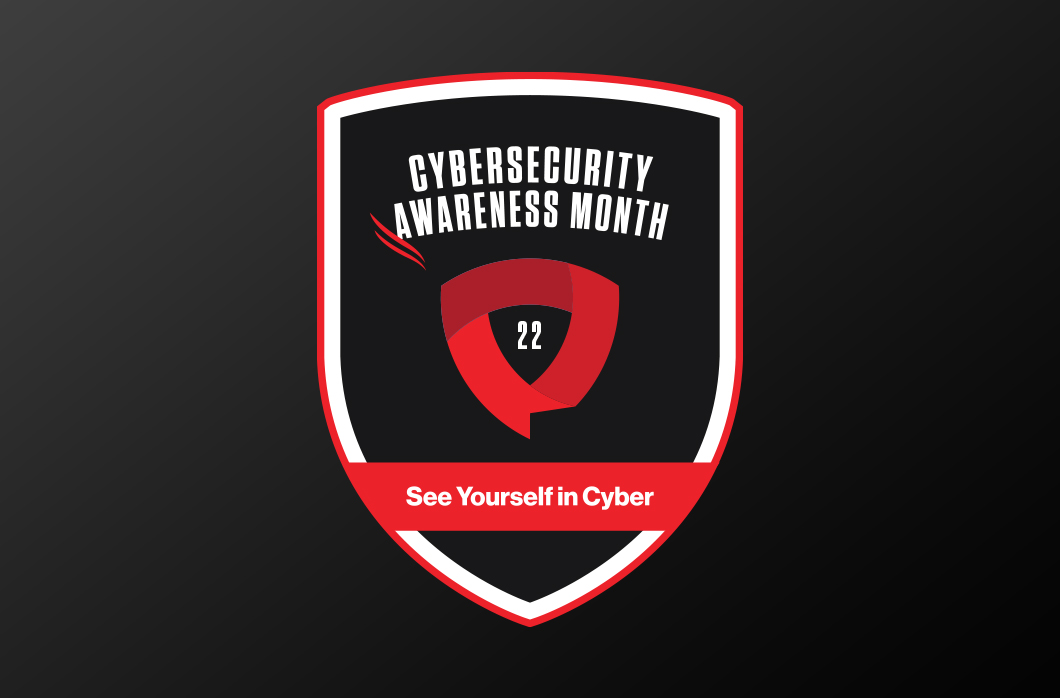 The theme for Cybersecurity Awareness Month 2022 is "See Yourself in Cyber." As Cybersecurity Awareness Month comes to a close, CrowdStrike celebrates the many ways human expertise and technology come together to create a stronger defense against adversaries.
Cybersecurity technology has come a long way in the fight against adversaries. Modern security tools help organizations strengthen defenses, detect and protect against sophisticated threats and proactively identify risks better than ever — but technology can only do so much without people behind it. As Cybersecurity Awareness Month comes to a close, we want to take a moment to celebrate the human element of security. This year's theme, "See Yourself in Cyber," puts the spotlight on people's role in cybersecurity — a role that remains essential even as technology evolves. 
Many security vendors try to convince the industry that strong security is possible without humans. This simply isn't the case. Security tools such as extended detection and response (XDR) and security orchestration automation and response (SOAR) are designed to give a boost to organizations that lack the staff needed to address a growing number of alerts. Autonomous technology can scan and prioritize events, automate repetitive tasks and identify new threats. These tools can analyze vast amounts of data with greater speed and accuracy than manual analysis alone — but can they fully protect us on their own?  
Artificial intelligence (AI) and machine learning (ML) provide essential capabilities, but they aren't the sole solution to enterprise security issues. Rather than being pushed aside by technology, people will work hand-in-hand with these powerful tools to defend against threats..   
Modern cybersecurity is always stronger with the power of people. The combination of human expertise and powerful technology is critical to stop adversaries.
CrowdStrike Fuses Industry-Leading Technology with Elite Services
The best defense against smart, determined adversaries is a combination of the best people and technology. CrowdStrike's experts use the market-leading CrowdStrike Falcon® platform to power the cybersecurity engine that protects our customers. Our people have a broad range of experience — from law enforcement, government, and the intelligence community, to people from the private sector with firsthand industry expertise. We believe bringing together the top minds from these diverse backgrounds is essential to solving security challenges that lie ahead.
Falcon OverWatch™, CrowdStrike's managed threat hunting service, exemplifies the power of human skill and industry-leading technology. This elite team provides deep and continuous analysis and hunts relentlessly for new or anomalous attacker tradecraft designed to evade standard security technologies. In 2021, the OverWatch team helped stop 77,000 potential intrusions. 
Operating an effective endpoint security program is extremely challenging. Adversaries are increasingly fast and stealthy, their attacks span time zones and holidays, and they often execute damaging intrusions in mere hours. The necessary tools to defend against these threats can be difficult to use and can require a lot of resources to implement, operate and maintain over time. Many organizations experience needless, costly intrusions as a result.
Falcon Complete™ is CrowdStrike's answer to the need for round-the-clock expertise and monitoring. Our managed service solution delivers 24/7 expert management, monitoring and response for the Falcon platform. The Falcon Complete team is made up of seasoned security professionals with experience in incident handling and response, forensics, SOC analysis, identity protection and IT administration. 
To best defend against cyberattacks, people must be prepared. Our CrowdStrike Services team helps customers fortify their organizations against potential attacks and improve their security posture through ethical hacking exercises and real-world attack simulations. Through CrowdStrike University, we offer extensive training so customers can establish their own elite teams of admins, responders and hunters with the skills to fully optimize the Falcon platform.
Human expertise plays a critical part in delivering incident response, technical assessments, training and advisory services to help organizations detect, defend against and respond to advanced threats. But it takes more than security pros to get the job done.
CrowdStrike's services lead the industry, as indicated by recognition in several recent market reports. We have been named: 
Everyone Has a Role in Cybersecurity
Cybersecurity is everyone's responsibility.  Employees can help strengthen security posture — however, it's the employer's responsibility to provide the training they need to recognize when something seems suspicious and report it.
Cybercriminals are experts in understanding and manipulating human behavior and emotions to achieve their goals. Sophisticated adversaries are creating more personalized attacks, using information from social media and company websites to target victims. Teaching people how to spot a phish, when to report suspicious messages and how to escalate their concerns, can go a long way in stopping attacks. Help employees help themselves by creating a workplace culture of security and promoting best practices in their professional and personal lives. 
Cybersecurity is always in need of more skilled people to aid in the fight against adversaries. CrowdStrike is committed to supporting the development of future cybersecurity experts: our University Program, for example, is dedicated to attracting the next generation of talent in virtually every field and welcomes college students and recent graduates to participate in a summer internship. Further, we recently announced the recipients of the NextGen scholarship awards, which go to students studying cybersecurity and AI at the undergraduate and graduate levels. We are also committed to creating a workplace where talent and technology come together to develop new products and help our customers stay secure: CrowdStrike this year was named one of the 2022 top 100 Best Companies to Work For and one of the 2022 Best Workplaces for Women. 
This year's Cybersecurity Awareness Month is about recognizing the human element of cybersecurity. Technology alone won't stop today's adversaries from breaching organizations and achieving their goals. Human expertise and technology must work together to create a strong defense and proactively detect, identify, remove and respond to adversary activity to keep organizations safe.
See for yourself how the industry-leading CrowdStrike Falcon platform protects against modern threats. Start your 15-day free trial today.
Additional Resources

Related Content