CrowdStrike Announces Special Offer for Symantec Enterprise Customers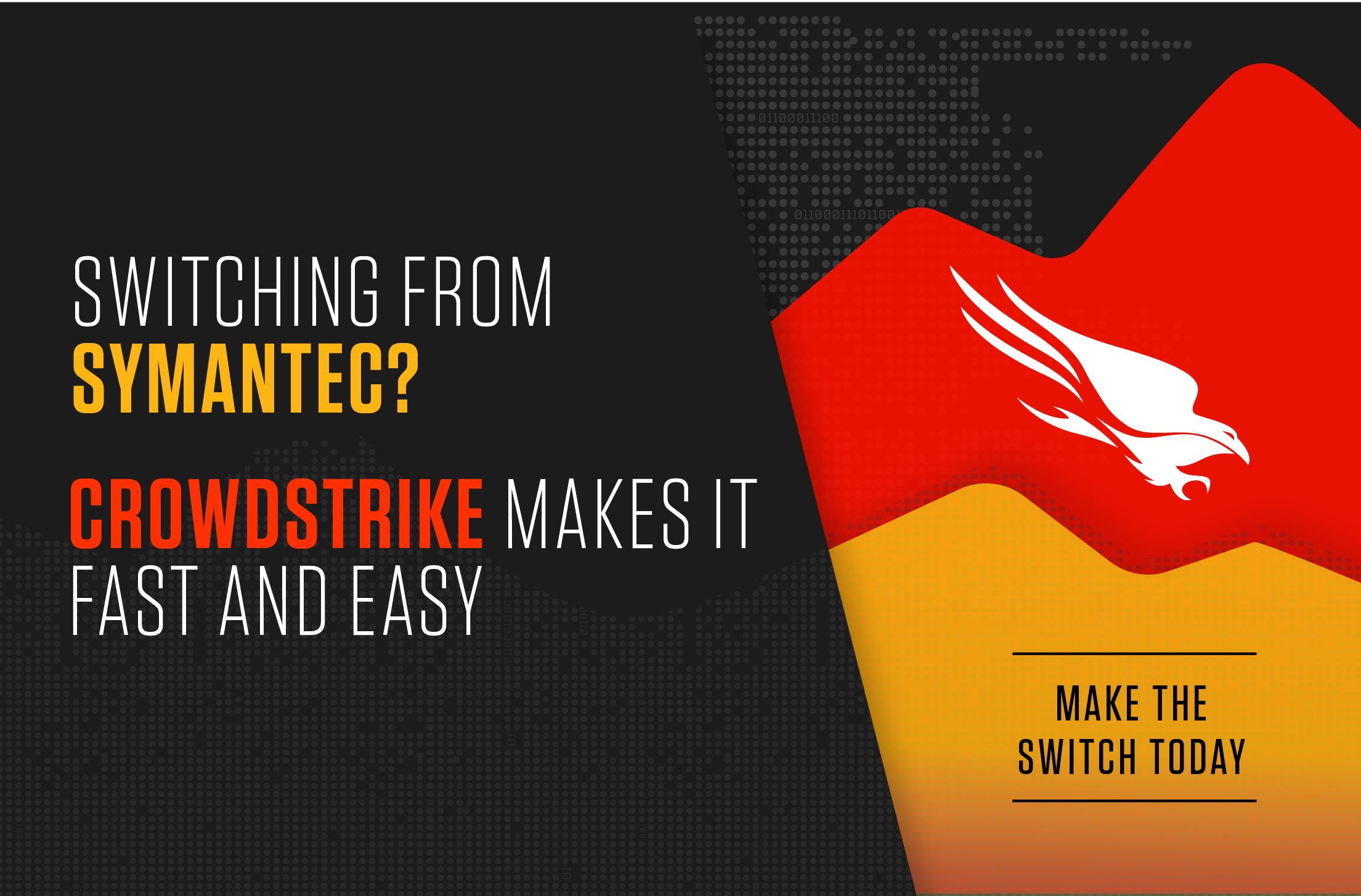 In the wake of recent news about Broadcom acquiring Symantec, we've received inquiries from Symantec customers asking us how to make the switch to CrowdStrike. To address these inquiries, we are pleased to announce a special offer that will help Symantec customers make a streamlined transition to CrowdStrike®. This offer includes substantial savings, but more importantly, it ensures that Symantec enterprise customers can seamlessly upgrade to the CrowdStrike Falcon® platform and get better endpoint protection, reduced complexity and enhanced performance.
Why Should Symantec Customers Switch?
In addition to the uncertainty customers may be experiencing as a result of the acquisition, an even more compelling reason to switch is the critical importance of moving to a comprehensive, cloud-native security platform. As many industry reports indicate — organizations continue to move to the cloud because of the tremendous advantages cloud-native security offers.
The Solution for Symantec Customers: CrowdStrike Falcon
For Symantec customers that want to accelerate their move to cloud-native protection — the CrowdStrike Falcon platform offers a fast and easy way to transition to security that's built for the cloud from the ground up, offering unrivalled protection, simplicity and performance.
Replacing Symantec enterprise endpoint protection with Falcon's next-gen endpoint security platform will not only protect you against today's most sophisticated threats, Falcon's combination of cloud-scale AI, machine learning (ML), behavioral analytics and integrated threat intelligence helps future-proof your organization against tomorrow's cyberattacks.
In addition, the veracity of our claims about the CrowdStrike Falcon cloud-native platform are supported by the recognition and validation CrowdStrike continues to receive from independent  third-party industry analysts and testing organizations.
CrowdStrike can help Symantec customers realize the full benefits of cloud-native endpoint security, including:
Better Protection: This offer delivers more than just AV replacement. You'll also receive enhanced protection against modern threats, including known and unknown malware, fileless attacks and exploits. In addition, Falcon gives you the ability to respond and optimize your defenses and your team with integrated, actionable threat intelligence and remote response capabilities.
Better Performance: The Falcon platform delivers all its capabilities via one lightweight agent that is easy to deploy because it's only 30MB and doesn't require a reboot to install. In addition, Falcon will operate seamlessly alongside Symantec as you migrate, eliminating any business disruptions.
Immediate Time-to-Value: Switching to the cloud-native Falcon platform simplifies your security stack and ends the complexity associated with legacy solutions. It deploys in record time and is immediately operational with no on-premises infrastructure, tuning or signature updates required.
CrowdStrike Surpasses Symantec Endpoint Protection Capabilities
CrowdStrike is offering Symantec customers more than simple AV replacement. This offer includes all the features of  Falcon Pro plus Falcon Device ControlTM with special pricing and terms — giving you advanced capabilities that go far beyond what Symantec enterprise endpoint protection offers. Symantec customers who make the switch will immediately elevate their endpoint protection and improve their organization's security posture.
The capabilities you'll receive include the following:
AI-powered next-generation antivirus (NGAV): Falcon delivers signatureless protection using a powerful array of technologies from machine learning and AI to behavioral indicators of attack (IOAs) and exploit blocking — ensuring maximum protection without the hassle of scans and signature updates.
Full attack visibility at a glance:  CrowdStrike comprehensive visibility unravels an entire attack sequence in one easy-to-grasp process tree visualization that's enriched with contextual threat intelligence.
Control and respond: The Falcon platform also provides powerful response action to quickly contain and investigate compromised systems, including on-the-fly, remote endpoint access to enable immediate action with surgical precision.
Integrated threat intelligence: CrowdStrike enables you to fully understand the threats in your environment and easily prioritize responses, eliminating guesswork and uncertainty. By automatically determining the scope and impact of these threats, Falcon allows you to respond quickly and decisively.
The Time to Switch is Now
CrowdStrike Falcon's cloud-native architecture streamlines your transition to make switching from Symantec fast and easy. Learn details about this unique offer for Symantec enterprise customers by visiting the promotion webpage.
Register for a webcast: "Switching from Symantec? How to Replace Symantec with CrowdStrike." Get expert guidance and a demo on switching from Symantec. Learn how easy it is to upgrade to CrowdStrike and get better protection, enhanced performance and immediate time-to-value.
Additional Resources