Fal.Con UNITE 2017 Conference: A New Global Cybersecurity Event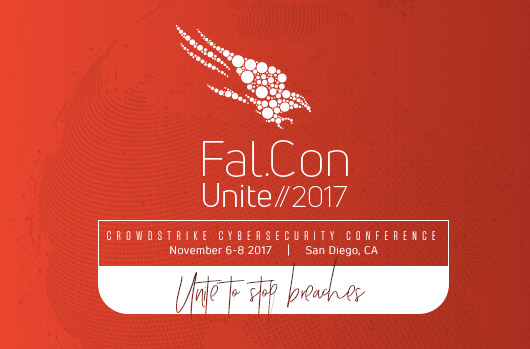 This month CrowdStrike is holding its first global cybersecurity conference, Fal.Con UNITE 2017, which will be held in San Diego on November 6-8. This conference is the foundation for what will be an annual event, bringing together cybersecurity specialists and industry professionals from around the world to share their expertise and insights. The conference will feature keynote talks from renowned industry leaders; learning sessions offering the latest information on cybersecurity trends and developments; and in-depth examination of some of the most sophisticated threats challenging today's organizations. Check for coverage of the conference on the CrowdStrike website and social media channels. You can still register to attend by visiting this page.
Here's a brief rundown of some of the activities that will be featured at Fal.Con UNITE 2017:
Keynote Speakers
The conference boasts a stellar lineup of keynote speakers. In addition to CrowdStrike's renowned leadership — CEO and Co-founder George Kurtz, CTO and Co-founder Dmitri Alperovitch, VP of Intelligence Adam Meyers and Services President and former FBI Deputy Director Shawn Henry —  there will be presentations from a broad range of independent industry experts. Attendees will hear from Google InfoSec Director Heather Adkins, global strategist and author Mark Goodman, Amazon Web Services (AWS) Architect Scott Ward, cybersecurity pioneer and author of "The Cuckoo's Egg," Clifford Stoll, Qualcomm VP of Global Security Stewart Roberts and others. They will offer their unique perspectives and insights on today's threat landscape, the current state of cybersecurity and the outlook for organizations going forward. Learn about the speakers.
Learning Sessions
The learning opportunities planned will include in-depth technical training as well as sessions that focus on emerging cybersecurity technology and trends. For CrowdStrike customers in attendance, there will be sessions offering a deep dive into key features of the Falcon platform. Learn about the sessions.
Here are summaries of a few of the sessions that will be offered:
New Lateral Movement: This session highlights some of the new lateral movement techniques investigators are encountering that allow adversaries to "fly under the radar."  Attendees will get insights into how these techniques are being achieved, and also learn the host-based indicators that can signal their presence in your environment.
Beyond the Hype: Machine Learning (ML) in Practice: It's no secret that ML is a hot topic throughout the industry and that most anti-malware vendors claim to have ML capabilities. This session takes a step back from the hype to look under the hood, examining how ML works, where it can help, and what its limitations are. Participants will leave this session with information that can help them make informed decisions about what to look for in an effective ML-based security solution.
An Inside View of the Final Kelihos Botnet Takeover Operation: The seizure of control over the Kelihos P2P botnet and the arrest of Peter Levashov (aka Peter Severa) in April 2017 made international headlines. You may be aware of these events, but you might not know about the role CrowdStrike played in bringing down this infamous criminal enterprise. This session offers coverage of Severa's long history of criminal activities and explains how CrowdStrike was able to collaborate with law enforcement to take over Kelihos for presumably the last time.
The Latest Trends in Cybersecurity: As every security professional knows, threats continue to grow in number, frequency and sophistication. To help attendees become better informed about their options, this session offers an overview of the latest trends shaping the cybersecurity field. It will also explain how new technology and innovation can turn these trends into an advantage that can help organizations improve their security postures.
The Cyber Threat Landscape: In an ever-changing threat landscape, security teams are struggling to understand who the top threat actors are and how to stop them. This session will focus on threat intelligence and why it should be the driver behind cybersecurity strategy. Participants will receive invaluable information that can help their organizations update response and detection programs and be able to better defend against increasingly sophisticated adversaries.
To register for Fal.Con UNITE 2017 and learn more about the speakers and sessions, visit www.crowdstrike.com/falcon2017.
If you can't attend this year, check the CrowdStrike YouTube channel after the conference for videos of some of the keynotes and other event highlights.