CrowdStrike's First Fal.Con for Public Sector: State of the Threat and New Defense Strategies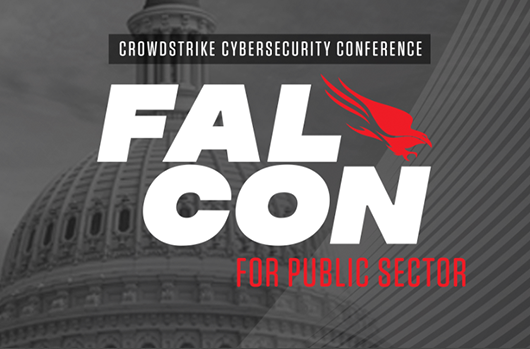 The incredible success of the CrowdStrike annual Fal.Con cybersecurity conferences has led to a new Fal.Con event devoted exclusively to public sector cybersecurity professionals: Fal.Con for Public Sector: State of the Threat and New Defense Strategies.
This one-day conference will be held at the new state-of-the-art International Spy Museum in Washington, D.C. on May 30, 2019. The conference will feature compelling keynote addresses and in-depth sessions created exclusively for public sector security professionals from a wide range of federal agencies, as well as state and local governments. Participants will leave armed with knowledge and tools that can improve their organizations' security postures, and better enable them to defend against today's most sophisticated cyber adversaries.
Why Attend?
As the adversaries targeting public sector organizations continue to evolve their tactics, techniques and procedures (TTPs), agencies need to ensure they have the resources to ensure optimal security. This one-day event will feature subject matter experts and industry leaders offering the following:
Hear compelling keynotes: Hear details on real-world use cases and get expert insights that will inspire you to think differently about your processes and how you secure your organization.
Explore the latest cybersecurity trends and threat intelligence: Gain information that will help enrich and evolve your security program.
Explore best practices: Learn about the tactics, and tools that are most effective against today's evolving, sophisticated threats.
If you can't attend this event in person, please register for a  live-stream of the event that you can access from anywhere in the world: Fal.Con for the Public Sector 2019 Live Stream.
Keynote Speakers
Dmitri Alperovitch, CrowdStrike Co-Founder and CTO
"Countering Cyber Adversaries: Attack Trends and the Importance of Speed"
Private sector organizations, including federal, state and local agencies, bear the burden of protecting sensitive information from increasingly sophisticated global eCrime groups and nation-states. This is why the public sector needs to employ the same level of defense as private sector organizations — but what does that look like? In his keynote, Dmitri will discuss today's global attack trends and explain why speed, and understanding your adversaries, are keys to creating a successful cybersecurity strategy. He will also discuss how you can help your public sector organization stay one step ahead of the cyber adversaries targeting you.
Geoff Brown, New York City's Chief Information Security Officer and Head of New York City Cyber Command
"Protecting the People: NYC Cyber Command's Mission to Defend"
Geoff Brown leads the New York City Cyber Command, which was established in July 2017 by Major Bill de Blasio. The command is charged with defending city systems, which deliver critical services that New Yorkers rely on every day, and helping residents become safer in their digital lives. During this keynote, Geoff will discuss his approach to Cyber Command's mission, the importance of using speed to defend against cyberthreats, and how other cities can emulate the cyber tactics being used in NYC.
Shawn Henry, President of CrowdStrike Services and CSO
"Strength in Numbers: Finding Private/Public Sector Synergy in Global Cyber Defense"
In this keynote, Shawn Henry will share from his experience as one of the FBI's most influential executives, explaining both why he transitioned to the private sector and what he has subsequently learned as one of private industry's most trusted cyber defense experts.  Shawn will explore why the public sector should embrace modern cyber measures to advance the mission of protecting critical assets, and what a proactive, modern cyber strategy truly embodies.
The Latest Security Intelligence and Trends
Adam Meyers, CrowdStrike VP of Intelligence
"State of the Threat: A Global Intelligence Perspective"
Chollimas, spiders, and bears: These are designation's CrowdStrike's threat intelligence team uses to identify and track some of the world's most infamous cyber adversaries. Public sector organizations face a myriad of threats from these adversaries, and understanding their motivations modus operandi is key to mounting an effective defense. In this talk, Adam Meyers provides an overview of today's cyberthreat landscape, the threats his team has observed targeting the public sector in the past year, and what to expect in the coming months. He will also comment on recent intelligence and global trends with an emphasis on operationalizing the information, to help you defend against the specific adversaries that may be targeting your organization.
Panel Discussions
"Transforming Cyber Defense Strategies with Threat Intelligence"
A distinguished panel of security experts from organizations such as American Express, NYC Cyber Command and ODNI (Office of the Director of National Intelligence) will discuss the global threats facing today's public sector, and the importance of incorporating threat intelligence into your defense strategy. The panel will also address the role of the MITRE ATT&CK framework, and how organizations can use intelligence to enhance and improve their defense capabilities.
"Modernizing Services and Protecting Data with the Cloud"
This panel will include subject matter experts from a wide range of federal agencies as they discuss the best strategies for ensuring streamlined cloud adoption. Panelists will discuss the advantages of moving to the cloud and how it gives federal agencies more speed, agility and security than on-premises solutions. They will also address the importance of implementing the right standards to ensure a smooth transition and ongoing cloud security.
Please Join Us
There's still time to register for Fal.Con for Public Sector by completing the registration form on this page. In addition to information-packed keynotes and panel discussions, the conference will offer opportunities to network with other IT and security professionals from public sector organizations across the globe. You can also engage with us on social media using #FalConPublicSector.
We look forward to seeing you on May 30 at the new International Spy Museum in Washington D.C.!
Additional Resources