Falcon Complete Principal Analyst Hyemin Chung's Tale of Exceptional Growth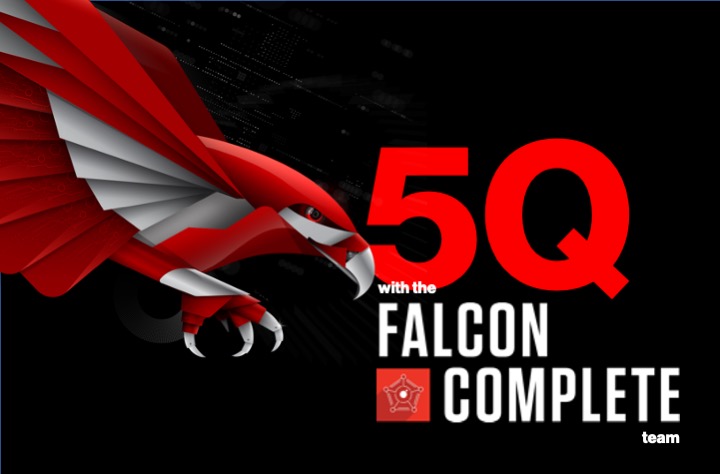 Over the past two years, CrowdStrike's Falcon Complete team grew tenfold, from about 20 people globally to nearly 200. One of those team members is Hyemin Chung. She joined as a Senior Analyst and has since risen through the ranks to become Principal Analyst — and we think that our company's rapid growth isn't just good for our business, but our people too.  
In our latest edition of 5 Questions, we talk to Hyemin about her personal growth story and what it's like to be part of the front line protecting clients from digital adversaries.
Q. Cybersecurity is a 24/7 capability. How do you maintain a sense of balance as you provide continuous service to clients?
First of all, we have a global team with members in Australia, U.K. and U.S. Spreading people out this way helps us provide nonstop service without putting too much pressure on the team. Since we are based all around the world, we are able to work normal business hours while keeping up that 24/7 operation for clients.
We also have processes in place to make sure that we're all working as one team and that proper handoffs are taking place. I'm based in the U.K., so at the end of my day, I hand off to the team in the U.S. At the end of their day, they hand off to Australia. Then it comes back to us.
The nonstop aspect of the job does come along with some pressure, but it's manageable because you're part of that global team. I also think it's an honorable position to be in because customers have a lot of trust in us and our ability to provide that level of service. We need access to our client's assets in order to remediate incidents in the client's environment — so they really put a lot of faith in our team.
As a group, we're constantly trying to build and maintain that trust. At the end of the day, we're frontline protectors of our customers' environments. We're able to kick out the live hands-on-keyboard threat actor or remove persistent malware. And that's very rewarding.
Q. As part of a global team and working remotely, how do you build relationships with your team?
That's a great question because that's something I was actually really worried about when I joined CrowdStrike. I was lucky to do the in-person onboarding when I joined, but I've never been to any offices in the U.K. since — and it's been two years now!
I think it's really important to have relationships with people you're working closely with. I expected it to be a bit more difficult to make those connections without in-person communication, but we take advantage of Slack and Zoom as much as we can. I talk to my colleagues regularly through those channels. Even though I was concerned about being remote at first, I haven't felt disconnected from the team because we have so many processes in place to make sure we are coordinating. 
We also connect on a personal level. There are so many Slack channels, and a lot of them are social in nature. I check the team Slack channel even when I'm not working just for jokes that people are throwing around.
I think it helps that I'm not the only remote employee because everyone is engaged in these platforms.
Q. What do you think are the most important skills or capabilities to have on the Falcon Complete team?
I've realized that being successful isn't just a matter of knowing the technology or being an industry expert. There are other qualities that are important to being a good cybersecurity professional, like being empathetic with customers, having good communication skills, paying attention to detail and other soft skills. So it's really about serving clients in a way that they feel secure.
I think this misconception applies especially to women. Some might avoid cybersecurity because they think it's not something that they would want to do or that they're not qualified to do. But as someone who felt that way before I started working in cybersecurity, I can say that's not the case. I'm really happy with my job. 
Q. What else have you learned?
Before I joined CrowdStrike, I worked as a cybersecurity consultant for a large professional services company, and as I built up my experience in that role, I realized that the job is more than just technology. It's about people, about communication, empathy and soft skills.
When I joined the Falcon Complete team, that idea was reinforced when I saw how appreciative people were with members of the team who were proactive and willing to pick up an incident that seemed rather challenging. So I saw that you are valued not simply because you happened to be really smart — you're also recognized for taking on difficult tasks and working as a team to solve them. That initiative and teamwork are really important skills. 
Q. Can you talk a little bit about the dynamic on the Falcon Complete team and how you fit into the culture at CrowdStrike?
My biggest observation about working at CrowdStrike is how people seem to really strive for innovation. Whenever I speak to people from other teams, like the product team, they're always coming up with new ideas or rolling out new product features that will make our solution better. And that's true across the organization. Our tool is constantly evolving because of that commitment to innovation.
I think that's part of the reason why CrowdStrike is so successful as a cybersecurity company. The threat landscape is constantly evolving. We always have threat actors coming up with new attack techniques and tactics. So we have to keep up with these things in order to protect our customers. That's why it's so important that we're constantly innovating. On the Falcon Complete team, we encourage training and knowledge sharing, and we are also constantly seeking ways to improve our internal processes to make our service offering better. 
Are you considering a career in cybersecurity? Browse our job listings to review open positions at CrowdStrike today.
Related Content