CrowdStrike Fal.Con 2019 "UNITES" Cybersecurity Professionals From All Over the World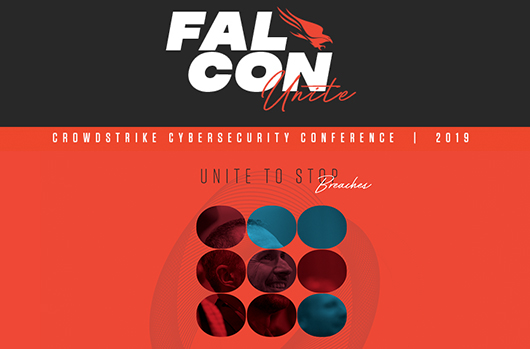 The CrowdStrike® annual cybersecurity conference for customers is only weeks away and it promises to be the biggest and best yet!  Fal.Con UNITE 2019, CrowdStrike Cybersecurity Conference will bring together the best and brightest cybersecurity specialists and IT professionals from organizations and industries around the world. They will gather on November 4-6 in San Diego, Calif., for two and a half days of powerful keynote speeches, new insights and best practices, and in-depth learning sessions. CrowdStrike customers will also have the opportunity to network with their peers while enjoying San Diego's wonderful weather and beautiful ocean vistas.
This year's theme is  "UNITE" — the call for all attendees to join with CrowdStrike, our partners and their peers in the global fight against today's dangerous and ever-evolving cyber threats, and add their knowledge, efforts and voices to our shared mission to stop breaches. CrowdStrike anticipates that over 1,000 industry professionals will attend the conference, which also has attracted nearly 40 partner sponsors. Here is what one of last year's attendees had to say about the Fal.Con POWERUP 2018 conference:
Absolutely delighted with the conference and really appreciated getting to interact with other customers and meet the experts behind the product we rely on so heavily."

Director, IT Security for a Major International Retailer
As with previous conferences, our survey found that 100 percent of attendees would recommend Fal.Con to a colleague or peer. We are thrilled to know that our annual event continues to be well-received. This overwhelming support is one of the reasons we pulled out all the stops for this year's conference. The good news is that registration is still open and current CrowdStrike customers are urged to attend. You can register by visiting this page.
Fal.Con UNITE Conference Activities
CrowdStrike® has put together another stellar lineup of renowned keynote speakers to inform and inspire attendees, and over 60 unique learning sessions offering deep-dives into the issues that are important to today's leading security professionals. The following is a summary of this year's speakers and some of the sessions customers will have an opportunity to attend.
Powerful Keynote Addresses
We are very excited about this year's keynote speakers, which include sports, business and technology superstars such as:
Earvin "Magic" Johnson: As Chairman and CEO of Magic Johnson Enterprises, the NBA Hall-of-Famer's achievements extend beyond the sports arena into the boardroom, where his business acumen equals his talent as an NBA superstar. In addition to being co-owner of MLB's Los Angeles Dodgers and other teams, he has extended his influence into a range of businesses, including insurance and television networks, in addition to being an active investor in minority-owned tech companies.
Caitlin Conley: Caitlin formerly served as executive director for the Defending Digital Democracy Project — a bi-partisan non-profit focused on election cybersecurity. Since 2010, Caitlin, an active duty Army Officer, has been serving as a task force operations officer for the United States Army Special Operations Command.
Dan Ariely:  As the James B. Duke Professor of Psychology & Behavioral Economics at Duke University, Dan will address compelling research topics that shed light on the motivations behind the malicious activities carried out by bad actors in the cyber world, as well as the aspects of human nature that make it so difficult to eliminate social engineering and human error as major contributors to security incidents.
Brian Krebs: Brian is among the world's leading cybercrime journalists, and New York Times bestselling author of "Spam Nation." As an independent investigative reporter at his award-winning website, KrebsOnSecurity.com, Brian is known for breaking some of the highest profile eCrime stories, including the Target, Home Depot and Ashley Madison breaches, and is a past recipient of the National Press Foundation's Chairman's Citation for his investigative reporting accomplishments.
CrowdStrike Leadership: You'll also hear from CrowdStrike's renowned leadership team, each a highly-valued cybersecurity expert and thought leader. They include: CrowdStrike CEO and Co-Founder George Kurtz, CTO and Co-Founder Dmitri Alperovitch, and President of CrowdStrike Services and CSO Shawn Henry.
Workshops and Sessions
This year's conference boasts an even wider array of unique sessions and interactive workshops to help you sharpen your cybersecurity skills and expand your knowledge and effectiveness across multiple areas of importance, including:
CrowdStrike Falcon® Platform and Technology: CrowdStrike customers will get in-depth learning sessions  on the current trends in cybersecurity technology and demonstrations of how CrowdStrike is applying the Falcon platform to solve some of today's most complex security issues. Sessions include: What's New in the Falcon Platform; Falcon and the MITRE ATT&CKTM Framework: Better Together; Building Custom Indicators of Attack (IOAs): Practical Advice and Real-Life Examples; Phishing Emails and Web Exploits: Attack Scenarios; CrowdScore: Get in the Driver's Seat; Falcon and Splunk 101; Getting the Most out of Real-Time Response (RTR); and more.
Threat Intelligence Sessions: These sessions feature CrowdStrike Intelligence experts offering in-depth examinations of today's threat landscape, as well as valuable insights into dangerous cyber adversaries and their tools, tactics and procedures (TTPs). Sessions include: Intelligence Briefing: The Threat Landscape; Maximizing the Value of Your Threat Intelligence with I.P.E.; Intel Ninja Skills – How to Become a Falcon Intel Master; Investigating Cyber Cold Cases; Optimizing Threat Intelligence: A Falcon X Premium Elite Customer Case Study; Et Tu, Voicemail? The Emerging Threat of Encrypted Messaging Compromise; Doxxing KITTENS: Assessing the Origins and Impact of Leaks on Iranian Cyber Operations; and more.
CrowdStrike Services: The elite team of CrowdStrike Services incident response (IR) experts will offer guidance on strategies, based on real-world cases they have investigated, that can improve security posture and help keep your organization from experiencing a breach. Sessions include: Mapping Active Directory Using BloodHound: Blue Team Edition; MacOS Incident Response: Lessons from the Front Lines; Security Cost vs. Benefit — A Shifting Paradigm; Knowing Normal: How Understanding Your Network Can Save Your Bacon; Tales from the Crypt: Case Studies in Ransomware; and more.
Partner Sessions: Attendees will also hear from leading CrowdStrike Partners sharing customer case studies, industry insights, new tools and capabilities, best practices, empowering new apps offered in the CrowdStrike Store, and other important topics. Sessions include: Building Security Best Practices with AWS and CrowdStrike; Elevating Detection and Response Capabilities — Secureworks, CrowdStrike, and Dell;  Protecting Industrial Control Systems (ICS) — Making the Right Choices in a Complex Environment (Dragos); The Confidence Game: How Attackers Exploit People and How to Stop Them (Proofpoint); Automate Incident Response at Machine Speed with Splunk and CrowdStrike; Using Falcon X Endpoint Intelligence to Protect IoT: Scripps Research Case Study with ThreatSTOP; and more.
Executive Track: These invitation-only sessions aimed at VP and C-level executives will cover some of the most important issues facing today's cybersecurity leaders. Sessions include: Executive Intelligence Briefing: State of Cybersecurity; The Security Landscape: Thinking about your Next Investment – An Executive Fireside Chat with Leading Venture Capitalist Sameer Gandhi of Accel Partners; How Google & Amazon do Security; A Case Study of a Cyber Resilient Organization; and Executive Product Roadmap.
Fal.Con UNITE Sponsors
Our outstanding sponsors helped make Fal.Con UNITE a tremendous success in previous conferences and this year's event includes even more of the world's leading cybersecurity organizations. Attendees will have the opportunity to meet with representatives from global companies such as AWS, Dell, Vectra, Zscaler, Dragos, Expel, Netskope, Proofpoint, Splunk, ThreatStop, Truefort, Acalvio, CDW, D3Security, ForeScout, GuidePoint, King & Union, Safeguardcyber, Secureworks and more.
Join Us in San Diego
Fal.CON UNITE 2019 will also include many opportunities to network with peers and enjoy the beautiful San Diego waterfront. During this global event, attendees will have an opportunity to discuss important cybersecurity issues with their peers from across all industries and regions. They will also hear from world-class experts, get hands-on training and attend in-depth technical sessions. We hope to see you there!
Additional Resources