Visit CrowdStrike at Black Hat 2018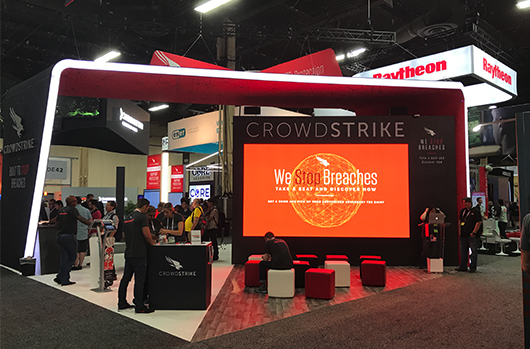 CrowdStrike® is excited to join more than 17,000 security experts in Las Vegas this August for Black Hat USA, one of the world's leading information security events. CrowdStrike executives and top security specialists will be on hand talking about the evolving CrowdStrike Falcon® platform, delivering product demonstrations and leading informative workshops.
First introduced in April, CrowdStrike Falcon XTM will be a major focus at this year's Black Hat event. Falcon X  solution is an automated threat analysis tool that is enabling a new era of predictive security. The integrated toolset combines malware analysis, malware search and threat intelligence to deliver context-rich information that empowers security teams. Falcon X allows organizations of all sizes to better understand the threats they face and enables them to use that knowledge to defend against future attacks — making proactive security a reality. Stay tuned for announcements regarding further expansion and new capabilities to the Falcon platform at this year's Black Hat USA.
Along with conducting continuous product demonstrations in the booth, CrowdStrike experts will be sharing their knowledge at the sessions listed below. Be sure to register and arrive early, as they frequently become standing-room-only events:
eCrime has been around almost as long as the Internet has existed and criminal hackers continue to evolve, developing new tactics, techniques and procedures (TTPs) faster than security vendors can create tools to stop them. Join CrowdStrike VP of Managed Services Austin Murphy as he shares real-world examples of recent eCrime incidents that CrowdStrike has investigated. Learn about the typical eCrime attack lifecycle and how to hunt through your environment to find patterns associated with these attacks, and stop them before a breach or a theft can occur.
Wednesday, Aug. 8
1:50-2:40 PM
Mandalay Bay, Ballroom B
Register for this workshop.
Machine learning (ML) and artificial intelligence (AI) are hot topics in the security space and many security leaders agree that these technologies can improve or even revolutionize information security. Join CrowdStrike Chief Scientist Dr. Sven Krasser, along with ML experts Brett Meyer and Marian Radu, as they offer up-to-date insights on the state of ML and AI in security. They will also provide a peek behind the curtain of an ML-powered security platform and explain how to go beyond the hype and recognize the true power and importance of ML for the future of cybersecurity.
Wednesday, Aug. 8
3:00-3:50 PM
Mandalay Bay, Ballroom B
Register for this workshop.
Join CrowdStrike's Vice President of EDR Strategy, Alex Ionescu, and security engineer at Quarkslab, Gabrielle Viala, for this briefing event and to learn more about the Windows Notification Facility (WNF), a new facility implemented by the kernel. As part of this talk, three initial WNF exploitations, fuzzing, and forensic tools will be released to tip the scales for the blue team, after 6 years of kernel obscurity.
Thursday, Aug. 9
9:45- 10:35 AM
South Seas CDF
Register for this briefing.
Threat Intelligence creation and operationalization remains a challenge for many organizations — despite being critical to maturing your organization's cybersecurity capabilities. Join CrowdStrike's Sales Engineering Managers Adam Hogan and Andrew Munchbach as they demonstrate how you can use technology to automate the creation, ingestion, and dissemination of threat intelligence to endpoints, from the cloud and at machine speed.
Thursday, Aug. 9
11:00-11:50 AM
Business Hall, Theater B
Register for this session.
Other CrowdStrike Black Hat Happenings
The first 200 visitors to booth 520 on Wednesday, Aug. 8, will be entered into a drawing to win an all-expense paid VIP racing weekend, including a ride-along with racing legend Mario Andretti.
Attendees can meet Mario Andretti in person during a special meet-and-greet autograph session at the booth from 10:30 AM to 12:30 PM on Wednesday, Aug. 8. The first 100 attendees with receive a collectible hat autographed by Mario himself.
CrowdStrike CEO and Co-Founder George Kurtz will sign copies of his best-selling cybersecurity book Hacking Exposed: Network Security Secrets and Solutions, now in its seventh edition. Come to booth 520 from 1:00 to 2:00 PM on Wednesday, Aug. 8, to meet George and receive your free autographed copy.
Visit CrowdStrike booth 520 during the show and talk with our security experts about how the CrowdStrike Falcon platform can instantly improve your security posture. Request a demo and receive your own customized, collectible adversary t-shirt.
Follow us on Twitter (@CrowdStrike #GoCrowdStrike #BHUSA18) to keep up with CrowdStrike's Black Hat happenings during the event, visit our Black Hat web page and check out www.crowdstrike.com for additional information on our exciting new releases. See you in Las Vegas!