Falcon X Recon: Situational Awareness
CrowdStrike Falcon X Recon monitors potentially malicious activity across the open, deep and dark web to enable organizations to better protect their brand, employees and sensitive data.
White Paper: Exposing the Deep and Dark Webs
Benefits
DIGITAL RISK RECONNAISSANCE ACROSS THE DARK WEB AND BEYOND
Broad Coverage

Falcon X Recon exposes digital risk by monitoring the hidden recesses of the internet where criminal actors congregate and underground economies thrive.

Instant Visibility

Falcon X Recon provides real-time visibility to potential threats, reducing investigation time and improving efficiency and response.

Immediate Impact

Take immediate action against digital risk on Day One — Falcon X Recon is built on the cloud-native CrowdStrike Falcon® platform so there's nothing to install, administer or deploy.
Features
How Falcon X Recon Works
UNRIVALED COVERAGE
Access raw intelligence from millions of hidden webpages and thousands of restricted sites on the open, deep and dark web.
Expand visibility into IRC channels, rogue apps, phishing domains, botnet and DDoS configurations, and messaging apps like Telegram, QQ and more.
Identify business, reputational and third-party risks emanating from leaked credentials, PII and financial data.
View current and historical posts and chatter to track adversary activities and behavior that could pose a cyber or physical risk to your organization and personnel.
INVESTIGATE
Customize dashboards to enable users to see, at a glance, current notifications and quickly drill into critical alerts and activity for further research.
Easy-to-use wizards help set up monitoring of brand names, executives, domains, vulnerabilities and more.
Investigate the threat actor's profile and history and be notified of future activity.
Translate posts from 18 languages using augmented translation with hacker slang dictionaries.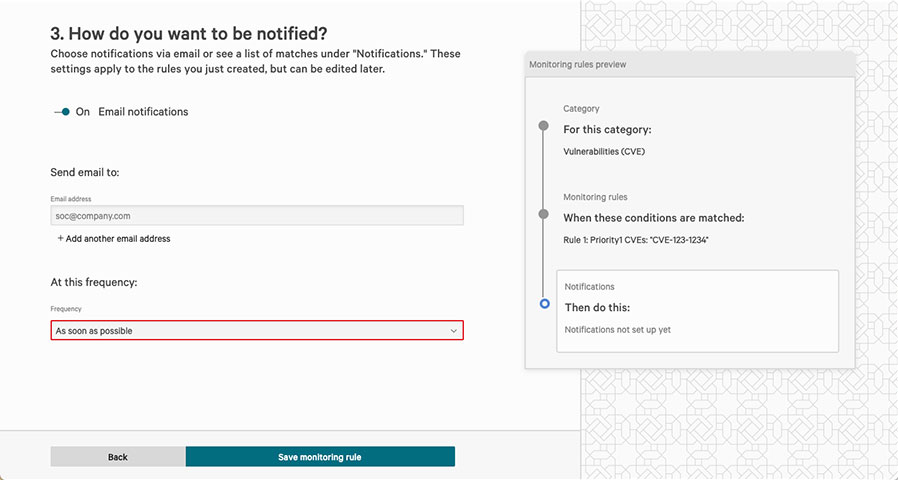 NOTIFY
Set alert priority and immediately pivot from the notification to underlying raw intelligence.
Customize notifications and set alerts to be real time, daily or weekly.
Toggle notifications on or off without affecting the underlying monitoring rule.
Alert departments outside of security such as marketing, legal, human resources and fraud.
Streamline response by integrating notifications into the daily workflow.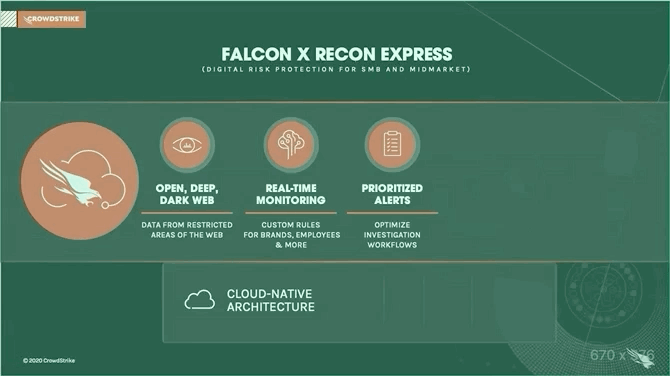 FALCON X RECON EDITIONS
Falcon X Recon Express is designed for small and medium-sized businesses — start performing reconnaissance across the criminal underground on Day One.

Falcon X Recon Enterprise includes everything in Express, plus:
Dynamic ad-hoc search capability for evolving investigations
Credit/bank card BIN data leakage
CrowdStrike® Intelligence actor profiles and indicators of compromise (IOCs) feed
REST APIs for easy integration into third-party ticketing systems, SIEMS and SOARS
Related Resources
LEARN MORE ABOUT CROWDSTRIKE INTELLIGENCE PRODUCTS
Falcon X

Automatically investigate incidents and accelerate alert triage and response. Built into the Falcon platform, it is operational in seconds.

Falcon X Premium

Premium adds threat intelligence reporting and research from CrowdStrike experts — enabling you to more effectively mitigate sophisticated nation-state, eCrime and hacktivist attacks.

Falcon X Elite

Elite is a force multiplier that expands your team's capabilities with access to an assigned CrowdStrike Intel Analyst.
Product Validation
CUSTOMERS THAT TRUST CROWDSTRIKE
Intelligence Reports
CrowdStrike's groundbreaking intelligence reports present customers and the global cybersecurity community with the latest developments and defenses for an increasingly dangerous threat landscape. Download these complimentary reports:
NetWalker Ransomware Technical Analysis

Download this report to learn the tactics and techniques CIRCUS SPIDER used to lure victims and launch the NetWalker ransomware.

2021 GLOBAL THREAT REPORT

Read this critical report to learn how to defend against the quickening pace and increasing sophistication in adversary tactics, techniques and procedures.

2019 MOBILE THREAT LANDSCAPE REPORT

Download this report to learn about adversary groups that target mobile devices and how their tactics — and the mobile threat landscape in general — are evolving.