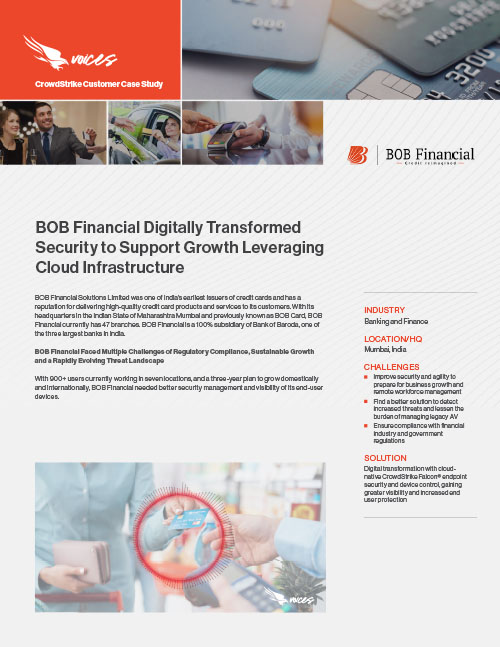 BOB Financial Solutions Limited was one of India's earliest issuers of credit cards and has a reputation for delivering high-quality credit card products and services to its customers. With its headquarters in the Indian State of Maharashtra Mumbai and previously known as BOB Card, BOB Financial currently has 47 branches. BOB Financial is a 100% subsidiary of Bank of Baroda, one of the three largest banks in India.
With 900+ users currently working in seven locations, and a three-year plan to grow domestically and internationally, BOB Financial needed better security management and visibility of its end-user devices.BOB Financial is also undergoing digital transformation, integrating more cloud-based services and infrastructure for greater flexibility and scale to support its expected growth. These cloud services had to meet the RBI's strict regulatory requirements, and they also put more emphasis on the secure network connectivity of its users.
"As we grow and adopt more digital technologies, we need to maintain the highest levels of security protection and management for our RBI compliance, which we now have in place for endpoint security and device control with the CrowdStrike Falcon® platform." Balram Choudhary, Vice President, Head (IT&ISO) BOB Financial.
Discover More at our

Resource Center
For technical information on installation, policy configuration and more, please visit the CrowdStrike Tech Center.
Visit the Tech Center