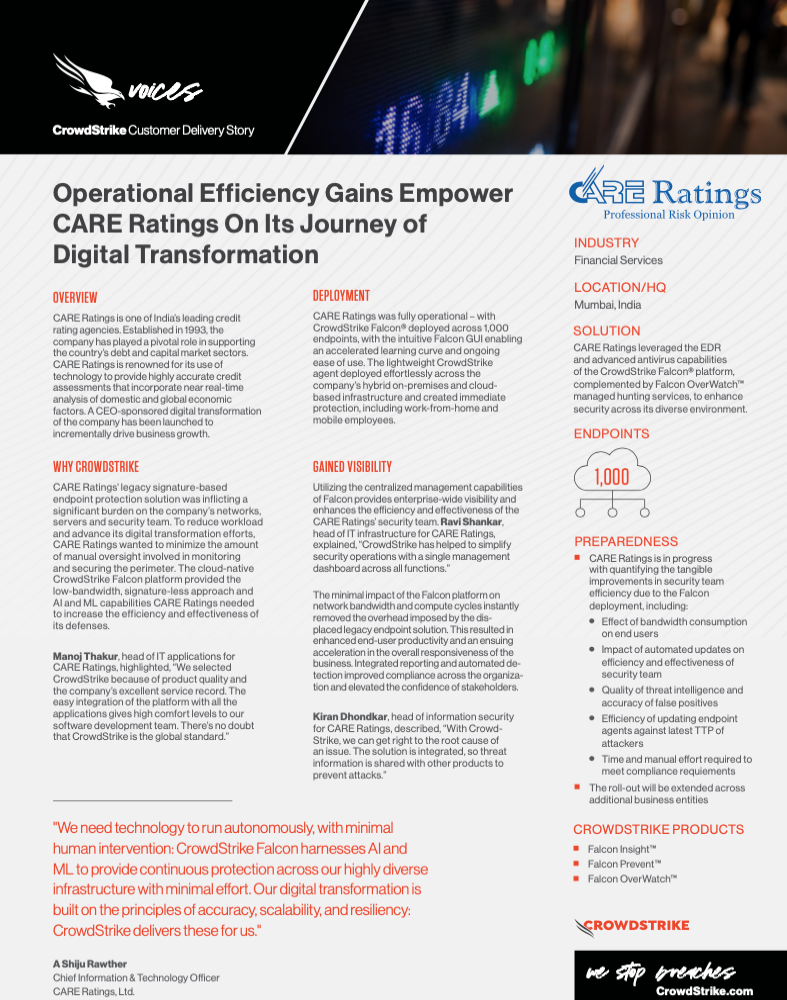 CARE Ratings is one of India's leading credit rating agencies. Established in 1993, the company has played a pivotal role in supporting the country's debt and capital market sectors. CARE Ratings is renowned for its use of technology to provide highly accurate credit assessments that incorporate near real-time analysis of domestic and global economic factors. A CEO-sponsored digital transformation of the company has been launched to incrementally drive business growth. CARE Ratings' legacy signature-based endpoint protection solution was inflicting a significant burden on the company's networks, servers and security team. To reduce workload and advance its digital transformation efforts, CARE Ratings wanted to minimize the amount of manual oversight involved in monitoring and securing the perimeter. The cloud-native CrowdStrike Falcon platform provided the low-bandwidth, signature-less approach and AI and ML capabilities CARE Ratings needed to increase the efficiency and effectiveness of its defenses.
"We need technology to run autonomously, with minimal human intervention: CrowdStrike Falcon harnesses AI and ML to provide continuous protection across our highly diverse infrastructure with minimal effort. Our digital transformation is built on the principles of accuracy, scalability, and resiliency: CrowdStrike delivers these for us."
A Shiju Rawther
Chief Information & Technology Officer CARE Ratings, Ltd.
Discover More at our

Resource Center
For technical information on installation, policy configuration and more, please visit the CrowdStrike Tech Center.
Visit the Tech Center