Heidelberger Druckmaschinen Plays It Safe With CrowdStrike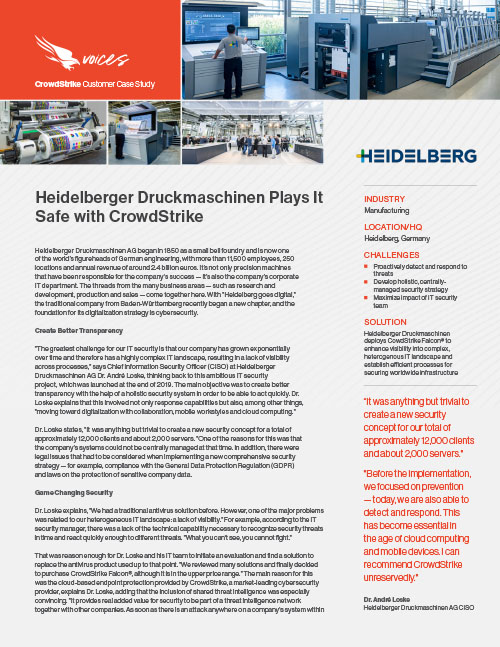 Heidelberger Druckmaschinen AG began in 1850 as a small bell foundry and is now one of the world's figureheads of German engineering, with more than 11,500 employees, 250 locations and annual revenue of around 2.4 billion euros. It's not only precision machines that have been responsible for the company's success — it's also the company's corporate IT department. The threads from the many business areas — such as research and development, production and sales — come together here. With "Heidelberg goes digital," the traditional company from Baden-Württemberg recently began a new chapter, and the foundation for its digitalization strategy is cybersecurity.
"The greatest challenge for our IT security is that our company has grown exponentially over time and therefore has a highly complex IT landscape, resulting in a lack of visibility across processes," says Chief Information Security Officer (CISO) at Heidelberger Druckmaschinen AG Dr. André Loske, thinking back to this ambitious IT security project, which was launched at the end of 2019. The main objective was to create better transparency with the help of a holistic security system in order to be able to act quickly. Dr. Loske explains that this involved not only response capabilities but also, among other things,"moving toward digitalization with collaboration, mobile workstyles and cloud computing." Dr. Loske states, "It was anything but trivial to create a new security concept for a total of approximately 12,000 clients and about 2,000 servers.
Discover More at our

Resource Center
For technical information on installation, policy configuration and more, please visit the CrowdStrike Tech Center.
Visit the Tech Center