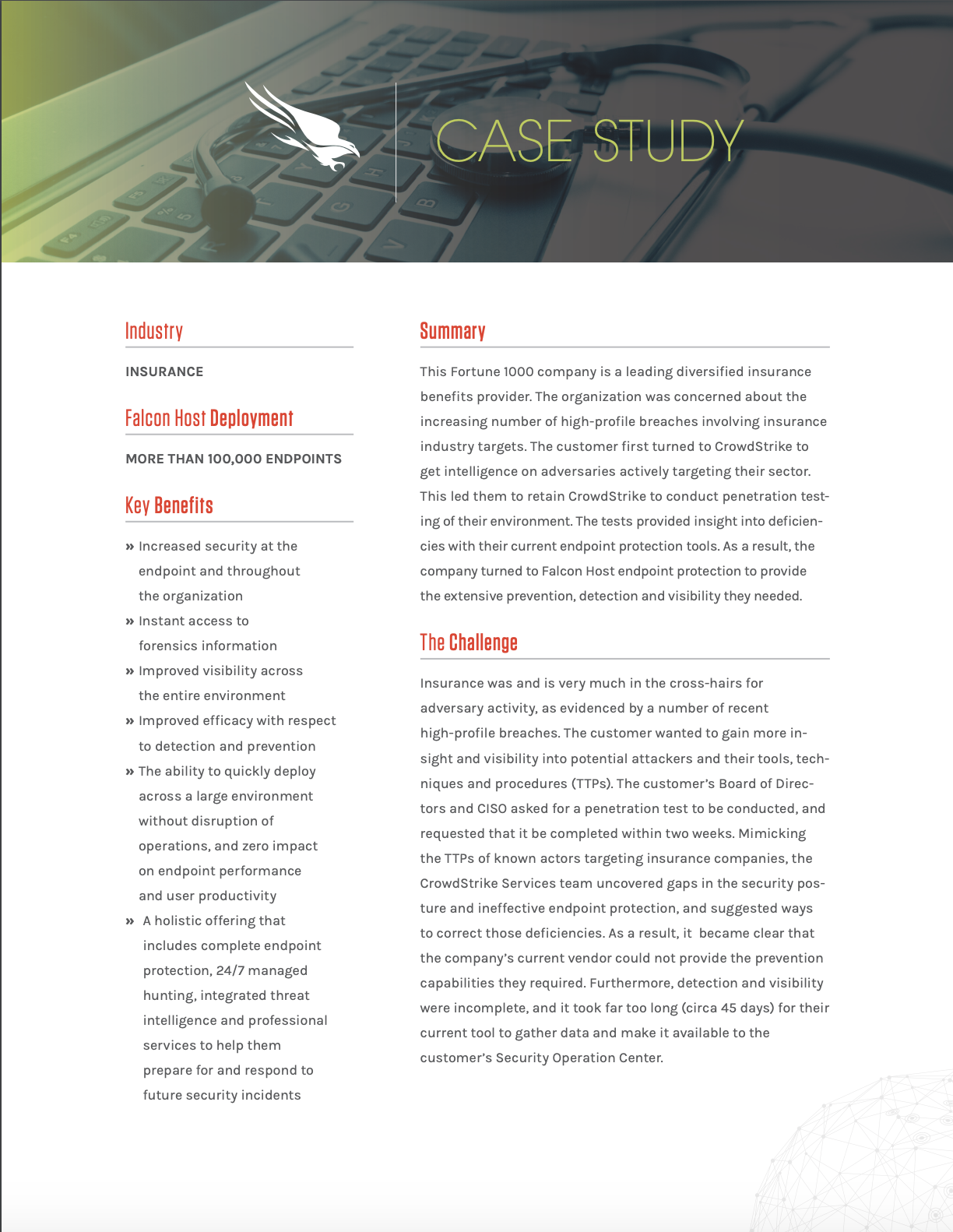 This Fortune 1000 company is a leading diversified insurance benefits provider. The organization was concerned about the increasing number of high-profile breaches involving insurance industry targets. The customer first turned to CrowdStrike to get intelligence on adversaries actively targeting their sector. This led them to retain CrowdStrike to conduct penetration testing of their environment. The tests provided insight into deficiencies with their current endpoint protection tools. As a result, the company turned to Falcon Host endpoint protection to provide the extensive prevention, detection and visibility they needed.
Insurance was and is very much in the cross-hairs for adversary activity, as evidenced by a number of recent high-profile breaches. The customer wanted to gain more insight and visibility into potential attackers and their tools, techniques and procedures (TTPs). The customer's Board of Directors and CISO asked for a penetration test to be conducted, and requested that it be completed within two weeks. Mimicking the TTPs of known actors targeting insurance companies, the CrowdStrike Services team uncovered gaps in the security posture and ineffective endpoint protection, and suggested ways to correct those deficiencies. As a result, it became clear that the company's current vendor could not provide the prevention capabilities they required. Furthermore, detection and visibility were incomplete, and it took far too long (circa 45 days) for their current tool to gather data and make it available to the customer's Security Operation Center.
Discover More at our

Resource Center
For technical information on installation, policy configuration and more, please visit the CrowdStrike Tech Center.
Visit the Tech Center