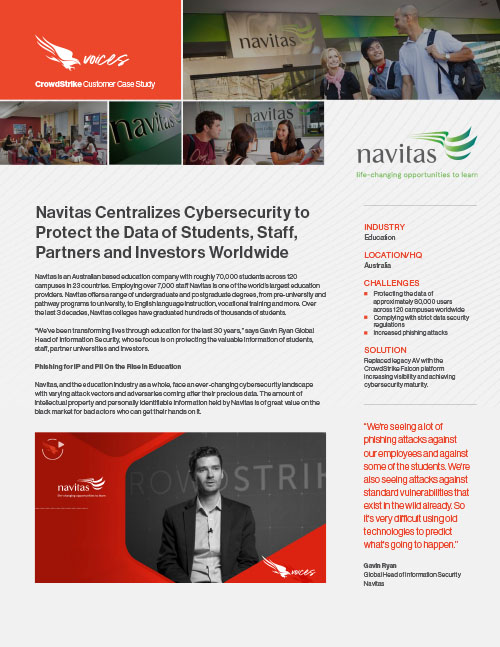 Navitas is an Australian based education company with roughly 70,000 students across 120 campuses in 23 countries. Employing over 7,000 staff Navitas is one of the world's largest education providers. Navitas offers a range of undergraduate and postgraduate degrees, from pre-university and pathway programs to university, to English language instruction, vocational training and more. Over the last 3 decades, Navitas colleges have graduated hundreds of thousands of students.
Navitas, and the education industry as a whole, face an ever-changing cybersecurity landscape with varying attack vectors and adversaries coming after their precious data. The amount of intellectual property and personally identifiable information held by Navitas is of great value on the black market for bad actors who can get their hands on it.
"We're seeing a lot of phishing attacks against our employees and against some of the students. We're also seeing attacks against standard vulnerabilities that exist in the wild already. So it's very difficult using old technologies to predict what's going to happen." Gavin Ryan, Global Head of Information Security Navitas.
Discover More at our

Resource Center
For technical information on installation, policy configuration and more, please visit the CrowdStrike Tech Center.
Visit the Tech Center