Tuesday Morning Case Study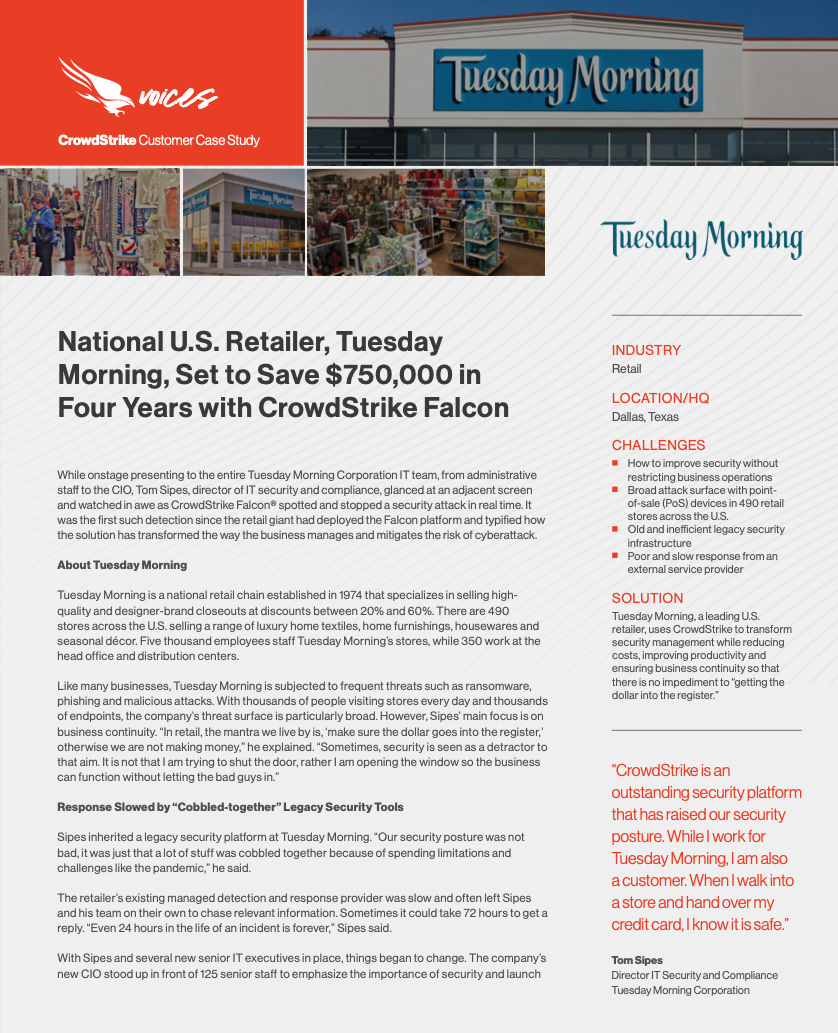 Tuesday Morning is a national retail chain established in 1974 that specializes in selling high- quality and designer-brand closeouts at discounts between 20% and 60%. There are 490 stores across the U.S. selling a range of luxury home textiles, home furnishings, housewares and seasonal décor. Five thousand employees staff Tuesday Morning's stores, while 350 work at the head office and distribution centers.
Like many businesses, Tuesday Morning is subjected to frequent threats such as ransomware, phishing and malicious attacks. With thousands of people visiting stores every day and thousands of endpoints, the company's threat surface is particularly broad.
Tuesday Morning, uses CrowdStrike to transform security management while reducing costs, improving productivity and ensuring business continuity so that there is no impediment to "getting the dollar into the register."
"CrowdStrike is an outstanding security platform that has raised our security posture. While I work for Tuesday Morning, I am also a customer. When I walk into a store and hand over my credit card, I know it is safe." Tom Sipes, Director IT Security and Compliance Tuesday Morning Corporation
Discover More at our

Resource Center
For technical information on installation, policy configuration and more, please visit the CrowdStrike Tech Center.
Visit the Tech Center