2018 SANS Endpoint Protection and Response Survey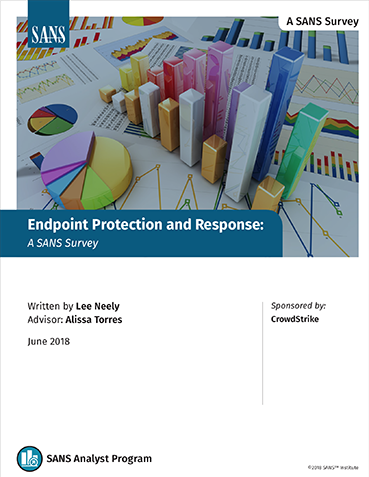 Antivirus is Not Enough: How Endpoint Protection and Response Can Work Together To Stop Breaches
In this annual survey of the endpoint protection landscape, the SANS institute gathered insightful information on both the concerns and best practices employed by IT security professionals. According to the survey, endpoints continue to be the primary target of attackers, who leverage commodity and sophisticated threat vectors to gain entry and move laterally throughout an organization. As a result, organizations are prioritizing automating detection and response solutions in order to improve endpoint security by decreasing the time from threat detection to response and remediation.
Read this SANS survey to learn about next-generation endpoint best practices and capabilities, why detection and response timelines must be reduced, and the importance of a comprehensive endpoint security solution to stop all attack types. Download the SANS Endpoint Protection and Response Survey to learn why:
Signature-based AV catches only 47 percent of compromises
84 percent of breaches involve multiple endpoints
88 percent of organizations cannot effectively respond to threats
Discover More at our

Resource Center
For technical information on installation, policy configuration and more, please visit the CrowdStrike Tech Center.
Visit the Tech Center