CrowdStrike Falcon Intelligence Report on "Boson Spider" (Core Bot Banking Trojan)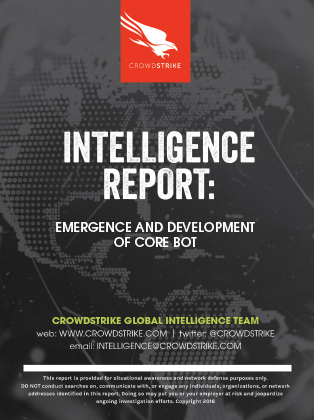 See how CrowdStrike's best-in-class intelligence offerings help you protect your endpoints from eCrime
The proliferation of financially motivated criminal activity (eCrime) directly targeting enterprise organizations has prompted many in the global threat intelligence community to reevaluate their core methodologies for identifying and tracking cybercrime actors.
As a leading provider of threat intelligence, CrowdStrike's Falcon Intelligence team is at the forefront of this shift in cybercrime intelligence gathering, leading to the development of a dedicated service focused on providing an in-depth current and historical understanding of eCrime adversaries, their activities, and their motivations.
The attached report focuses on the criminal organization behind the Core Bot banking trojan malware, an entity which CrowdStrike Falcon Intelligence tracks as the adversary "Boson Spider." This report exemplifies the detailed threat information available to Falcon Intelligence eCrime service subscribers, and underscores the value of CrowdStrike's best-in-class threat intelligence on criminal actors, their campaigns and ecosystems.
Discover More at our

Resource Center
For technical information on installation, policy configuration and more, please visit the CrowdStrike Tech Center.
Visit the Tech Center