Falcon X: Intelligence Automation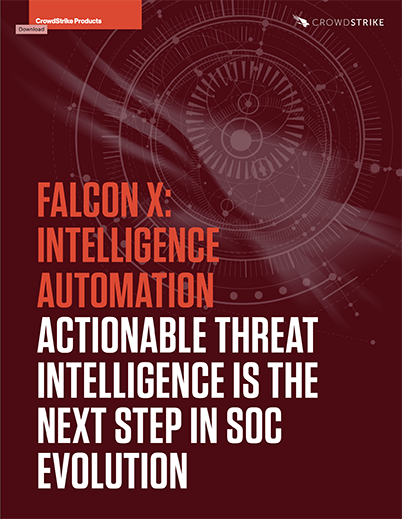 Actionable Threat Intelligence is the next step in SOC evolution
Implementing threat intelligence can profoundly transform an organization's security posture, but until now, it's been too complex and costly for many organizations to adopt and operationalize.
This white paper introduces CrowdStrike® Falcon X™, the automated threat intelligence solution that delivers the critical intelligence you need, while eliminating the resource-draining complexity of incident investigations. That's because Falcon X — an integrated part of the CrowdStrike Falcon® endpoint protection platform — takes threat information directly from your endpoints, combines it with world-class threat intelligence and delivers customized indicators of compromise (IOCs). This enables SOC (security operations center) teams to immediately implement proactive defenses with contextualized, actionable intelligence delivered in real time.
Read this white paper to learn:
How obstacles to operationalizing threat intelligence are eliminated with CrowdStrike's integration of threat intelligence and comprehensive endpoint protection
Why the best organizations follow the "1-10-60" rule: detect in one minute, investigate in ten and remediate in 60 — and how Falcon X performs a full investigation in under ten minutes
How Falcon X helps you predict future attacks by providing contextual intelligence, attribution and information, so you can stop actors before they attack again
Discover More at our

Resource Center
For technical information on installation, policy configuration and more, please visit the CrowdStrike Tech Center.
Visit the Tech Center