Gartner: Redefining Endpoint Protection for 2017 and 2018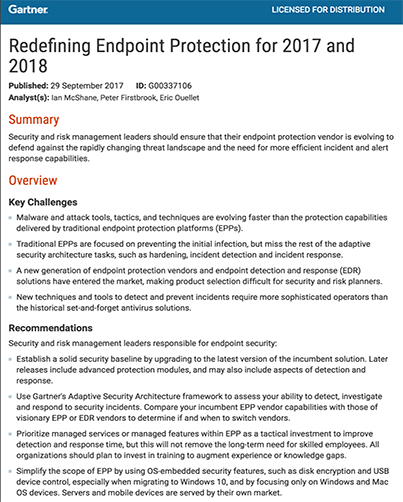 Gartner: Redefining Endpoint Protection for 2017 and 2018
Gartner redefines endpoint protection and provides bold analysis of the market
CrowdStrike® believes this report from Gartner, the world's largest IT research and advisory firm, offers valuable insights into what endpoint security looks like in 2018 and beyond. Buyers are advised to consider numerous major changes when looking at their current and future endpoint protection platforms. Cloud architecture, the rise of EDR, managed hunting and new security features all play a role in a market that's been stagnant for years.
Download this complimentary Gartner report to learn the analysts' recommendations for overcoming the following key challenges:
Malware and attack tools, tactics, and techniques are evolving faster than the protection capabilities delivered by traditional endpoint protection platforms (EPPs).
Traditional EPPs are focused on preventing the initial infection, but miss the rest of the adaptive security architecture tasks, such as hardening, incident detection and incident response.
A new generation of endpoint protection vendors and endpoint detection and response (EDR) solutions have entered the market, making product selection difficult for security and risk planners.
New techniques and tools to detect and prevent incidents require more sophisticated operators than the historical set-and-forget antivirus solutions.
Gartner [Redefining Endpoint Protection for 2017 and 2018], [Ian McShane, Peter Firstbrook, Eric Ouellet], [29 September 2017]