CrowdStrike Falcon: Setting the New Standard in Endpoint Protection (EPP)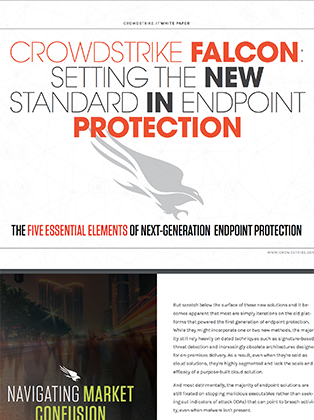 Download the white paper to learn:
The Five Essential Elements of Next-Generation Endpoint Protection
The endpoint security market continues to expand with vendors old and new marketing their solutions as "next-generation" game-changers. Claims can range from behavioral detection to some degree of machine learning or cloud-based protection. However, closer inspection reveals that these new solutions have been built on old platforms, many of which still rely heavily on signature-based detection and obsolete architecture. Navigating this crowded vendor landscape can be challenging — how does the buyer find the true next-generation protection today's targeted, advanced threats demand?
A new white paper, "CrowdStrike Falcon®: Setting the New Standard in Endpoint Protection (EPP)," offers guidance on how to see through the hype and understand the critical must-have elements that meet true next-generation criteria and set a new standard in EPP.
Details on the five essential capabilities that define true next-generation EPP and why they are so important
A matrix that evaluates and compares the potential impact of different solutions
A list of top questions to ask vendors to find out whether their solutions fit the definition of next-generation technology, and how effective they will be in stopping sophisticated threats targeting your environment
Discover More at our

Resource Center
For technical information on installation, policy configuration and more, please visit the CrowdStrike Tech Center.
Visit the Tech Center