Falcon Complete: Proven, Professional Managed Detection and Response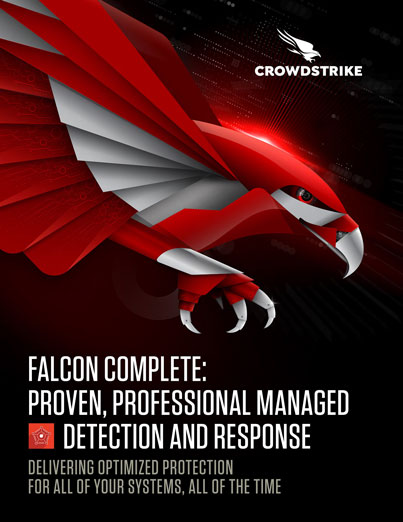 Delivering Optimized Protection for All of Your Systems, All of the Time
The shortage of cybersecurity resources and expertise combined with the rapid advances in adversarial tradecraft can leave organizations unnecessarily exposed and vulnerable. This can result in remediation efforts and damage to your organization that could have been prevented with the right combination of expert management, 24/7 monitoring, and real-time response.
CrowdStrike Falcon delivers industry leading automated detection and remediation to stop known threats. CrowdStrike®️ Falcon Complete™️ is a managed detection and response (MDR) service that solves the challenges of dealing with sophisticated threats by augmenting the world-class AI of the CrowStrike Security Cloud with the efficiency of a dedicated, 24/7 team of security professionals, backed up by the industry's strongest breach prevention warranty.
This white paper explores the challenges associated with stopping today's sophisticated threats, and how the Falcon Complete team is uniquely positioned to solve these challenges.
Read this white paper to learn:
Common challenges to maximizing security posture

How expert management can harden your defenses and optimize protection

How 24/7/365 proactive monitoring ensures that intrusions are identified in minutes, before damage can occur

How surgical response allows threats to be eliminated without impact to your business, giving you ultimate peace of mind
Discover More at our

Resource Center
For technical information on installation, policy configuration and more, please visit the CrowdStrike Tech Center.
Visit the Tech Center