Rethinking Risk Management: How CrowdStrike Falcon Aligns with the CIS Critical Controls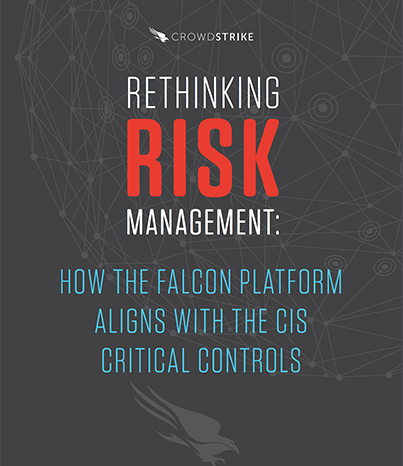 How CrowdStrike Falcon Aligns with the CIS Critical Controls
Today's threat landscape is ever-evolving with attackers continuously innovating as they strive to stay ahead of modern cybersecurity solutions. To help organizations defend against these threats, the Center for Internet Security (CIS) has created a comprehensive risk management framework of 20 security controls to assist all organizations in improving their security postures.
This white paper, "Rethinking Risk Management: How CrowdStrike Falcon® Aligns with the CIS Critical Controls," offers an overview of the controls and explains how the CrowdStrike Falcon platform supports each one. Learn how CrowdStrike's modern, resilient, and comprehensive protection supports your risk management goals, and helps your organization implement best-practices security controls that can ensure protection against even the most sophisticated and evasive threats.
Read this whitepaper to learn:
What each of the 20 Critical Controls are and where to apply them in your organization
How cloud-delivered endpoint security helps align your organization with these controls
How the Falcon platform streamlines and improves security efficacy, without affecting endpoint performance
Discover More at our

Resource Center
For technical information on installation, policy configuration and more, please visit the CrowdStrike Tech Center.
Visit the Tech Center