Stopping Breaches with Threat Graph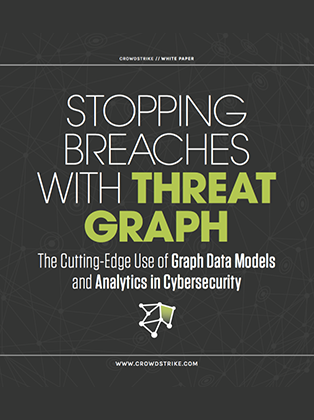 The Cutting-Edge Use of Graph Data Models and Analytics in Cybersecurity
One of the biggest challenges to effectively stopping breaches lies in sifting through vast amounts of data to find the proverbial "needle in the haystack" – the subtle clues that indicate an attack is imminent or underway. As modern computer systems generate billions of events daily, the amount of data to analyze can reach petabytes. Compounding the problem, the data is often unstructured, discrete and disconnected. As a result, organizations struggle to determine how individual events may be connected to signal an impending attack.
In this context, detecting attacks is often difficult, and sometimes impossible. This white paper describes how CrowdStrike solved this challenge by building its own graph data model – the CrowdStrike Threat GraphTM – to collect and analyze extremely large volumes of security-related data, and ultimately, to stop breaches. This revolutionary approach applies massive graph-based technologies, similar to the ones developed by Facebook and Google, to detect known and unknown threats.
Discover More at our

Resource Center
For technical information on installation, policy configuration and more, please visit the CrowdStrike Tech Center.
Visit the Tech Center