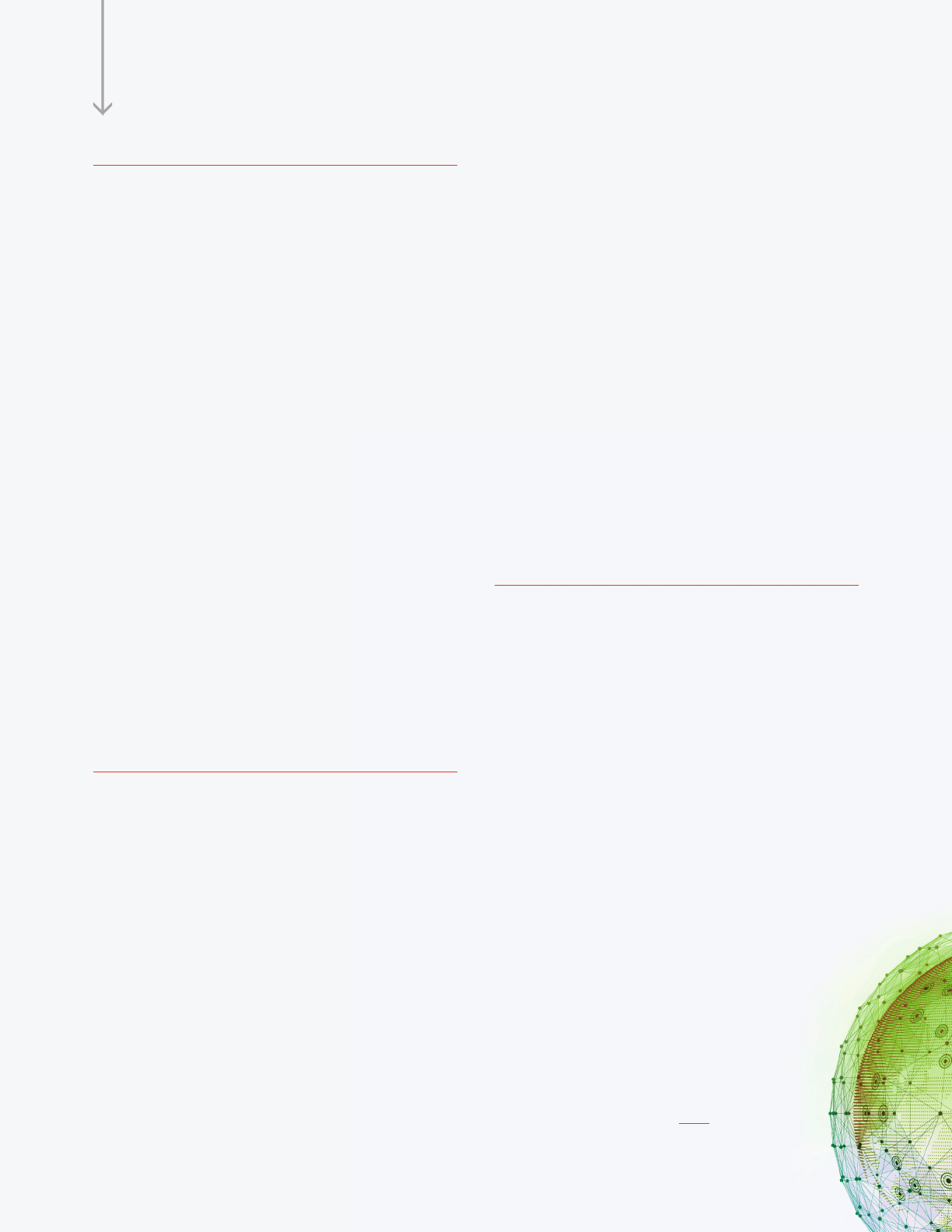 ECRIME
E
Crime is an ecosystem where different organiza-
tions and individuals weave intricate relationships
in order to exploit their victims, and they are
constantly evolving and improving their tradecraft.
Criminal activity continues to thrive in the shadow of
legal impediments to law enforcement and the ability
of the actors to hide in the relative anonymity of the
Internet. CrowdStrike Intelligence observed a significant
increase in extortive attacks carried out by organized
criminal groups in 2015. The prevalence of social engi
-
neering schemes using inside knowledge of the target
also flourished in 2015. Possibly as a consequence of the
confluence of cybercriminal and espionage activities,
tomorrow's malware may likely develop into a multi-pur
-
pose tool that provides a platform suitable for a wide
variety of malicious operations. Such an open-ended ar
-
chitecture and the complexities involved in determining
the actor's intent is likely to pose a research challenge to
defenders in the near future. It is probable that in 2016,
the introduction of new malware families with increased
complexity and stealth will continue to expand. Ran
-
somware also has been a growth market for criminals
in 2015, and this trend shows no sign of abating.
HACKTIVISM
H
acktivist activity may occur in concert with
geo-political issues and conducted in the guise
of activism, nationalism, or simply mischief.
Actors who participate in hacktivism can range from
seasoned hacking veterans to angry neophytes who
volunteer to join a participatory DDoS (distributed
denial of service) attack. Regional conflicts will likely
remain a primary driver of nationalistic hacktivist
activity in 2016. Examples in 2015 include the controver
-
sial Canadian Anti-Terrorism Act (C-51), which resulted
in widespread DDoS against Canadian government
organizations. Hacktivism can also manifest itself in
the form of social activism such as the DDoS attacks
against targets in Baltimore, Maryland, following the
funeral service for Freddie Gray, a man who died in
police custody. Some cases of hacktivism are difficult
to distinguish from nation-state offensive cyber activity.
Groups like the Syrian Electronic Army (SEA), tracked
by CrowdStrike as DEADEYE JACKAL, or the Yemeni
Cyber Army can have strong overlap with regimes that
want to use nationalistic hackers as a volunteer army to
support the cause of a regime. Hacktivism such as that
which followed the Charlie Hebdo events in Paris, or in
wake of the increasing presence of Islamic extremism
manifested by Da'esh (ISIS) and pro-ISIS groups, may
take on an aggressive hacktivist-versus-hacktivist
dynamic. Hacktivism can happen anywhere, at any
time, for any reason, against any target, particularly
government and financial sector organizations around
the globe. Understanding the motivation and core ethos
of hacktivist groups can help organizations be prepared
to defend themselves against these aggressors.
SUMMARY
C
EOs and boards of directors who ignore or
disregard the ramifications of the global events
which are the primary drivers behind today's
cyber threats will pay for it in the loss of revenue, jobs,
intellectual property, and shareholder value. This shift
underscore's the importance of an effective intelligence
program about the motivations of your adversary.
The mantra "people, processes and technology" is
no longer enough for cyber security. In today's threat
environment, it takes people, processes, technology
AND intelligence. Intelligence is no longer a "nice-to-
have." It is a mandatory element of stopping breaches.
The CrowdStrike team has put tremendous effort
into capturing this real attack telemetry, analyzing
it, distilling how adversaries operate, and more
importantly, what motivates them. We hope our
experiences and the lessons learned that are
manifested in the 2015 Threat Report will provide
companies a sampling of the intelligence they
need to protect themselves in 2016 and beyond.
FOR THE FULL REPORT CLICK
HERE