EY's Ransomware Readiness and Resilience Solution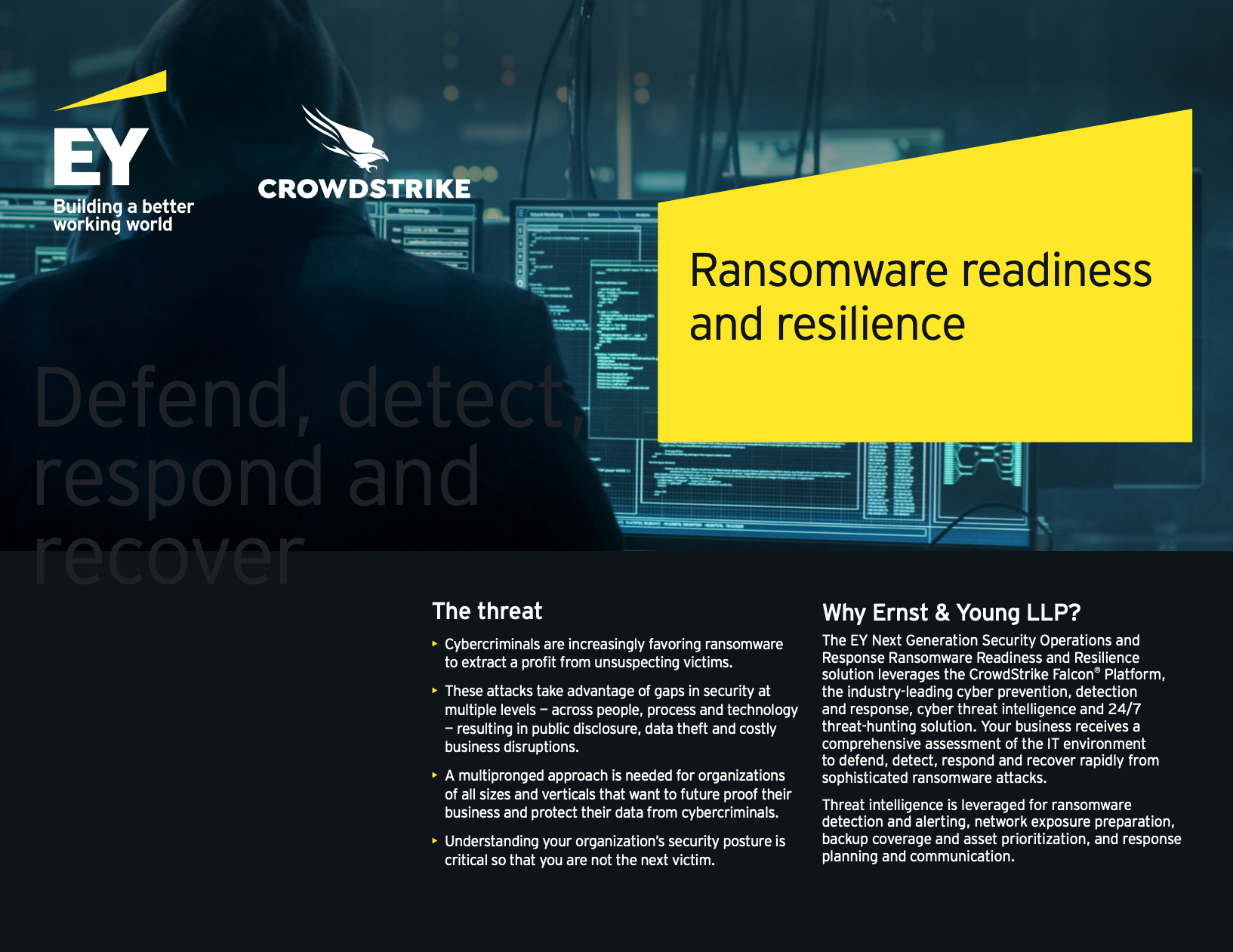 Defend, detect, respond and recover with EY and CrowdStrike
Ransomware is quickly becoming the favored means for cybercriminals to extract a profit from unsuspecting victims. Financially motivated threat actors are using widespread ransomware attacks in multiple industries for data theft, public disclosures, and business disruption often costing millions of dollars. Organizations face a critical challenge in ensuring they are protected and secured against ransomware threats and tools that provide immediate, real-time visibility into their organization's environment to identify and eliminate potential compromises.
Adversaries are not only launching ransomware attacks against a wide range of industries, they are consistently evolving their tactics, techniques and procedures (TTPs) to foil your organization's best cybersecurity strategies. In response, CrowdStrike and EY have teamed up to create the Ransomware Readiness and Resilience solution — a multi-pronged strategy to effectively combat these threats.
EY's Next Generation Security Operations and Response (NGSOAR) services and solutions, together with the CrowdStrike Falcon® platform, provide industry-leading protection and detection capabilities with cyber threat intelligence and 24/7 threat hunting to gain a significant advantage over ransomware threats. The solution offers joint customers immediate, real-time visibility into their organization's environment, identifying and eliminating potential compromises and preventing silent failure. This powerful combination helps to contain active threats and ejects them from networks quickly, eliminating the threat of ransomware immediately and efficiently.
Discover More at our

Resource Center
For technical information on installation, policy configuration and more, please visit the CrowdStrike Tech Center.
Visit the Tech Center