Falcon Endpoint Protection Premium Data Sheet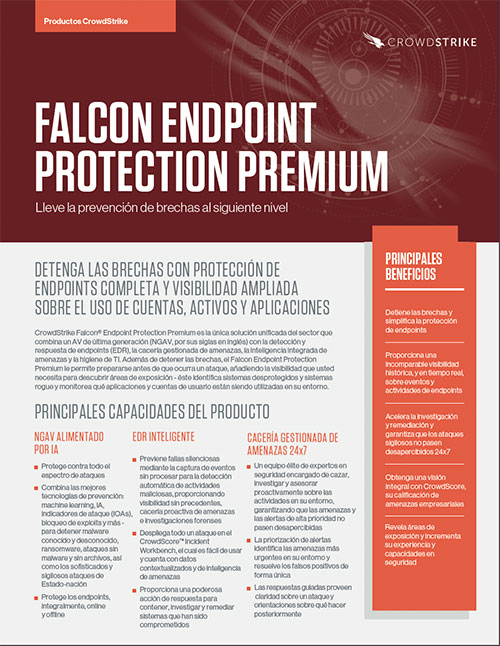 Lleve la prevención de brechas al siguiente nivel
CrowdStrike Falcon® Endpoint Protection Premium es la única solución unificada del sector que combina un AV de última generación (NGAV, por sus siglas en inglés) con la detección y respuesta de endpoints (EDR), la cacería gestionada de amenazas, la inteligencia integrada de amenazas y la higiene de TI. Además de detener las brechas, el Falcon Endpoint Protection Premium le permite prepararse antes de que ocurra un ataque, añadiendo la visibilidad que usted necesita para descubrir áreas de exposición – éste identifica sistemas desprotegidos y sistemas rogue y monitorea qué aplicaciones y cuentas de usuario están siendo utilizadas en su entorno.
Discover More at our

Resource Center
For technical information on installation, policy configuration and more, please visit the CrowdStrike Tech Center.
Visit the Tech Center