2020 CrowdStrike Global Threat Report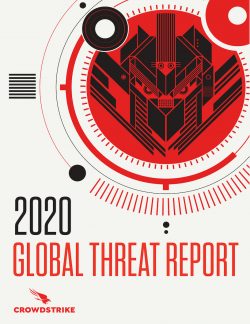 In-Depth Analysis of the Top Cyber Threat Trends Over the Past Year
Update: CrowdStrike's 2021 Global Threat Report is now available. Download the report to stay ahead of today's adversaries.
The 2020 Global Threat Report is one of the industry's most highly anticipated reports on today's most significant cyber threats and adversaries. It features a comprehensive overview of the global investigations and deep analysis conducted by the CrowdStrike® Intelligence team, the Falcon OverWatch™ managed threat hunting team and the CrowdStrike Services incident response team throughout 2019.
The report covers real-world scenarios and observed trends in attackers' ever-evolving tactics, techniques and procedures, and offers practical recommendations to protect your organization in the coming year. Here are some highlights:
Big game hunting (BGH) escalated, and ransom demands soared into the millions, causing unparalleled disruption.
Cybercriminals are weaponizing sensitive data to increase pressure on ransomware victims.
The eCrime ecosystem continues to evolve, mature and develop increasing specialization.
Outside of BGH, an increase was observed in eCrime campaigns targeting financial institutions around the world.
The trend toward malware-free tactics accelerated, with malware-free attacks surpassing the volume of malware attacks.
State-sponsored targeted intrusions continued to gather intelligence and promote division within communities, and possible collaboration with sophisticated eCrime adversaries was observed.
Now that you've downloaded the report…
Get free access to the Falcon platform to see how CrowdStrike keeps you ahead of the adversaries outlined in the Global Threat Report. No credit card required.
Discover More at our

Resource Center
For technical information on installation, policy configuration and more, please visit the CrowdStrike Tech Center.
Visit the Tech Center