Impact Assessment: Cyber EO Year One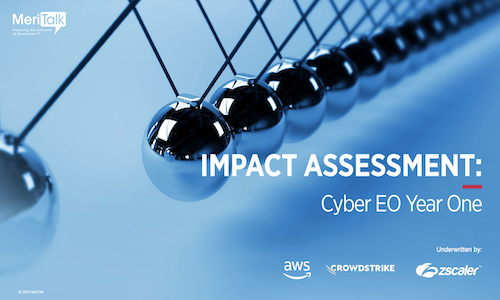 Impact Assessment: Cyber EO Year One
The White House's May 2021 Cybersecurity Executive Order (EO) set a new tone for Federal cyber policy, urging agencies to move to the cloud and adopt zero trust security architectures.
As we approach the directive's one-year anniversary, is Federal cybersecurity better off? What impacts – both positive and negative – is the EO having on Federal security operations? What progress have agencies made against key milestones, and where are they falling short? Additionally, how would agencies grade the EO?
In partnership with AWS and Zscaler – and developed by MeriTalk – the "Impact Assessment: Cyber EO Year One" research report uncovers the answers from 160 Federal Civilian and Department of Defense (DoD) cyber decision-makers as they explore Federal cyber progress since the EO's release, identify what successful agencies are doing differently, and find where Federal leaders need additional support to deliver on the EO's promise of bold cyber change.
Download the full report to learn more.
Discover More at our

Resource Center
For technical information on installation, policy configuration and more, please visit the CrowdStrike Tech Center.
Visit the Tech Center