IT Hygiene: The "Who, What and Where" of Endpoint Protection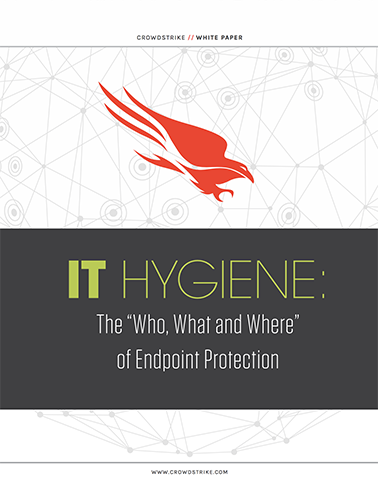 An effective endpoint security strategy starts with a clutter-free environment
With organizations scaling their data systems at an unprecedented rate, managing these evolving and heterogeneous environments can be challenging, especially when IT teams lack visibility into who and what is running on their networks.
This white paper, "IT Hygiene: The 'Who, What and Where' of Endpoint Protection," offers practical advice on the elements of good IT hygiene and explains why it should be an integral part of your endpoint security strategy.
Download this white paper to learn:
What is good IT hygiene and what happens when it's missing?
The key characteristics of an effective IT hygiene approach and the benefits of each — why establishing and maintaining good IT hygiene should be a priority.
How CrowdStrike Falcon Discover™ delivers the visibility and controls needed to achieve good IT hygiene that can improve your organization's security posture.
Discover More at our

Resource Center
For technical information on installation, policy configuration and more, please visit the CrowdStrike Tech Center.
Visit the Tech Center