Diversity, equity
and inclusion
We're building a diverse, equitable and inclusive culture that fuels creativity, innovation and a sense of belonging,
helping people achieve their best work in a supportive environment.
Our culture is purpose-built around a remote-first way of working — creating a competitive advantage for both the company and our customers, and mitigating disruption from issues such as natural disasters, political events or health emergencies.
Learn more about our culture
Inclusive hiring
CrowdStrike is an advocate for diversity and equal employment opportunities. To enhance our culture as we grow, we offer unconscious bias training for recruiters and hiring managers with the goal of helping our people be more inclusive managers, run inclusive meetings and be thoughtful of inclusivity in everyday process and practice.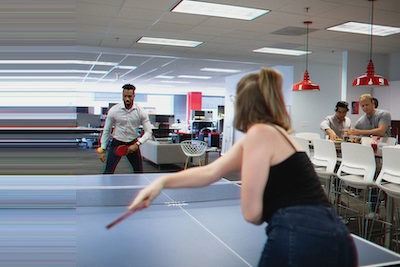 Employee advocacy & engagement
A diverse, equitable, and inclusive culture fuels innovation.

We provide tools that help us come together to connect with each other, celebrate common causes, raise awareness around issues that affect all of us, and learn to actively and mindfully involve everyone's ideas, perspectives, experiences, and approaches.

Through employee resource groups, internal development programs, allyship training, speaker series, networking opportunities, and more, we are empowered to come together to create a workplace that reflects the diverse communities around us.
Employee resource groups




Health and wellness programs




Training, development and mentorship opportunities




Webinar and speaker series



"We not only have the best technology and the best people in the industry, we're on a mission that matters. This extends to our culture. We strive to create an environment that values and includes all backgrounds and points of view so we foster the diversity of perspective it takes to continuously innovate. "
J.C. Herrera, CHRO
"Our hope is that we will collectively increase our diversity of thought, enabling us to reach an even deeper understanding of our customers' needs and continue to grow as an industry leader and innovator. "
Emily Van Norden, Global Head of DE&I
Our other initiatives
Explore other ways we're working to secure a better tomorrow.