CrowdStrike Announces Expanded Partnership at AWS re:Invent 2021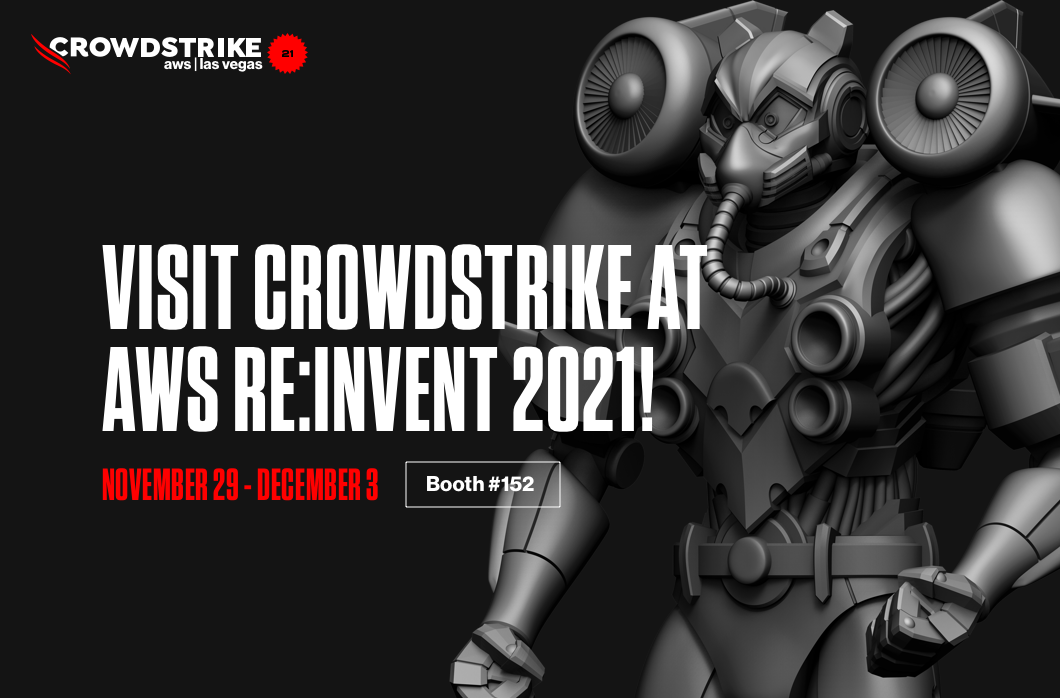 We're ready to meet you in person in Las Vegas! CrowdStrike is a proud Gold sponsor of AWS re:Invent 2021, being held Nov. 29 through Dec. 3. Stop by Booth #152 at the Venetian for a chance to obtain one of our new limited-edition adversary figures while supplies last. (More details below.) Plus, connect 1:1 with a CrowdStrike expert in person. Register today so you don't miss out on CrowdStrike in action! Check out what else we have to offer here. 
Here's a sneak peek.
What's New 
At AWS re:Invent 2021, we are announcing expansions to our strategic partnership with AWS to provide breach protection and control for edge computing workloads running on cloud and customer-managed infrastructure, providing simplified infrastructure management and security consolidation, without impact to productivity. 
Build with AWS, Secure with CrowdStrike
AWS Outposts Rack (42U), AWS Outposts Servers (1U and 2U) 
CrowdStrike is proud to be a launch partner of AWS Outposts 1U and 2U servers and is now compatible with the AWS Outposts rack. AWS Outposts is a fully managed service that offers the same AWS infrastructure, AWS services, APIs and tools to on-premises data centers, co-location space, or edge locations like retail stores, branch offices, factories and office locations for a truly consistent hybrid experience. AWS Outposts is ideal for workloads that require low latency access to on-premises systems, local data processing, data residency and migration of applications with local system interdependencies. As a launch partner, this allows CrowdStrike to provide complete end-to-end visibility and protection for a customer's AWS Hybrid environments as well as Internet of Things (IoT) and edge computing use cases.  
CrowdStrike Achieves EKS Anywhere Certification
Amazon EKS Anywhere is a new deployment option for Amazon EKS that allows customers to create and operate Kubernetes clusters on customer-managed infrastructure, supported by AWS. Starting today, AWS customers can now run Amazon EKS Anywhere on their own on-premises infrastructure using VMware vSphere. Now, with the Amazon EKS Anywhere certification, joint CrowdStrike and AWS solutions deliver end-to-end protection from the host to the cloud, delivering greater visibility, compliance, and threat detection and response to outsmart the adversary. CrowdStrike supports development and production of Amazon EKS workloads across Amazon EKS, Amazon EKS with AWS Fargate, and now Amazon EKS Anywhere.

Humio Log Management Integrations with AWS Services 
Humio's purpose-built, large-scale log management platform is now more tightly integrated with a number of AWS services, including AWS Quick Starts and AWS FireLens. 
AWS Quick Starts for Humio:

AWS Quick Starts are automated reference deployments built by AWS solutions architects and AWS Partners. AWS Quick Starts help you deploy popular technologies on AWS according to AWS best practices. Joint customers will be able to initiate Humio clusters via AWS Quick Starts Templates to reduce manual procedures to just a few steps, empowering customers to start attaining Humio's streaming observability at scale and with consistency, within minutes.



Humio Integration with AWS FireLens:

Customers are now able to ingest AWS service and event data into Humio via AWS FireLens container log router for Amazon ECS and AWS Fargate. Humio customers will now have greater extensibility to use the breadth of services at AWS to simplify routing of logs to Humio, enabling accelerated threat hunting and search across their AWS footprint for novel and advanced cyber threats.
AWS Security Hub Integration Now Supports AWS GovCloud 
CrowdStrike Falcon® already integrates with AWS Security Hub to enable a comprehensive, real-time view of high-priority security alerts. CrowdStrike's API-first approach sends alerts back into AWS Security Hub and accelerates investigation, ultimately helping to automate security tasks. 
We have now extended this integration to publish detections identified by CrowdStrike Falcon® for workloads residing within AWS GovCloud to AWS Security Hub to assist customers operating in highly regulated environments, such as the U.S. public sector. This will allow customers' security operations center (SOC) and DevOps team to streamline communications and simultaneously view and access the same cybersecurity event data. 
CrowdStrike and AWS Partnership 
CrowdStrike is an AWS Partner Network (APN) Advanced Technology Partner, a global partner program to leverage AWS business, technical and marketing support to build solutions for customers. In addition, CrowdStrike has passed the technical review for the AWS Well Architected ISV Certification. By achieving this certification, CrowdStrike has proven to adopt AWS best practices to lower costs, drive better security and performance, adopt cloud-native architectures, drive industry compliance and scale to meet traffic demands. CrowdStrike product offerings are available in the AWS Marketplace.
The Powerful Benefits of CrowdStrike and AWS 
Our joint solutions and integrations in various AWS services are powered by CrowdStrike Threat Graph®, which captures trillions of high-fidelity signals per day in real time from across the globe. Customers benefit from better protection, better performance and immediate time-to-value delivered by the cloud-native Falcon platform, designed to stop breaches. With over 14 service level integrations available, joint AWS and CrowdStrike customers are provided a consistent security posture between their on-premises workloads and those running in the AWS Cloud.
Unified, hybrid security experience:

To reiterate, CrowdStrike supports development and production of Amazon EKS workloads across Amazon EKS, Amazon EKS with AWS Fargate, and Amazon EKS Anywhere. With a single lightweight agent and single management console, customers can experience a unified, end-to-end experience from the host to the cloud. No matter where the compute workloads are located, customers benefit from visibility, compliance, and threat detection and response to outsmart the adversary.

Real-time observability at enterprise scale:

Humio offers the freedom to log hundreds of terabytes a day with no compromises. Now with the direct integration with AWS FireLens, customers have complete visibility to see anomalies, threats and problems to get to the root of anything nefarious that has happened across their AWS infrastructure in real time.

A modern and consistent security approach:

The latest integrations, support and certifications from CrowdStrike for AWS allow organizations to implement a modern enterprise security approach where protection is provided across your AWS infrastructure to defend against sophisticated threat activity. 
Visit CrowdStrike at Booth #152
Come by Booth #152 for a chance to win your own adversary figure, engage in product demos and chat with CrowdStrike experts.
How to Obtain Your Own Adversary Figure 
Earn a limited-edition adversary collectable card for each step you complete. Then show your three collectable cards to a CrowdStrike representative at our giveaway station in our booth, and you'll be rewarded with your very own adversary figure while supplies last! 
Listen to a theater presentation at the CrowdStrike booth 

Engage in a product demo at one of our demo stations

Snap a selfie and tag #GoCrowdStrike (we will have adversary masks in the booth)
Meet 1:1 with a CrowdStrike Executive
CrowdStrike will have executives and leaders attending AWS re:Invent in person. If you're interested in a 1:1 onsite meeting, please fill out the form here. 
Questions? Please contact aws@crowdstrike.com. We look forward to seeing you at AWS re:Invent 2021!
Additional Resources
Related Content