IDC MarketScape Names CrowdStrike Falcon® a "Leader" for Endpoint STAP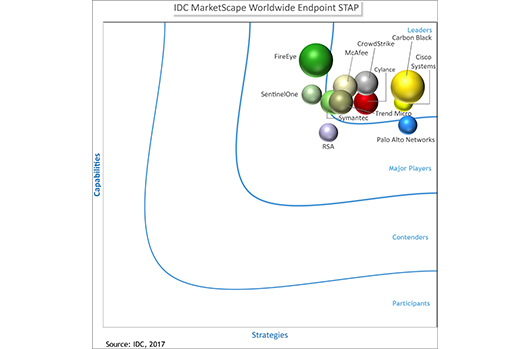 The IDC MarketScape vendor analysis model is designed to provide an overview of the competitive fitness of information and communications technology (ICT) suppliers in a given market. The research methodology utilizes a rigorous scoring methodology based on both qualitative and quantitative criteria that results in a single graphical illustration of each vendor's position within a given market. The Capabilities score measures vendor product, go-to-market and business execution in the short term. The Strategy score measures alignment of vendor strategies with customer requirements in a 3-to-5-year timeframe. Vendor market share is represented by the size of the circles. Vendor year-over-year growth rate relative to the given market is indicated by a plus, neutral or minus next to the vendor name.
I'm pleased to announce yet another strong finish for CrowdStrike this week, being named a "leader" in the endpoint segment of the seminal industry report, IDC MarketScape: Worldwide Endpoint Specialized Threat Analysis and Protection 2017 Vendor Assessment (doc # US42385717, April 2017). This makes IDC the latest in a growing list of prestigious global analyst firms that have recognized CrowdStrike Falcon's best-in-class capabilities, coming right on the heels of similar findings in the most recent Gartner Magic Quadrant and Forrester Wave reports for the endpoint protection category.
the IDC MarketScape report emphasizes the success of our efforts to revolutionize the security industry and establish the CrowdStrike Falcon platform as the new gold standard in endpoint protection. Specifically, the IDC MarketScape report states:
CrowdStrike's fully SaaS-based endpoint protection solution "stands above competitive offerings by offering extremely robust prevention capabilities (and) a highly navigable management console that should be appealing to incident responders."
For organizations with less IT security resources, the Falcon platform "can be deployed as next-generation antivirus and also be configured as a fully capable endpoint threat detection solution with strong detection, prevention, activity recording, historical search, and forensics capabilities."
One of CrowdStrike's major differentiators is its "ability to roll out the platform in days rather than months with some other competitive solutions."
These are just a few of the items about CrowdStrike Falcon noted in the IDC MarketScape report. The report also mentions the unique benefits of our optional 24×7 managed hunting service, our focus on early detection of active attack indicators (not just indicators of past compromises), our robust set of APIs that are "a leap above competitive solutions," our industry-leading machine learning and file reputation capabilities, and our unique ability to deliver all of this using a single, lightweight agent via a completely SaaS-delivered solution.
This recognition maps to our strategy for leading the market in defining next-gen endpoint protection with the speed, scale, effectiveness, and efficacy that organizations need in today's dynamic business environment. In fact, we are the only independently tested next-generation endpoint protection solution certified as capable of fully replacing legacy AV. This latest recognition by the IDC MarketScape further underscores our commitment to unbiased independent evaluation. As a company, we firmly believe in full transparency so that customers can accurately understand vendors' true capabilities and separate hype from reality. To that end, we remain dedicated to participating in peer reviews by reputable independent testing houses, established industry analyst firms such as IDC, and other credible third-parties. We see this as part of our mandate to serve our customers better and positively impact standards in the endpoint security industry.
Since the first introduction of CrowdStrike's cloud-native solution, our dedication to providing better, faster, and more effective endpoint protection hasn't wavered. The recognition that continues to pour in from top industry analyst organizations such as IDC provides validation that we are executing on our mission, which is to protect our customers and stop breaches with best-in-class technology and services that are built to stay ahead of constantly evolving cyber threats, no matter how stealthy and sophisticated they become.
Get the details of the IDC MarketScape's CrowdStrike evaluation in the 2017 vendor assessment on Endpoint STAP (Specialized Threat Analysis and Protection) report, and if you're interested in joining one of the world's fastest-growing security companies on a mission to protect organizations from global cyber threats, please check the open job listings on our careers page.