CrowdStrike Brings AI-Powered Cybersecurity to Small and Medium-Sized Businesses
New release of CrowdStrike Falcon Go makes stopping ransomware and preventing breaches possible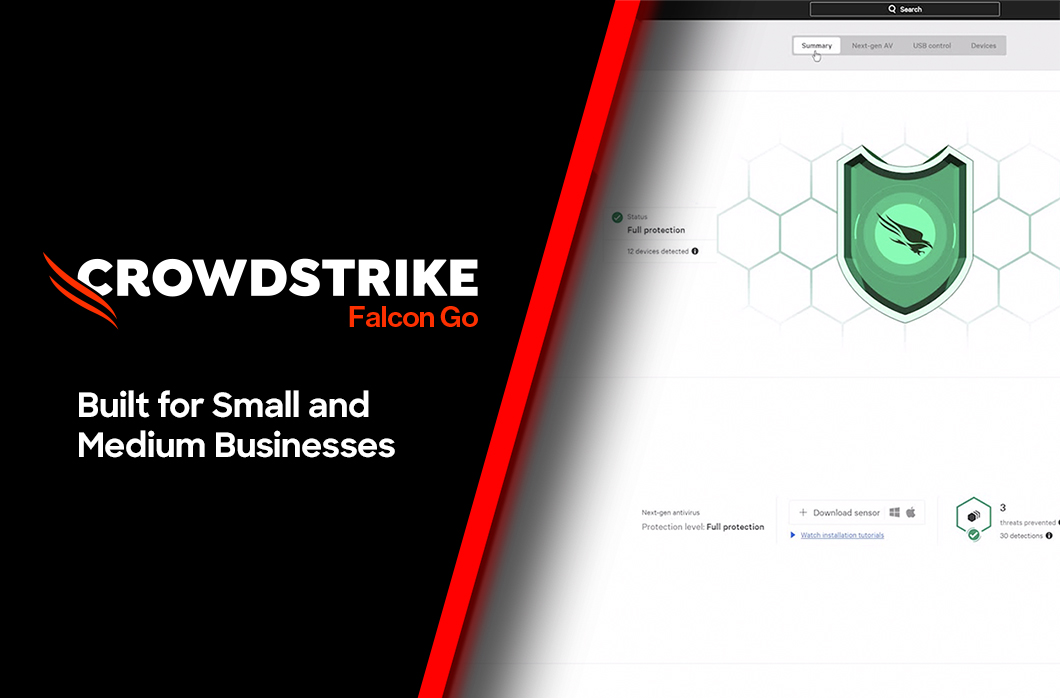 Cyber risks for small and medium-sized businesses (SMBs) have never been higher. SMBs face a barrage of attacks, including ransomware, malware and variations of phishing/vishing. This is one reason why the Cybersecurity and Infrastructure Security Agency (CISA) states "thousands of SMBs have been harmed by ransomware attacks, with small businesses three times more likely to be targeted by cybercriminals than larger companies." 
In a desperate attempt to defend themselves, SMBs often turn to traditional antivirus (AV) software and even off-the-shelf consumer AV solutions. But these offerings simply can't keep up with modern attacks. Referred to as "legacy AV," these solutions are reactive and only able to defend against known malware or ransomware previously cataloged by the AV provider. This is too slow and reactive to stop modern adversaries. It only takes one attack to slip through legacy defenses to bring a business to a halt, or worse, result in a company-ending event.  
Legacy AV is also difficult to manage, especially with limited IT and security staff. The average deployment of these products is three months. In addition, they require quite a bit of tuning and manual configuration to be fully functional, adding to the operational burden of managing and updating legacy security tools.
Uncertain of which cybersecurity offering to buy and then deploy, many businesses throw up their hands in defeat. One poll shows 60% of SMBs use no cybersecurity measures at all. 
SMBs deserve cybersecurity that's simple, affordable and effective. Today, we're announcing a new release of CrowdStrike Falcon® Go to bring our industry-leading, AI-powered cybersecurity protection to SMBs in a package that's never been easier to purchase, install or operate. 
SMBs Need Cybersecurity That Works
CrowdStrike knows how cybercriminals work and why they target SMBs. We also understand SMBs are often understaffed, resource-constrained and lack in-house security expertise. 
Falcon Go delivers award-winning cybersecurity to protect SMBs against ransomware, malware  and unknown threats. This simple yet powerful solution leverages modern technology, including machine learning, behavioral detection and AI, to deliver best-in-class protection against the cyber threats of today and tomorrow. With Falcon Go, small businesses can get the same enterprise-grade protection trusted by the world's largest organizations and governments in a simple user experience designed for their needs.
SMBs no longer need to worry about staying ahead of evolving cyber threats. Powering Falcon Go is the world's leading AI-native CrowdStrike Falcon® platform, which collects and analyzes trillions of endpoint events per week, giving SMBs the power of the crowd in a solution that even non-technical staff can use to keep their business safe. 
While other SMB cybersecurity solutions may offer simplicity, businesses need security that actually stops breaches. The Falcon platform scored 100% ransomware prevention in SE Labs testing, demonstrating that SMB cybersecurity can be both simple and effective.
Frictionless Purchasing and Installation in Seconds
CrowdStrike is making it easy for SMBs to purchase elite protection and quickly protect their company. Starting today, Falcon Go is available on Amazon Business, allowing SMBs to purchase industry-leading cybersecurity from the same website that millions of businesses use to purchase everyday business items.
Once purchased, users can instantly download and install Falcon Go to begin preventing threats with a guided setup wizard that recommends pre-configured protection levels. With Falcon Go, small businesses can immediately see which devices are protected and any threat activity, with guided and automated next steps to resolve security concerns. Falcon Go also makes it easy to expand protection to new devices, allowing the solution to support business growth. 
SMBs need simple, fast, modern cybersecurity to stop breaches at a price they can afford. With the release of Falcon Go, small businesses can get AI-powered, award-winning cybersecurity with easy purchasing, installation and operations to stop modern cyberattacks. 
To get started with a free trial of Falcon Go, visit the CrowdStrike website.
Additional Resources
Related Content