Bird's-Eye View of Fal.Con 2020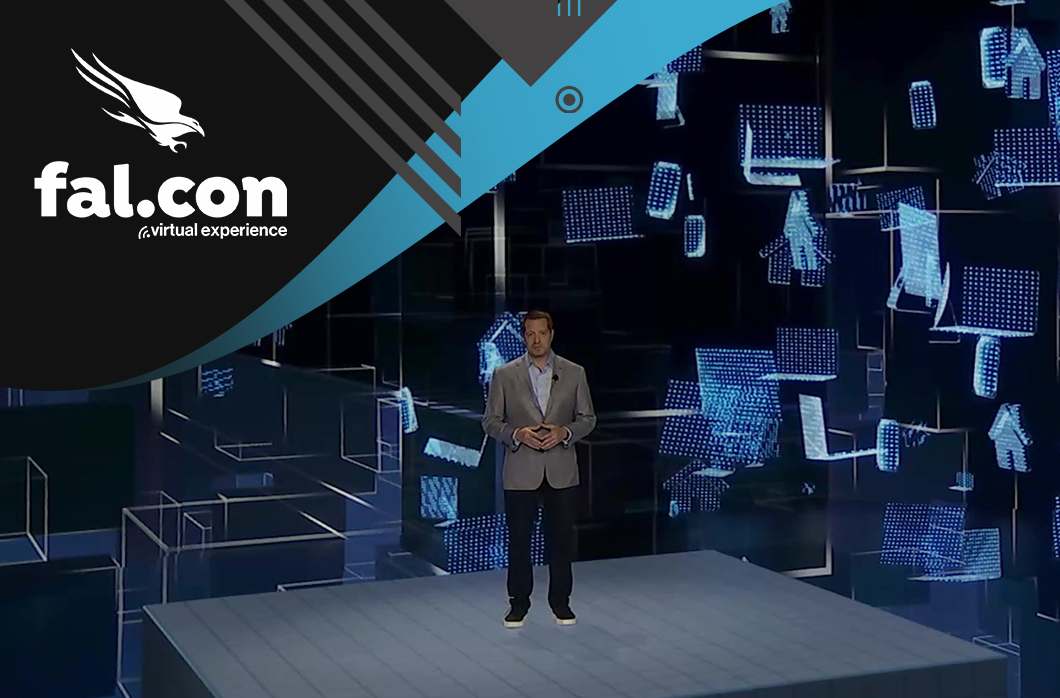 At CrowdStrike, we don't take half measures. When we commit to something, we commit — whether it's taking on the endpoint protection market with a bold new approach, pursuing our global mission of stopping breaches, or turning our annual Fal.Con conference into a virtual experience like no other. 
In keeping with our corporate culture, we saw it for what it was: an opportunity to essentially reinvent the way we experience virtual events. We decided to create a broadcast-quality, immersive virtual Fal.Con that would go beyond typical "talking head" online events, providing a more engaging and entertaining digital experience. 
CrowdStrike customers look forward to our live Fal.Con experiences, so every year we try to outdo ourselves. We couldn't let COVID stop us from continuing our tradition of hosting what's become the must-attend business and technology conference of the year for the global cybersecurity community.
That's just how we roll.
So we gathered a group of partners who all share our passion for innovation and the pursuit of excellence. Together, we were able to harness cutting-edge presentation technologies and video production techniques that have never been attempted before by anyone outside the entertainment industry. 
We coupled those capabilities with a custom-designed web platform to make it even more engaging and interactive, then added some "A-list" guests from the worlds of industry, government, journalism and sports — and yes, even magic. Finally, we topped it off with educational content created by our extraordinary in-house technical experts and stand-out "power users" from the ranks of our dedicated CrowdStrike® customers. 
Then we shared it with the 20,000+ that registered for the live streaming event. And one of the great things about virtual events is that, even if you missed it live, every bit of it is still available to you today and for many months to come.
If you haven't already checked it out, I strongly encourage you to join us and experience Fal.Con 2020. Some of the important topics and sessions you won't want to miss:
"The World Has Changed — for Security and Beyond":

My keynote kicks off with an all-star lineup of security experts and executives, including the

CISOs of The Home Depot, the City of New York Cyber Command and Amazon Web Services; the COO and CEO of the reigning world champion Mercedes-AMG Petronas Formula One team; and the CEO and global chairman of EY

(formerly Ernst & Young). Find out how the events of 2020 have profoundly impacted the world of cybersecurity and how leading organizations are dealing with rapid-fire changes, increased attack surfaces and the challenges of supporting accelerated digital transformation of the enterprise.

Get up close and personal

in an exclusive interview

with Formula One driver Lewis Hamilton

, the racing world's newest "G.O.A.T.

"

Breaking through boundaries and exceeding every expectation are all in a day's work for this trail-blazing sports icon.

Join CrowdStrike Chief Product Officer Amol Kulkarni and Chief Technology Officer Mike Sentonas to hear about our latest innovations in the fields of endpoint, cloud and workload protection; IT and security operations; cyber incident response and forensics; threat intelligence and situational awareness; Zero Trust integration and implementation; and much more.
Learn the details of one of the most astonishing international cyber espionage operations of the year in an exclusive adversary update from CrowdStrike Senior Vice President of Intelligence Adam Meyers.
Watch our CEO Power Panel,

where I'm joined by

the CEOs and founders of Zoom and Slack

to discuss how to survive and thrive in the emerging "work from anywhere" economy.

Sit down with Shawn Henry, CrowdStrike's Chief Security Officer

and President of CrowdStrike Services, as he examines the clandestine world of international election tampering with

Deloitte's Sir Robert Wainwright (former cyber chief and executive director of Europol)

and

National Counterintelligence and Security Center Director William Evanina

, the current head of national counterintelligence for the U.S. government. 
In the weeks ahead, I'll be exploring some of the major themes that have emerged from this year's conference:
How the success of an organization's digital transformation plans hinges on whether they first underwent a

security

transformation.

How endpoints have become the new firewalls — and "workloads" have become the new endpoints.

How the old adage of "trust, but verify" has given way to a new era of "don't trust — just verify" with the rollout of new Zero Trust capabilities.

How our lives have been transformed so that we do everything in the cloud — work, play, shop, learn, communicate and more — and how CrowdStrike's security cloud provides a foundation for protecting that new way of life.
Every year, Fal.Con gives us an opportunity to honor, educate and empower the security and IT professionals who are responsible for protecting the world's leading organizations, institutions – and our most precious assets of all, the people who rely on us every day for their safety and well-being. 
If you haven't yet experienced Fal.Con 2020, I hope you will soon, and that you'll find it as inspirational and aspirational as I have. It's been a tumultuous year, but Fal.Con give us an opportunity to pool our strengths and find common ground. By working together, we're making this world a better and safer place for everyone.
Additional Resources