Eric Magee on What it Means to Sell a Mission That Matters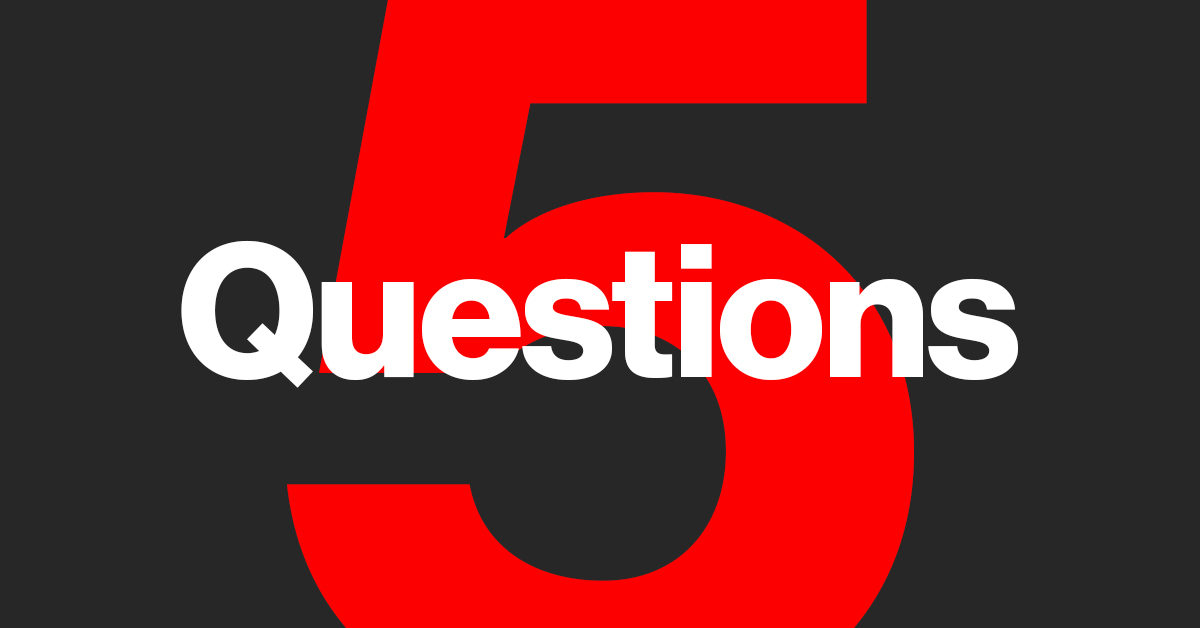 At CrowdStrike, every member of our workforce plays a crucial role in fulfilling our mission to make the digital world a safer place to live and work. Technology may provide the framework for our organization, but it's our people who ensure the digital safety and security of billions of people around the world. Eric Magee, CrowdStrike's corporate sales manager for healthcare and financial services, is proud to be one of those people. 
In our latest installment of 5 Questions, we sit down with Eric to learn more about what brought him to CrowdStrike — and what keeps him here.
Q. What was it that made you want to join CrowdStrike?
I was drawn to CrowdStrike because of the mission. There were a lot of other players in the cybersecurity industry, but CrowdStrike was an outlier in my mind. I really believed in the mission and the vision: We stop breaches. What I liked about it — what I still like about it — is that it's not a lot of marketing fluff. Most mission statements are a long paragraph that no one really understands. "We stop breaches" sounds simple, but it's actually so important. 
When I think about other organizations that I've worked for, I can say we did good work. We did things that helped, but we didn't always make an impact. At CrowdStrike, I feel like I make a difference: stopping breaches, impacting people's lives. I'm in the healthcare and financial industry, protecting financial institutions and patients. For me, being on a mission is critical. I recognize in my career that I need something to believe in, something I can get behind. CrowdStrike has that.
Q. Working in Sales, how do you differentiate CrowdStrike from the competition to clients and potential customers?
The cybersecurity space is crowded, especially in endpoint security. It's a lot of noise, a lot of companies that are banging on their own pots, a lot of copying and pasting the same messages. Everyone in cybersecurity, especially in endpoint security, wants to get into the same room with the same CSO or CIO. It can be very confusing if you're a customer on the other end of it all, trying to navigate your choices.
So what I try to do — and what my team does — is focus on being trusted advisors. We take the time to make sure we understand the pains of our customers. This is especially true in healthcare, given everything going on in the industry and the broader landscape. The same can be said for financial services. When COVID hit and the markets experienced extreme volatility, we needed to focus on the value we could bring to those organizations.
Every sale is about demonstrating how we can help customers today, as well as how we will deliver a long-term vision and strategy. Our value definitely lies in our products and services, but it's up to the Sales team to really convey that through the role of a trusted advisor.
Q. What's something different or unique about working here?
CrowdStrike is definitely a different kind of company. We move at 1,000 miles per hour. Six months at CrowdStrike is like two years anywhere else.
One of the most rewarding things about working here is seeing the growth and development of my team. Watching reps that are early in their career and see them grab ahold of something new, hit their targets for the first time, build an outstanding pipeline, get their first $100,000 deal … all those things are rewarding. To see their achievements is really exciting for me.
On the other hand, I think my biggest realization is that there are bigger things happening beyond CrowdStrike. At the end of the day, we're all humans. We all have our lives. For me, for the longest time, I kept my work life and personal life separate. This year, with the pandemic, the political landscape, and the murder of George Floyd, it was the first time in my life where I could not separate the two.
This year, I felt that I had to make a decision as a leader to either continue to live in this bubble or burst it. For the first time in my life, as a leader, I crossed the line and said, "We're going to talk about everything going on. We're going to talk about work, we're going to talk about our deals, but we're also going to talk about how you're handling being in isolation. How you're handling the political landscape. If you're going to a demonstration, I support that, but I also want you to stay safe." I never thought I'd be talking about all these things, but I think it's an important step to take.
I have an open-door policy with my team. I encourage them to reach out and talk to me about anything and everything. During one-on-ones, I set aside 15 or 20 minutes to talk about non-work-related topics. We talk about whatever they want: family, their reaction to the news, how their families are. I think it's important to have that dialogue. 
Q. What's one challenge in the world that you think CrowdStrike can help solve?
One big challenge at almost every tech organization, especially in cybersecurity, is the lack of diversity. I think CrowdStrike has a wonderful opportunity to change the narrative and be a leader in the space of promoting people that tend to be underrepresented in our industry: Black men and women, and people from other backgrounds and different cultures. There are so many talented folks that look like me and that have similar backgrounds who can contribute so much to this organization if given the opportunity. I'd love to see more done to recruit from more diverse talent pools. 
And you may ask: What problem does it solve? Diverse thinking fuels progress. A diverse organization is a healthy organization. 
Q. Do you have any exciting plans for the new year?
As we head into a new year, I always take a minute to ask, "What do I want to do next year?" Typically, at three years, I get that itch to move on to my next chapter, my next adventure.
CrowdStrike has been one of the few companies where I haven't had that itch. With the upward mobility, the ability to be promoted, there's new challenges every year. We're doing so much with acquisitions and new organizations — there's so much opportunity to be had, so many different ways that I can go. The longevity here is just fantastic. I really appreciate the opportunity that I've had with CrowdStrike so far. 
Are you interested in joining Eric's team of sales reps? Visit the CrowdStrike Careers page to browse open positions and share your resume today.
Additional Resources