CrowdStrike Recognized by Forrester as a Leader in Endpoint Security with the Highest Score in the Current Offering Category
CrowdStrike recognized as a "dominant endpoint" solution with "superior vision"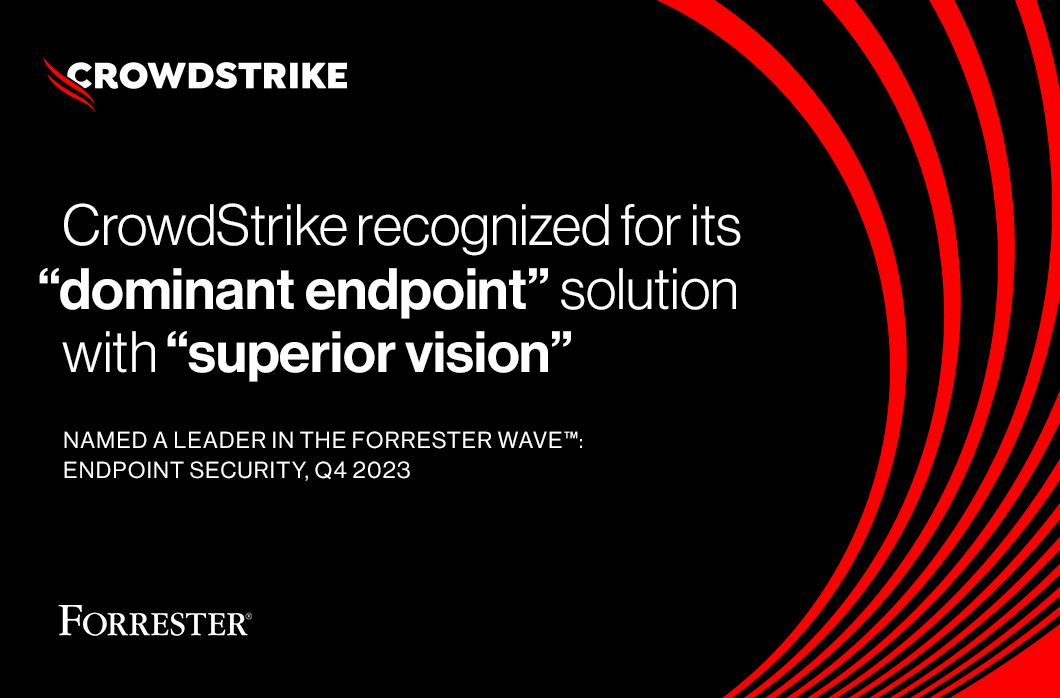 CrowdStrike has been named a Leader in The Forrester Wave™: Endpoint Security, Q4 2023, the latest recognition in a string of accolades for our market-leading cybersecurity solutions delivered from the unified, AI-native CrowdStrike Falcon® platform. 
In the report, Forrester identified the 13 most significant endpoint security providers and researched, analyzed and scored them based on 25 criteria. Our highlights include:

CrowdStrike achieved the highest score in the Current Offering category out of all 13 vendors evaluated and received the highest score possible in 15 of 25 criteria, more than any other vendor evaluated. 

CrowdStrike was recognized by Forrester as a "dominant endpoint" solution with  "superior vision," earning the highest score possible in this criterion. CrowdStrike focuses on stopping adversaries with the "lowest impact on endpoint performance" the report states.

The company was also cited as "a good fit for customers who are interested in evolving to EDR or XDR…."

The Falcon platform was noted as an "attractive endpoint security solution even for small and medium-sized business (SMB) customers."
Providing a Seamless Transition to XDR
Endpoint security needs to be the foundation of a strong cybersecurity strategy. Nearly 90% of successful attacks start at the endpoint, as adversaries look to gain a foothold to launch identity-based attacks, pivot to cloud infrastructure, exploit vulnerabilities and more. And once adversaries gain entry, they move quickly: the average breakout time is down to only 79 minutes, and the fastest observed time in the last year was a mere 7 minutes.
To match and exceed the speed and sophistication of today's adversaries, organizations must prioritize endpoint security as a foundation — delivered from a unified platform that provides powerful capabilities beyond traditional endpoint protection and covers the extended attack surface across cloud, identity, data and more.. In the report, Forrester suggests that endpoint security customers should look for providers that "provide a seamless transition to EDR or XDR." This has long been a top priority for CrowdStrike. 
Since starting as an endpoint security company in 2011, CrowdStrike has continued to innovate and was recognized in the Wave for adding more protection to its dominant endpoint solution and for having a "full set of prevention functions using a single endpoint agent." Last year, CrowdStrike was named a Leader in The Forrester Wave™: Endpoint Detection And Response Providers, Q2 2022 which stated that CrowdStrike "dominates in EDR while building its future in XDR and Zero Trust."
This year, Forrester gave CrowdStrike the highest score possible in the "vision" criterion in The Forrester Wave™: Endpoint Security, Q4 2023, stating: "CrowdStrike's superior vision focuses on how adversaries will attack the enterprise and how to prevent it from happening, as opposed to cleaning up the mess later, while having the lowest impact on endpoint performance." 
Empowering Businesses to Do More with Less
The Forrester report recommends that endpoint security customers look for providers that "extend the ability to do more with less," referencing cybersecurity staffing challenges and the trend toward cybersecurity consolidation.
The Falcon platform's ability to reduce complexity and make teams faster was recently on display at Fal.Con 2023, the company's marquee annual event and cybersecurity's must-attend conference. CrowdStrike showed impressive demonstrations of Charlotte AI, the engine powering the portfolio of generative AI capabilities across the platform utilizing CrowdStrike's high-fidelity data advantage. Charlotte AI makes security analysts better and faster at their jobs by enabling them to rapidly surface the information they need to make smarter decisions. 
Watch demos of the Falcon platform in action
CrowdStrike also recently announced the Raptor release of the industry-leading Falcon platform, further enabling the petabyte-scale, lightning-fast data collection, search and storage that customers need to stay ahead of rapidly evolving adversary tradecraft and stop breaches. With this update, all CrowdStrike EDR customers now get native XDR to accelerate investigations with comprehensive endpoint, identity, cloud and data protection telemetry from across the Falcon platform.
Engineered for Every Business
The unified, AI-native Falcon platform enables customers to consolidate cybersecurity via one lightweight sensor and command console to secure the entire IT infrastructure. This is particularly useful for businesses looking to reduce cost and complexity while improving security outcomes, including small and medium-sized businesses (SMBs).
Said the Forrester report: "CrowdStrike's improvements to its protection engines have allowed it to bring its EDR solution to customers who are looking for a solid prevention foundation without needing deep detection investigations. While often thought of as an enterprise-only solution, CrowdStrike's inclusion of functions like secure configuration management and reporting and extensive attack remediation capabilities has made this an attractive endpoint security solution even for SMB customers."
Recent Recognition
CrowdStrike is consistently recognized for its leadership and the strength of our foundational endpoint security technology. Below is a roundup of other recent awards and recognition for CrowdStrike's endpoint solutions: 
Additional Resources
Related Content