Black Hat 2021: Join Us Virtually or In Person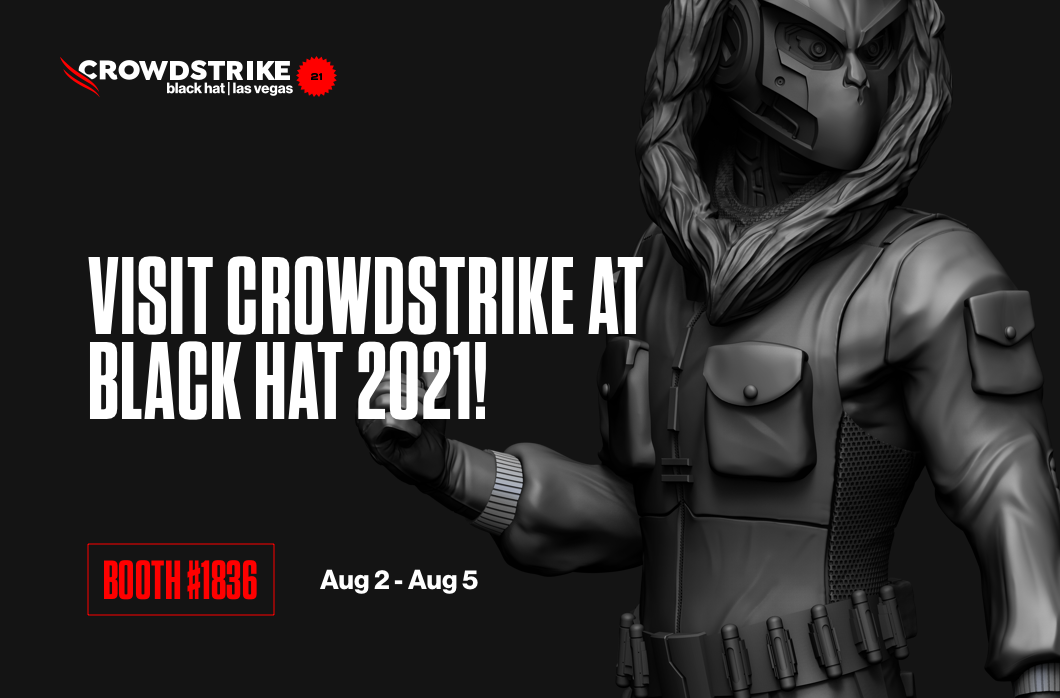 We're proud to be a Titanium Sponsor for Black Hat USA 2021, Aug. 2-5, and we have lots in store, both in person and virtually. If you'll be onsite in Las Vegas, stop by Booth #1836 for a chance to get one of our new limited-edition adversary figures while supplies last. (More details below.) Plus, catch our live session "Getting Ahead of the Ransomware Operations Lifecycle," and connect 1:1 with a CrowdStrike expert in person.  Find out what else CrowdStrike has to offer by visiting our event landing page.
Register today so you don't miss out on CrowdStrike in action. If you can't make it in person, register for a free virtual business pass and stop by our virtual booth to watch our product demos, book 1:1 meetings and hear our CrowdStrike experts discuss ransomware, cloud security, Zero Trust and more in our virtual sessions.
Join Our Black Hat 2021 Sessions 
Getting Ahead of the Ransomware Operations Lifecycle 
In Person — Thurs., Aug. 5, 10:20 a.m.-11:10 a.m. PT
CrowdStrike's Director of Strategic Threat Advisory Group, Jason Rivera, will share our most current understanding of the ransomware threat and discuss how the ransomware ecosystem has evolved in the last couple years. You'll learn about what enables ransomware — including initial access techniques, business models and the latest eCrime monetization schemes — and how to harden your organization's cybersecurity against ransomware. Learn More
Modernize Your SOC: CrowdStrike Falcon Fusion 
Virtual — Wed., Aug. 4, 11:20 a.m.-11:40 a.m. PT
Amidst increasingly sophisticated threats and digital transformation initiatives, enterprise SOC teams have an average of one minute to detect an attack, 10 minutes to understand it and one hour to contain it. In this session with CrowdStrike's Chief Product and Engineering Officer Amol Kulkarni and Distinguished Engineer Jim Plush, you'll find out how CrowdStrike enables organizations to modernize SOC operations and improve productivity by orchestrating and automating complex and repetitive tasks with contextual data insights. Learn More
Frictionless Zero Trust: Top 5 CISO Best Practices 
Virtual — Thurs., Aug. 5, 10:50 a.m.-11:10 a.m. PT
Featuring CrowdStrike's VP of Identity and Zero Trust Marketing, Kapil Raina, this session will help organizations start or develop an evidence-based approach to maturing Zero Trust security — without the friction. Using industry recognized models, Raina will share five practical and proven best practices and tools you can use to accelerate your organization's Zero Trust journey. Learn More
Fast Chat with Austin Murphy 
On Demand
Austin Murphy, CrowdStrike's Vice President and GM of CrowdStrike Falcon Complete™ managed detection and response (MDR), covers recent changes in the ransomware threat landscape, options for a successful ransomware defense, the kind of technology that are table stakes for defenders, why we see more reports of bigger breaches week after week, and more. Learn More 
Think It, Build It, Secure It With CrowdStrike Cloud Security
On Demand 
Stopping breaches in dynamic multi-cloud environments requires a unified platform that is designed to detect modern adversaries and attack patterns. Watch Sowmya Karmali, CrowdStrike Director of Product Management, and Vineet Kumar, CrowdStrike Principal Product Manager, showcase how CrowdStrike cloud security avoids a piecemeal approach to security by unifying cloud security posture management (CSPM) with runtime breach protection for cloud-native workloads (CWPP) in a single platform. Learn More 
Executive Interview Featuring Elia Zaitsev 
Written Q&A
Elia Zaitsev, CrowdStrike's CTO of the Americas, explains what enterprise organizations should take away from recent attacks, what is required for effective threat hunting, and the most common mistakes security leaders make when implementing a threat hunting capability. Learn More 
What's New 
At Black Hat 2021, we'll be announcing details about two exciting additions to our Falcon product portfolio. Here's a preview: 
New CrowdStrike Falcon X Recon+ Managed Solution
CrowdStrike Falcon X Recon+™ is a new managed solution that simplifies the process of hunting and mitigating external threats to brands, employees and sensitive data. It expands upon the effectiveness of Falcon X Recon to expose activity on the cybercriminal underground by adding the skills and experience of the CrowdStrike Intelligence team. These Falcon X Recon+ threat experts manage digital risk protection efforts by monitoring, triaging, assessing and responding to threats across the criminal underground, enabling customers to focus solely on their business.
CrowdStrike Falcon Complete MDR Solution Now Available for GovCloud
CrowdStrike Falcon Complete™ for GovCloud, our new FedRAMP-authorized endpoint protection platform, provides cloud-native managed detection and response (MDR) for the public sector. Offering an unparalleled combination of technology and deep expertise to autonomously protect agencies from sophisticated threats, "Falcon Complete for GovCloud offers cutting-edge MDR to empower security professionals through powerful AI, expert threat intelligence and human defenders who can stop cyber criminals better than technology alone," said James Yeager, CrowdStrike Vice President of Public Sector And Healthcare. 
Learn more about both Falcon X Recon+ and Falcon Complete for GovCloud by stopping by our booth at Black Hat 2021 or scheduling a 1:1 with one of our security experts.
Visit the CrowdStrike Adversary Universe
Enter the Adversary Universe at Booth #1836 for a chance to get your own Adversary Figure, engage in product demos, chat with CrowdStrike experts and learn more about the history behind some of the most prominent adversaries. Take some close-up shots with larger-than-life-size figures, and listen to their stories from members of CrowdStrike's Intelligence team. 
How to Get Your Own Adversary Figure 
Earn a limited edition adversary collectable card for every step you complete below. Show your three collectable cards to a CrowdStrike representative at our giveaway station in our booth, and you'll be rewarded with your very own adversary figure while supplies last!
Take a picture with one of the life-size adversaries in our booth, post it on social media (tagging @CrowdStrike) and use the #GoCrowdStrike for a chance to be featured on CrowdStrike's social account. 

Listen to a threat intel briefing about adversaries from members of CrowdStrike's threat intel team. 

Engage in a product demo at one of our demo stations.
Meet 1:1 with a CrowdStrike Expert, Virtually or In Person 
CrowdStrike will have multiple executives and leaders attending Black Hat in person. If you're interested in a 1:1 meeting onsite, please reach out to your local sales representative.
If you won't be in Las Vegas, stop by our virtual booth (once you get your free virtual business pass) and request to meet with a CrowdStrike expert. Interested in a product demo, learning more about CrowdStrike's products and services, or have another question on your mind? We're here to help!
Questions? Please contact globalevents@crowdstrike.com. We look forward to seeing you at Black Hat 2021! Don't forget to visit us at AWS re:Inforce, Aug. 24-25 in Houston, TX, and mark your calendar for our annual Fal.Con Cybersecurity Conference, October 12-14. Stay tuned for details coming soon! 
Additional Resources

Related Content