Podcast Features George Kurtz on What it Takes to Build a Unicorn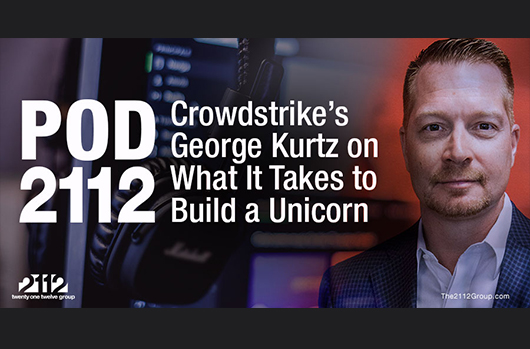 A lot has been written about why startups fail —  a 2017 report from The Harvard Business Review puts the failure rate at 50 percent within the first five years. However, not as much information is available about why they succeed. A recent podcast from POD 2112 explores just that as CrowdStrike CEO George Kurtz explains "What it Takes to Build A Unicorn." In this interview, conducted by Larry Walsh, the CEO and chief analyst for The 2112 Group, Kurtz discusses the values and best practices he has relied on to achieve success. Since this podcast aired, CrowdStrike was named to the Forbes Cloud 100 List for the second year in a row — rising to No. 6 on the list — further evidence of CrowdStrike's continued success.
Walsh opens the podcast by explaining that a unicorn is the term used to describe entrepreneurial companies — startups — that have a valuation of greater than $1B. He explains that it's a rarified title held by companies such as Airbnb, Uber, Titanium and Slack to name a few —  and now includes CrowdStrike. He quickly points out, however, that with the recent series E funding CrowdStrike received, its valuation is actually over $3B. He begins his interview by recounting some of Kurtz's entrepreneurial history before and after leaving his post as CTO of McAfee. Kurtz had first founded a company called "Foundstone" and joined McAfee when it  purchased his company. He left McAfee to co-found CrowdStrike.
Although reaching this level of valuation is a rare achievement for a startup, Kurtz points out that it's not all about the money. "My days at McAfee served me well, but it gave me a much better appreciation for really how challenged the endpoint security industry is in terms of how they look at things," he says. He goes on to explain that the entire landscape from legacy companies — which Kurtz refers to as "fossilized vendors" — is really focused on an on-premises solution driven by an SQL database, architecture that dates back to the 1990s. "We thought there was a great opportunity to redefine the entire market space by creating a cloud-based platform that allows you to deliver and manage endpoint security in a way that just hasn't been done before and more importantly, to provide much better efficacy and much better performance across the entire platform," he says.
A New Approach to Endpoint Security
Walsh asked Kurtz why he took the risk of leaving an executive position with McAfee and if building a unicorn was something he envisioned when he started CrowdStrike. Kurtz says, "Those were the old days and there's probably a little bit more gray hair since then, but I think it's important to realize that what myself and Dmitri Alperovitch, my co-founder, saw was a great opportunity in the endpoint market." Kurtz says they wanted to get into business and create some really good technology, but more importantly, they wanted to focus on preventing breaches rather than just on stopping malware. He explains, "That was the big challenge at the time — people were too focused on the malware instead of preventing breaches. When I look back on the 25 slides we created in our original funding round — not much has changed in terms of the concepts and what we wanted — other than we've been super successful at it."
The Ability to Scale Technology
Walsh also queries Kurtz about CrowdStrike's growth to where they are today, asking, "Did you conceive of a growth, from the beginning, which would require you to open offices, hire staff, hire developers and continue to push the envelope on all fronts?" Kurtz responds, "Well, I think when we looked at it, we first focused on technology scale. You can't build a cloud-native architecture without scale and we did it by taking our time and really putting the effort and dollars into building a true microservice API-driven architecture. So when we think about our cloud as opposed to a lot of our competitors, our cloud is built from the ground up to be a cloud offering. A lot of our competitors took products that they built and just slammed them into an Amazon instance and called it 'cloud.' That really isn't cloud. So we first built ours to be able to handle the scale."
Partnerships are Key
When asked about the significance of CrowdStrike's extended partnerships through alliances and reseller channels, Kurtz emphasizes how extremely important they are, "There's no way that you're going to get to the revenue scale that we're at without having, No. 1, a great reseller channel. We have a channel network and we worked very closely with a lot of large and small organizations that are out there … it could be your traditional resellers to your non-traditional ones like Amazon. You have to invest in your channel, you have to invest in your resellers, managed service providers and other partners, if you want to be successful," he says.
Finding the Right Team
Kurtz also talks about the importance of hiring the right people, "You have to have a great team and that's really what I think the key to success is. You have to surround yourself with people who can complement what you do well….there's a lot of things that I can do really well and there's a whole bunch of things that I'm either not good at or don't like doing, so I complement what I do with others who are really good at that. We've got a very senior executive team and we spent the time and effort to recruit them and nurture them. I've seen a lot of entrepreneurs that have great ideas, but they lack execution because they just haven't spent the time to build a killer team," he says.
Passion for Your Business
Finally, Kurtz emphasizes that passion for your business is paramount, "The biggest thing that I can tell an entrepreneur is certainly to go after your passion and make sure you have the right team. And it's really all about perseverance … because there are going to be so many obstacles in the way, that you want to give up, but you can't. Then once you get that breakthrough, you have a tipping point, which is what we've seen at CrowdStrike where there's just tons of momentum and you become sort of the de facto standard and what people want in your respective area. For me, it's always been about creating value for customers," he says.
Learn more:
Listen to the entire podcast: "What it Takes to Build a Unicorn."
George Kurtz will deliver a keynote address a the Fal.Con POWER UP 2018 cybersecurity conference in Miami, September 17-19.
Get a full-featured free trial of CrowdStrike Falcon Prevent™ and learn how true next-gen AV performs against today's most sophisticated threats.