Second Straight Year On The Fortune 100 Best Medium Companies List Validates CrowdStrike's Employee-First Culture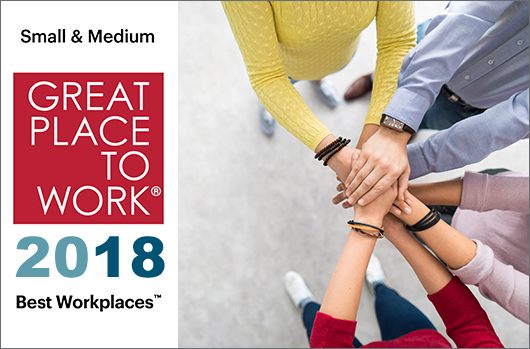 I am thrilled to announce that CrowdStrike® has been named as one of the 100 Best Medium Companies by Fortune and consulting firm Great Place to Work®. CrowdStrike was chosen based on input from thousands of employees at businesses across the U.S.  This is the second year in a row that CrowdStrike has made this list of distinguished workplaces.
The Fortune list stands as the definitive ranking of medium-sized companies that have exceptional workplace cultures. This is an especially rewarding acknowledgment because, since its inception, CrowdStrike has strived to create an employee-centric culture where individuals are rewarded, challenged, and encouraged. In addition, only last month, CrowdStrike was one of the few cybersecurity companies named to LinkedIn's list of the 50 Most Sought-After Startups of 2018. That honor, combined with the recognition from Fortune, underscores our commitment to employees and strengthens CrowdStrike's validation as a great place to work.
In giving us this recognition, Fortune highlighted many aspects of our culture that we are proudest of at CrowdStrike, including our generous employee benefits, flexible paid time-off policies, recognition programs, a supportive and inclusive workplace, and the fact that employees have a direct line to company leadership.
Our success in building the industry's leading endpoint protection solution —  the CrowdStrike Falcon® platform — has been possible because we are able to attract the best employees on a global level. The two go hand-in-hand, which is something our leadership understood from Day One: You can't build a great company unless you have great employees. Our commitment to integrity and teamwork – all focused on defeating the cyber adversaries our customers face every day – comes from the top down. It has helped us attract skilled and experienced employees worldwide, comprising a foundation that's dedicated to innovation, and committed to customer service and industry leadership. Our efforts have paid off, because in only a few years, CrowdStrike's workforce has increased to 1,238 employees globally, with more than 50 percent of employees working remotely, which provides employees and the business with tremendous flexibility.  
CrowdStrike's leadership of the security industry is based on building a strong team by recruiting and retaining the best and the brightest people across all areas of the business. Toward that end, we have developed programs that can help employees perform optimally and achieve their highest career goals.
These programs include:
Falcon Wings:

This is our recognition program that rewards employees who break down barriers, achieve excellence through innovation and are fanatical about serving our customers.

Service Recognition:

We recognize employees for their years of service to CrowdStrike, and we are gratified to have among the highest employee retention rates in the software industry.

Think Week:

This annual event inspires innovation and creativity by challenging teams from different departments to work on a new idea, creative project or an initiative of their choosing which will have real-world application and impact. All employees are encouraged to participate, and awards are given for the best ideas.

Performance Check-Ins:

Rather than being tagged by a performance rating, CrowdStrike conducts regular, less formal and more meaningful check-ins with employees for feedback on objectives, development goals and overall contributions. We continue to increase our investment in evolving our employee and leadership development programs.

FalconFit Wellness:

CrowdStrike values the health and fitness of our employees. This wellness program offers them opportunities to improve their fitness and health, to be educated on good work/life integration, and to participate in a community with others who are interested in enhancing their overall wellness.

CrowdStrike Foundation:

This not-for-profit foundation offers CrowdStrike NextGen Scholarships for student achievers interested in furthering their cybersecurity education. It also fosters give-back projects by our employees, who have been participating globally in helping underserved communities, improving the environment, and many other local, worthwhile causes.
Learn More:
Get details on the benefits of a career with us by visiting the  CrowdStrike Career web page.
Visit the CrowdStrike Facebook page.
Find out more about the CrowdStrike Falcon platform by visiting the product page.