The Perks of Remote Work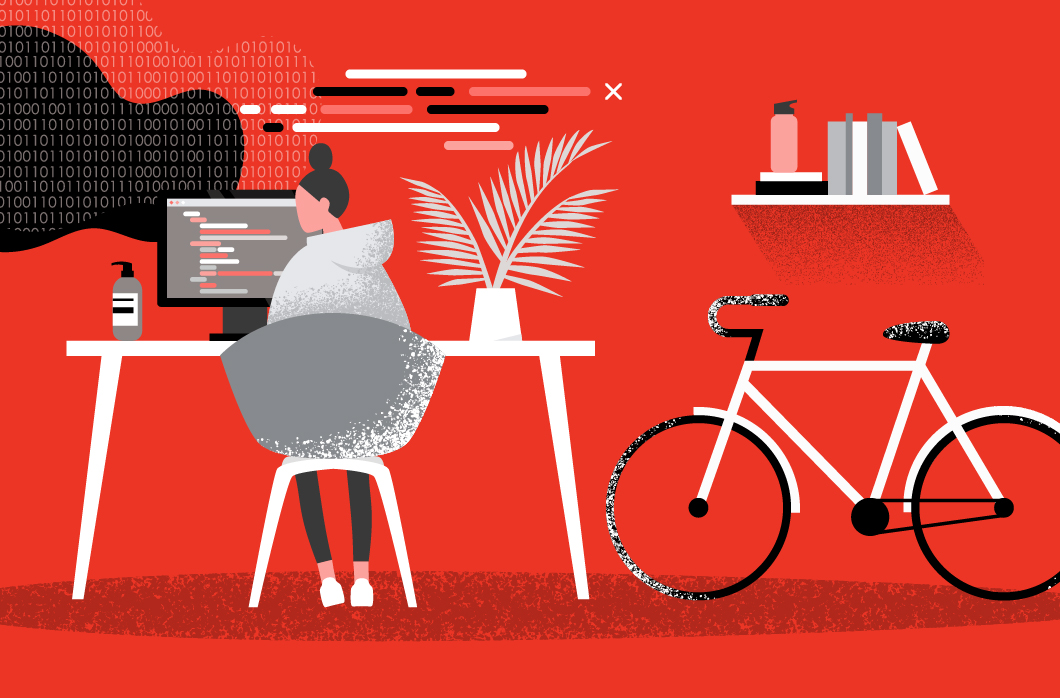 If you're familiar with CrowdStrike, then you may know that we're a "remote-first" organization. This means that we have designed our processes, systems and teams so that people can perform their jobs without needing to be physically present in the same room or even in the same time zone. 
For some people unfamiliar with the concept of remote work, this practice can raise questions and concerns. Aside from not going to the office every day, what does working for a remote-first organization look like? Here we share five key differences between working for a remote-first organization and a traditional employer.
1: People exercise autonomy.
CrowdStrike's remote-first culture is built on the trust that people can and will do the jobs they were hired to do; that they are committed to the company mission; and that they will support each other and live up to the values of the organization.
At CrowdStrike, we practice what's called servant leadership. That's when people in decision-making roles realize that their job is to empower and unblock their teams to live up to their potential. We expect every member of our workforce to take responsibility and accept accountability not only for their day-to-day work but also contribute to the broader innovation agenda of the organization.
2: A wider talent pool means that we attract (and keep!) the best in the business.
Do you want to work with rocket scientists? Because we have those! We also employ some of the best and brightest engineers, technologists and data scientists in the world.
One of the benefits of a remote-first organization is that we hire people who have the right skills no matter where they are based. This means better outcomes for our business and more learning opportunities for our people.
But our goal isn't just to get the best people through the door. We also want to create a place where they'll want to stay. At our company, people have an unprecedented opportunity to work with distributed systems, cloud-native technology and data at scale. We also challenge every member of our team to think beyond traditional roles and organizational silos, offering people the opportunity to join new teams within the organization. Our mission — to stop breaches and make the digital world safer — means that our people get to work with the best technology in a meaningful way.
3: A distributed team keeps individual disruption to a minimum.
In our business, 24/7 availability is necessary for serving our clients. Breaches can happen at any time across the globe, including on weekends and holidays. That's why having a distributed workforce spread across multiple locations, time zones and cultures is so important. This not only helps ensure that members are available at any given point, it can also minimize disruption from localized issues such as natural disasters, political events or health emergencies like COVID-19.
4: Our people work when they are most productive.
We don't follow a set 9-to-5 schedule — unless you want to, of course. But that's really a matter of preference.
At CrowdStrike, we like to say that people "own their output," and our workforce chooses how and when to complete their work. We find that instilling this sense of self-agency encourages everyone at CrowdStrike to focus on solving problems and adding value, as opposed to logging hours.  
5: Everything is digital — and documented.
One of the most crucial enablers of a remote-first culture is communication. Building a distributed team starts with the assumption that multiple members will be involved in each task. For that reason, all activity should be documented and all information disseminated. We use a variety of tools to document and track all work in progress to ensure status updates can be done async while keeping everyone in sync.
But beyond our actual technologies and tools, we have also digitized our systems. For example, we record team meetings and host digital forums so that people can still participate even if they aren't able to attend in real time. That means you're never out of the loop, even with your colleagues on another continent.
All of these remote work perks come in addition to being able to work for CrowdStrike, which has the reputation of being one of the most exciting and advanced technology companies in the world. The nature of our business is constantly changing, so our people are constantly learning. CrowdStrikers don't just build cutting-edge solutions — they are the solution.
Additional Resources

Related Content