As cybersecurity evolves, so do the methods and range of attacks. SecOps teams are being continuously challenged to defend an organization's assets against internal and external threats. While SIEM software provides a holistic view of the enterprise's security posture and actionable insights into incidents and anomalies, log management tools are primarily designed to collect any kind of machine-readable data, and provide optimized storage and search capabilities for it.
Log management tools and Security Information and Event Management (SIEMs) tools are more complementary than competitive. Yes, they broadly overlap in that they both process event data, however, they are designed and utilized to meet different use cases. And there are those who want the flexibility to design their own SIEM using a modern log management tool.
To provide a more complete understanding of SIEMs and log management tools let's divide their features into three categories: features primarily found in SIEMs; features primarily found in log management; and the advantages of using the two together.
SIEM vs Log Management Definitions
What is a SIEM?
Security information and event management (SIEM) is a tool that collects machine data from your IT systems, then analyzes and correlates it to detect any security threats.
What is SIEM Logging?
SIEM software collects logs from multiple sources and forwards them to a central logging system. Most SIEM software has built-in integrations to retrieve logs from a wide range of systems. There may also be a repository of community-built apps or integrations for some lesser-known systems.
Common types of SIEM integrations include:
Agents: The SIEM software's log collector agents are installed on target servers and run as separate services. These agents read the server's configured log files to access and send the contents of those logs to the SIEM solution.
API Connections: Sometimes, SIEM solutions can access services via their API endpoints and using API keys. These can be typically third-party, cloud applications.
HTTP Event Collectors: These are located on the SIEM side. The data sent from target systems can be in any format and can use specific protocols. For example, some logs can be directly streamed using the Syslog protocol. Other systems may send data over HTTP/HTTPS. The HTTP Event Collectors can accept such traffic and extract the log data.
Webhooks: In this case, the target system uses the SIEM software's webhooks to send log data.
Custom-written Scripts: Engineers may run scheduled, customized scripts that collect data from source systems, and then format the log data and send it to the SIEM software.
What is a Log Management System?
A Log Management System (LMS) is a software solution that gathers, sorts and stores log data and event logs from a variety of sources in one centralized location. Log management software systems allow IT teams, DevOps and SecOps professionals to establish a single point from which to access all relevant network and application data. Typically, this log file is fully indexed and searchable, which means the IT team can easily access the data they need to make decisions about network health, resource allocation or security.
Log management tools are used to help the organization manage the high volume of log data generated across the enterprise. These tools help determine:
What data and information needs to be logged
The format in which it should be logged
The time period for which the log data should be saved
How data should be disposed or destroyed when it is no longer needed
Features and Capabilities
Primary Features of a SIEM:
Data analysis correlation
Indexing data
Selective data sources
Advanced Automation tools
Compliance Reports
SIEMs are designed to filter millions of events into a few alerts using data analysis and event correlation. They are typically rich in security features which can include reporting and investigation of security incidents, alerts based on a certain rule set to indicate a security incident, and report-generating tools that can assist in compliance. With this complexity, SIEMs can become expensive to maintain and operate. They can make compromises in speed and comprehensiveness of data because they are attempting to be exhaustive in their scope of features. Through their pricing models, SIEMs may place pressure on not including all possible data sources.
Primary Features of a Log Management Solution:
Reduced indexing
Inclusive of all data sources
Highly-performant architecture
Long-term data retention
Modern log management tools emphasize bringing in data from a wide variety of sources as quickly as possible, and providing users with a comprehensive way to search their data as soon as it comes in. They are built to collect and store millions of events per second, and compress and store them efficiently. The core strengths of log management address many of the concerns with SIEMs. They provide a full picture of all data from a system at a lower cost with less maintenance, and they're able to store it longer than a SIEM.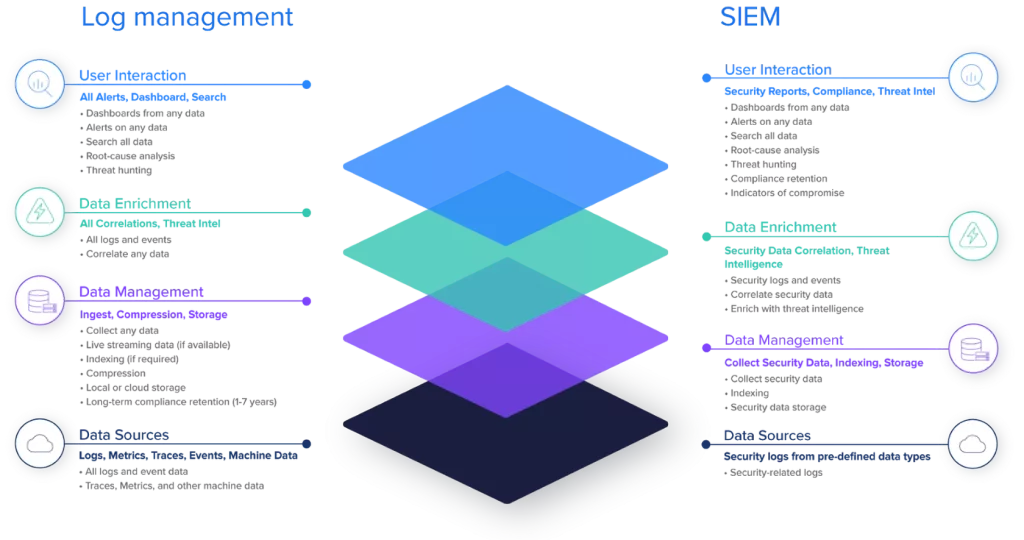 Benefits of using log management and SIEMs together:
Make extensive use of log data
Can be used for threat hunting
Can help meet compliance requirements
Provide alerts and automation
1.  Extensive use of log data:
Both tools make extensive use of log data. SIEMs focus on curating, analyzing, and filtering that data before it gets to the end-user. Log management focuses on providing access to all data, and a means of easily filtering it and curating it through an easy-to-learn search language.
2. Threat Hunting use cases:
Both SIEMs and log management can be used for threat hunting. SIEMs typically take longer to alert users to threats, and may miss some threats because they don't have a complete data set. Log management can alert users to threats quicker, and can support a more hands-on and comprehensive approach to threat hunting.
3. Audits and reporting:
SIEMs meet compliance by providing audit reports. Log management helps compliance by providing low-cost storage of data for long periods of time.
4. Alerts and automation:
Log management and SIEMs both provide alerts and automation. Powered by real-time search results, log management takes less time than SIEMs to share alerts and trigger responses. SIEMs provide a more complex way of managing your automation response by allowing you to build playbooks of automated responses supplied by the SIEM vendor.
Log Everything, Answer Anything – For Free
Falcon LogScale Community Edition (previously Humio) offers a free modern log management platform for the cloud. Leverage streaming data ingestion to achieve instant visibility across distributed systems and prevent and resolve incidents.
Falcon LogScale Community Edition, available instantly at no cost, includes the following:
Ingest up to 16GB per day
7-day retention
No credit card required
Ongoing access with no trial period
Index-free logging, real-time alerts and live dashboards
Access our marketplace and packages, including guides to build new packages
Learn and collaborate with an active community