CrowdStrike Falcon Surface: External Attack Surface Management
The industry's most complete adversary-driven external attack surface management (EASM) technology that stops breaches by minimizing risk from exposed assets
Why Falcon Surface
Shut down security gaps with an outside-in view of the enterprise attack surface
Continuously discover and map all internet-facing assets to shut down potential exposure with guided mitigation plans to reduce the attack surface.
Prioritize attack surface risks with the world's deepest adversary intelligence and AI-powered insights
Pinpoint the most critical exposures with prioritized insights based on CrowdStrike's industry-leading threat intelligence and AI-powered attack surface analytics.
Reduce risk with the industry's most comprehensive SecOps suite
Extend visibility and protection from the outside-in to the inside-out with the holistic CrowdStrike Falcon® platform, which includes real time vulnerability management, and robust IT hygiene, enabling security teams to respond to threats faster.
Continuous exposure monitoring
Falcon Surface continuously maps the entire internet to discover and eliminate known and unknown exposures, shadow IT risks and supply chain threats across any environment.
Get an adversary's perspective on your attack surface with a unified, always up-to-date map of exposed assets.
Maintain an automated, real-time asset inventory, including known and unknown assets, dramatically reducing response time.
Discover and attribute all external assets owned by your enterprise to cut false positives and guide precise action, unlike traditional EASM approaches based on open-source tools.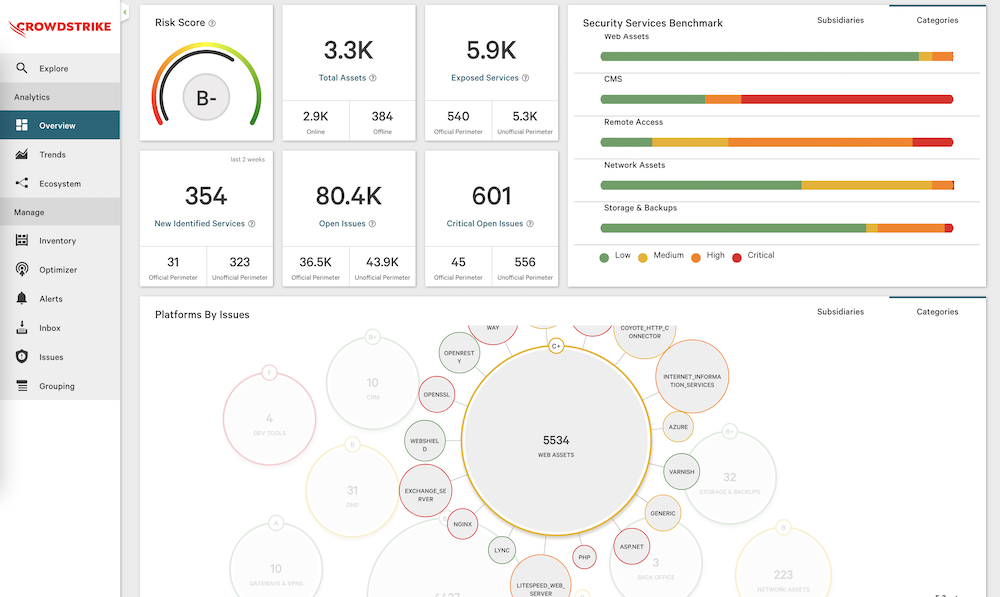 Context-based risk prioritization
Prioritize attack surface risks based on CrowdStrike's industry-leading threat intelligence and AI-powered attack surface insights. Find the most critical exposures based on risk and business context to determine what needs to be addressed first.
Prioritize exposure risks based on the enterprise's industry, attack history, geolocation, asset type, CVE score, custom rules and more to quickly eliminate the risks that have the biggest impact on your security posture.
Automatically maintain an always-up-to-date asset inventory that includes newly added, changed and removed assets, as well as full historical context, to continuously reduce organizational risk.
Streamline alerting and action with built-in integrations that enable teams to activate playbooks, push data into workflows and quickly resolve issues using Slack, ServiceNow, Jira and other systems.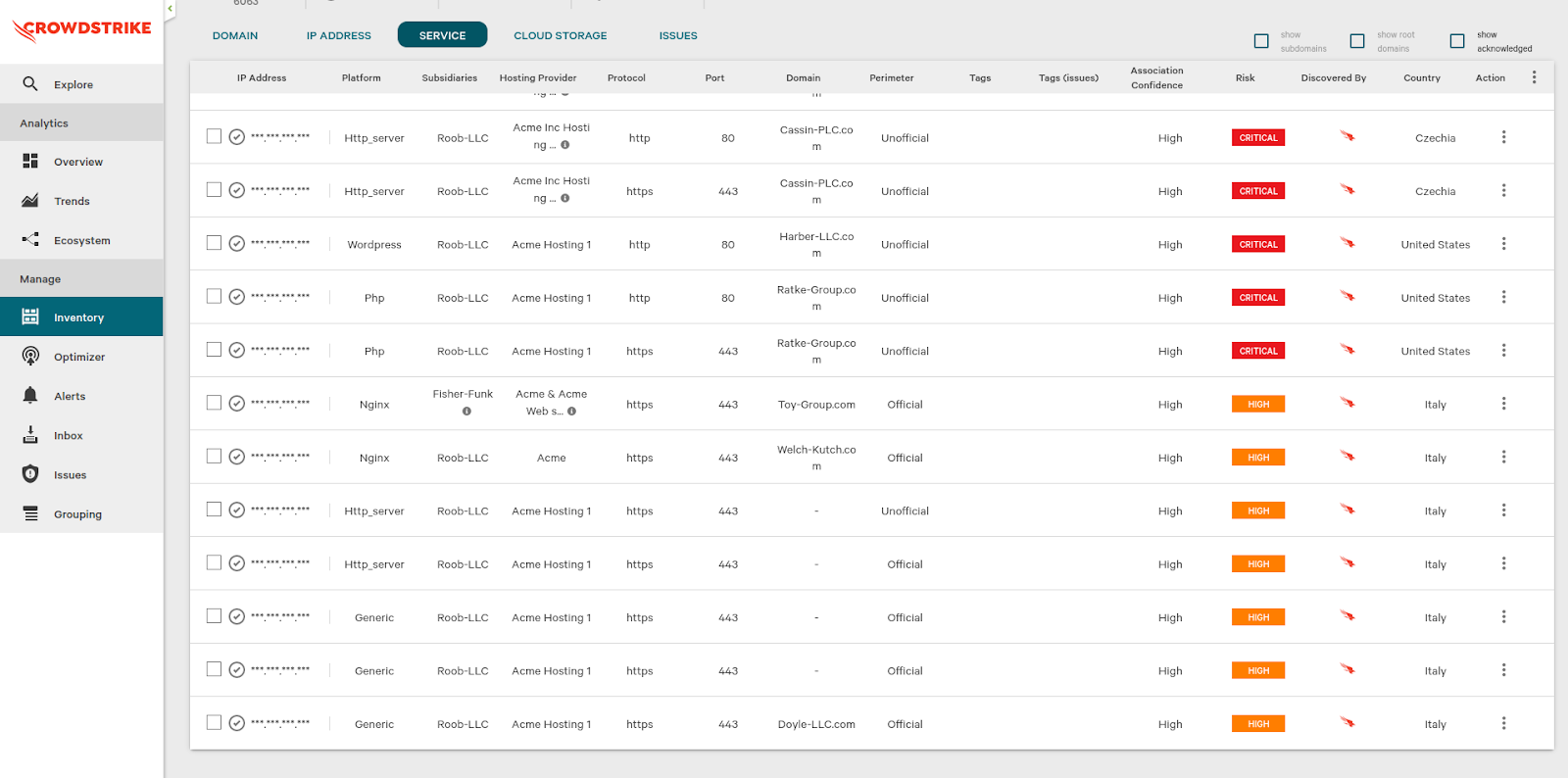 Guided remediation to reduce risk
Falcon Surface automatically creates easy-to-implement, actionable mitigation playbooks that empower IT and security teams to minimize the external attack surface and shut down external exposure.
Accelerate response with automated mitigation playbooks that guide customers through version updates, installations, global security standard recommendations, and best practices for hardening services and infrastructure.
Track remediation progress and understand where things stand by continuously monitoring assets to validate their posture and status.
Align security and IT teams, increase efficiency and boost collaboration with quick-to-implement remediation steps to apply for vulnerability mitigation.
Close security gaps introduced by:
Exposed sensitive services and S3 objects
RCE vulnerabilities
Vulnerable and outdated software
Access control issues
Cryptographic issues and configuration issues
Phishing risks
Potential DDoS
Misconfigured servers/services
CDN bypass, and many more