Public Sector cybersecurity
CrowdStrike sets the standard in endpoint protection for the public sector by using machine learning, behavioral analytics and proactive threat hunting to stop all attack types, while ensuring you meet the most stringent compliance requirements.
Protecting the Public Sector across government, education, and healthcare

Industry-specific solutions
Whole-of-state cybersecurity with CrowdStrike
Today's adversaries are getting faster and more complex. But adopting a whole-of-state approach can solve resource constraints while enabling an agile, more collaborative cyber defense. Learn how CrowdStrike provides complete security for state and local government and education.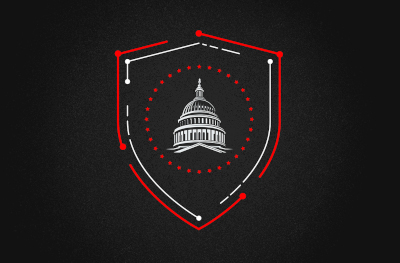 Stop breaches
Provides enhanced next-generation antivirus (NGAV) capabilities that include zero-day exploit mitigation techniques and ransomware prevention.
Endpoint detection and response (EDR) capabilities give you real-time situational awareness and the ability to hunt adversaries and remediate with confidence.
Managed proactive threat hunting by the CrowdStrike Falcon® OverWatch® team augments and empowers your security operations center (SOC) — freeing your internal resources to focus on remediation, mitigation and security posture enhancements.
The massively-scalable CrowdStrike Threat Graph® database offers a broader view of each threat, providing context from over a trillion cyber events gathered from millions of sensors globally.
Managed Detection and Response (MDR). CrowdStrike Falcon® Complete augments your team with CrowdStrike's elite cyber security experts. They work 24/7 with laser focus on one mission: stop breaches.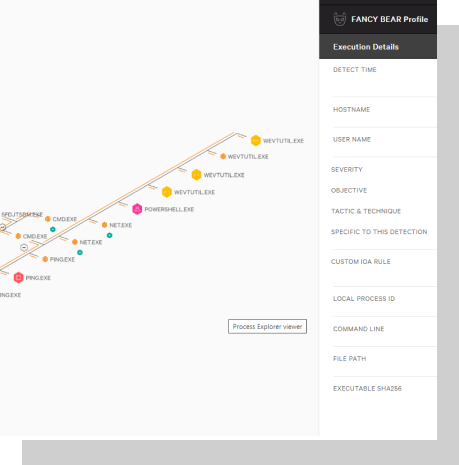 Simplify Endpoint Security
100% cloud-native architecture. Optimized for simple and rapid deployment at scale, including for federated organizational structures. No on-prem equipment required.
Single-agent platform. A modular solution that empowers endpoint consolidation strategies, enabling customers to replace five or more legacy or single-purpose solutions.
Platform agnostic. Radically simplifies endpoint management — securing laptops, desktops, servers, cloud workloads and mobile devices in one console.
Simple and efficient. The CrowdStrike Falcon® platform's remote response and one-click network containment capabilities enable operators to swiftly prevent incidents from becoming a breach.
Integrated threat intelligence. Rapid identification and understanding of known threat actors targeting your environment — within a single console.
Eliminate the burden. Falcon Complete's experts handle all aspects of management, monitoring and responding to threats, freeing your team to focus on your strategic priorities.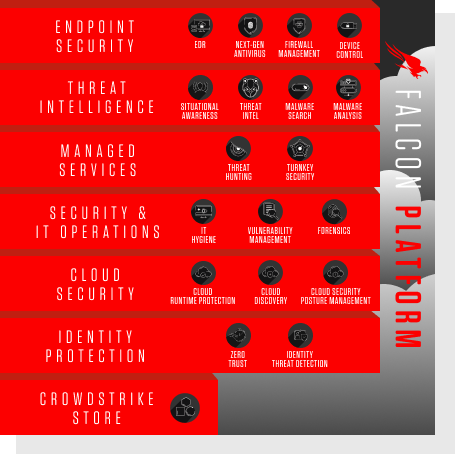 Supporting compliance requirements
CrowdStrike recognizes that compliance and certification frameworks are critical to the public sector. CrowdStrike can help support your compliance programs and provide your organization with peace of mind.
Industry recognition
CrowdStrike has demonstrated a strong commitment to continuous industry collaboration, scrutiny and testing. Time and time again, CrowdStrike has been independently certified to replace legacy solutions.
FedRAMP: 59 Authorizations Including Dependent Products
CrowdStrike has been recognized as "FedRAMP Authorized" at the Moderate Impact level on the FedRAMP Marketplace.
DISA: P-ATO at Impact Level 4
CrowdStrike has been recognized with a Provisional Authorization to Operate at Impact Level 4.
CrowdStrike Named a Leader in EDR
Download this complimentary report to learn the analysis behind CrowdStrike's position as a Leader in EDR and what CrowdStrike believes it could mean for your organization's cybersecurity posture.
What our customers say
"Threat hunters are proactive. They have expertise behind them that can help them look in the right place. So it's kind of cheating on an Easter egg hunt, because if you have somebody telling you where to look, you'll probably find the eggs. And that's what CrowdStrike is helping us do. We're not just hunting. We're hunting intelligently."
David Maddox, CISO, Saint Luke's Health System
"Words cannot express how grateful I am that we have CrowdStrike Falcon® deployed to our systems and that Falcon OverWatch has our back. As we face unprecedented attacks targeting our Agency, one thing remains consistent, we are able to defend our public health mission because of CrowdStrike."
Deputy Chief Information Security Officer, Federal Civilian Agency
"The CrowdStrike Falcon® platform provides amazing value. The agents are truly lightweight and cover multiple OS across differing architectures, enabling us to choose a single solution rather than multiple point products. It is important that our IT infrastructure deliver reliable service 24/7/365. This enables the business and offers peace of mind. "
Chief Information Security Officer, State Board of Elections
"The value is in saving time as the platform delivers actionable intelligence and the dashboards are easy to use. Our security staff can dial-in threats quickly and take the appropriate action. The intuitive dashboards help us demonstrate ROI to business stakeholders, traditionally a challenge for CISOs. Keep up the great work!"
Chief Information Security Officer, State Board of Elections
"The Falcon team is so skilled at threat hunting that we now know about incidents and events that would have been invisible to us before we had CrowdStrike. The difference is significant and above our expectations. CrowdStrike gives us a lot of value."
Chief Information Security Officer, Children's Hospital in Texas
Stay in the know
Subscribe to CrowdStrike's Public Sector newsletter for up to date information on government, state and local, and education.
You'll receive exclusive information such as Adversary Alerts on the current threats to government and education, invite only events and roundtables, and highlights from where you can find us in your community.