CrowdStrike Positioned as a Leader in Inaugural IDC MarketScape: Worldwide Modern Endpoint Security for Enterprise 2021 Vendor Assessment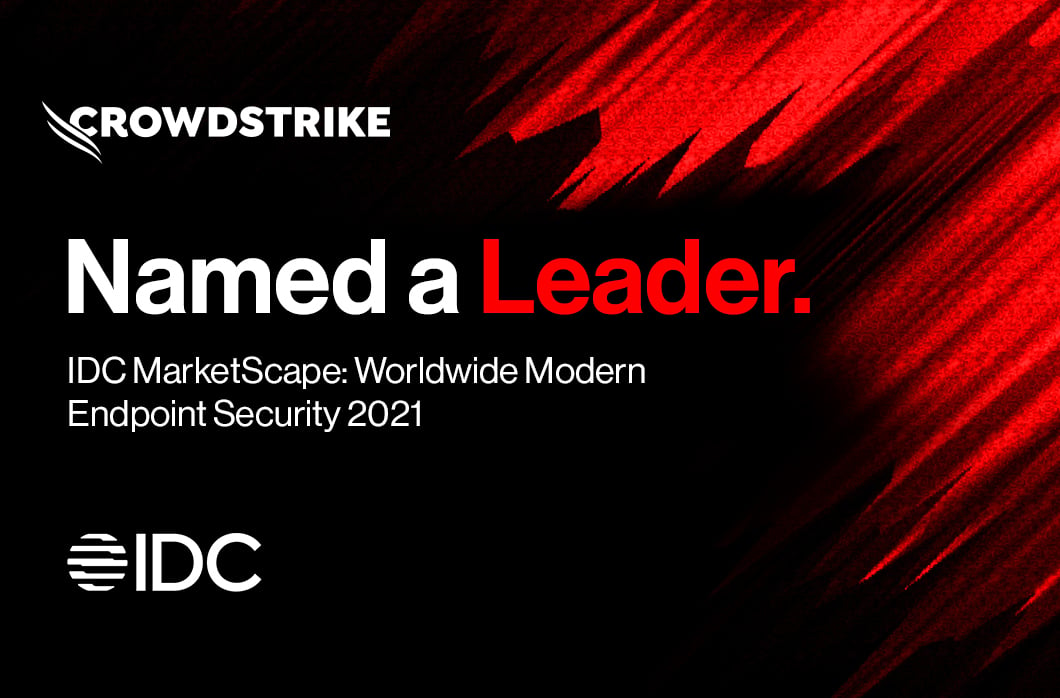 "CrowdStrike's cloud platform, Falcon, and lightweight agent have rated well with enterprises that are under attack and must deploy rapidly across a large and diverse endpoint footprint."1
According to the IDC MarketScape, the need for modernizing endpoint security is more dire than ever, and IDC is seeing a strong market demand for a modern endpoint security solution across all geographies. IDC launched its inaugural IDC MarketScape: Worldwide Modern Endpoint Security for Enterprise 2021 Vendor Assessment (doc#US48306021, November 2021) to graphically show its evaluation about the market.
In June 2021, IDC ranked CrowdStrike as the #1 market share leader for 2020 in modern endpoint security2 worldwide, and we are thrilled to now be recognized as a leader in the IDC MarketScape: WW Modern Endpoint Security for Enterprise assessment.
IDC defines modern endpoint security as a combination of endpoint protection platform (EPP), endpoint detection and response (EDR) and mobile threat management (MTM).
Read the report to see why the IDC MarketScape named CrowdStrike a leader — but here's our view on the key takeaways.
Cloud-native Architecture: The IDC MarketScape highlights CrowdStrike's lightweight cloud-native architecture as a key leadership quality. The CrowdStrike Falcon® platform was purpose-built in the cloud, for the cloud. Cloud is the only architecture that can handle the volume of cross-technology telemetry and scale required for the comprehensive visibility needed to secure the enterprise — without impacting business operations and user performance. 
Flexibility to Address Threats Today and Tomorrow: The IDC MarketScape highlights CrowdStrike's platform extensibility — we believe that security solutions need to be adaptive to the digital transformation of customer environments, as well as the shifting adversarial tactics used to target those environments. Cobbling together different point solutions leads to agent bloat and severe performance degradation that is highly undesirable.
World-class Technology and Human Expertise: The IDC MarketScape cites CrowdStrike's flexible options for managed detection and response (MDR), threat hunting, and incident response and proactive services as a key differentiator. As adversaries advance their tradecraft to bypass legacy security solutions, the combination of world-class technology combined with expert threat hunters is absolutely mandatory to see and stop the most sophisticated threats. Autonomous machine learning alone is simply not good enough to stop dedicated attackers. 
Industry-leading Partnerships: CrowdStrike is committed to building industry-leading technology ecosystems to maximize the value of customer security investments. The CrowdStrike Store, the first unified security cloud ecosystem of trusted applications, and the recently launched CrowdXDR Alliance, a first-of-its-kind ecosystem built to enable unified, threat-centric detection and response across an organization's entire security and technology infrastructure, are two examples of CrowdStrike continuing to lead the industry through partnerships.      
This report further validates CrowdStrike's approach to this market by the analyst community. Please visit CrowdStrike Industry Recognition and Technology Validation for additional analyst acknowledgement.
Sources
IDC MarketScape: Worldwide Modern Endpoint Security for Enterprise 2021 Vendor Assessment

Worldwide Corporate Endpoint Security Market Shares, 2020: Pandemic and Expanding Functionality Propelled Market Growth

,

IDC, June 2021,

Doc # US47768021
Additional Resources
Related Content