CrowdStrike Becomes a Publicly Traded Company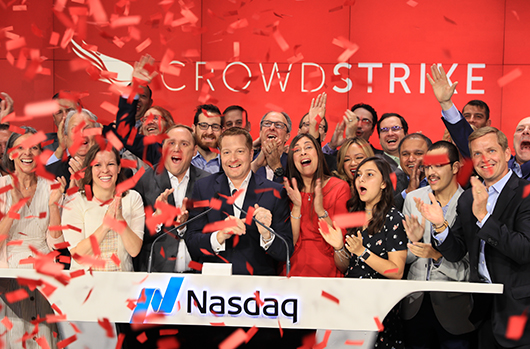 I'm proud to announce that as of today, CrowdStrike® is a publicly traded company on The Nasdaq Global Select Market under the symbol "CRWD." This marks a new chapter in our company's journey and signifies how we have distinguished ourselves as a market leader in endpoint protection. I would like to thank our customers, investors, employees and partners from around the world who helped us reach this important milestone.
Today's achievement validates the critical wager we put on bringing to market game-changing technologies to help organizations defend themselves from cyberattacks in a modern and efficient way. Our success is a direct result of the trust our customers put in our company every single day, and I couldn't be more fired up about continuing to fight cyberattacks and defending our customers with our industry-leading technologies and solutions.
It All Began in 2011
Eight years ago, my co-founder Dmitri Alperovitch and I saw the inefficiencies and shortcomings of the legacy security technologies that dominated the market. With decades of cybersecurity industry experience between us, we knew there had to be a better way to combat cyber adversaries.
One fateful night, seated at a local Silicon Valley hotel lounge, Dmitri and I sketched on a napkin the pillars that would eventually form CrowdStrike's approach to disrupting the stagnant state of endpoint security. In 2011, we started CrowdStrike to provide organizations with a modern security solution that first and foremost was effective at stopping breaches, and was also built as a cloud-native platform for speed, scale and agility.
Betting big on the cloud – widely considered risky at the time – allowed us to ensure a rapid and seamless delivery of innovation and new features, to always stay a step ahead of emerging threats. What guided our founding philosophy was the desire to help organizations decisively stop breaches and avoid the potentially devastating effects of cyberattacks.
The CrowdStrike Edge
Based on the original vision of the company, we recognized that the future of security is all about data that makes your solution more intelligent, faster, and more adaptable. To harness the power of security data, we created a single-agent solution that collects the data once and reuses it many times. What matters in stopping breaches is the quality and the type of data that we capture and analyze. Smart filtering is critical for capturing the right data in an efficient fashion, and then using it to fuel our cloud-scale AI, creating a virtuous cycle that makes our technology smarter every day.
Today, through the power of the security cloud, we are able to offer a category-defining endpoint protection platform that addresses the key security needs of modern-day organizations: preventing, detecting, and responding to cyberattacks and doing so in a manner that enhances the effectiveness of security teams.
Our technology is deployed globally and our customers include 44 of the Fortune 100, 37 of the top 100 global companies, and nine of the top 20 major banks. We process security events at massive scale and every week we correlate and analyze over 1 trillion events across our global customer base. The Falcon platform has truly modernized how cybersecurity is delivered and operationalized to support the needs of the contemporary, distributed enterprise.
We are Only Getting Started
As we reflect on our journey to today's milestone, I believe that the same attributes that gave us an edge as a private company will continue to distinguish us as a public one. Our commitment to protect our customers remains first and foremost. Thank you for your support and trust in CrowdStrike.
Additional Resources