Accelerate Your Security Transformation with Google Workspace and CrowdStrike
Extended partnership provides access to offerings that combine Google Workspace with the industry-leading protection of the CrowdStrike Falcon® platform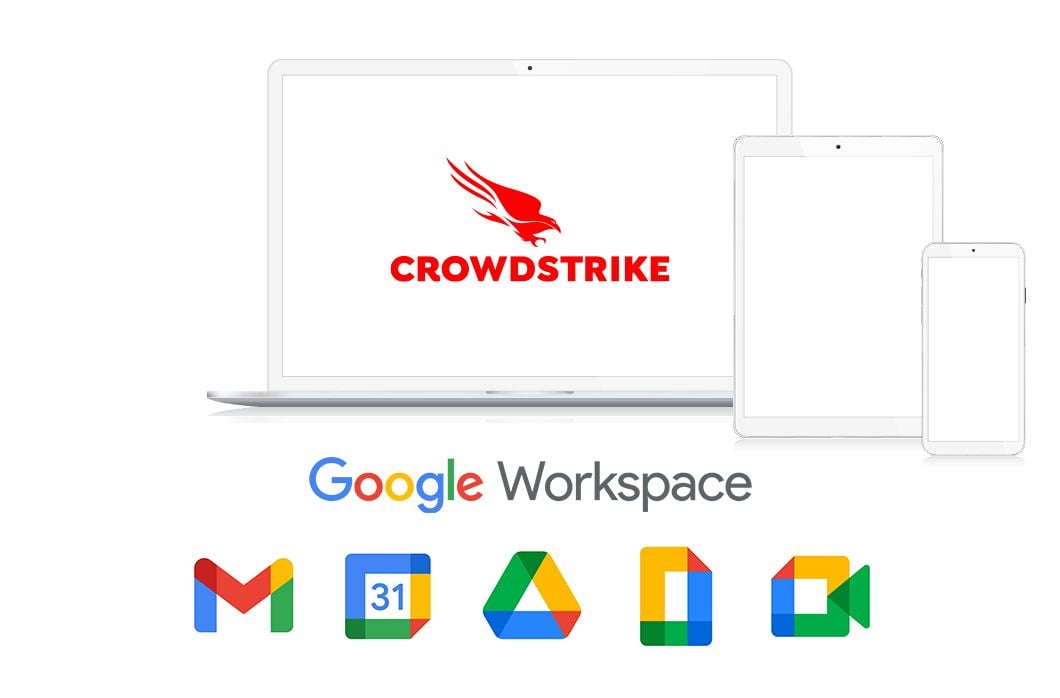 Each day, enterprise and public sector IT teams face new challenges when managing hybrid work for networks of hundreds, or even thousands, of users. A more distributed workforce means an increased reliance on collaboration and productivity tools. It also requires a strong strategy to protect these systems against vulnerabilities and modern cyberattacks.  
CrowdStrike has extended its partnership with Google Cloud in a security initiative that provides best-in-class endpoint and workload protection capabilities to the Google Workspace environment. Google Workspace helps hybrid teams of any size connect, create and collaborate, from anywhere, and on any device. By adding industry-leading threat prevention capabilities, users can continue to collaborate safely and securely.
Get fast and easy protection against all cybersecurity threats. Try it for free!
Google Workspace has security built in to its cloud-native, Zero Trust architecture. Through its ecosystem of cybersecurity partners, Google Workspace is extending its capabilities with industry-leading security companies like CrowdStrike, allowing customers to adopt comprehensive, secure collaboration solutions to meet their specific security needs as part of a single Google Workspace offering.
Securing the Hybrid Workforce with CrowdStrike and Google Workspace
According to the CrowdStrike 2023 Global Threat Report, 80% of breaches are caused by credential theft. With hybrid workforces on the rise, more employees are logging into corporate resources remotely and using public networks or their own devices to connect to critical business applications, resulting in security risks. 
In addition, the continued use of legacy technologies and reliance on an array of single-vendor point security tools has led to an increased attack surface for critical infrastructure. At the same time, organizations often lack skilled in-house resources that are equipped to detect modern threats and vulnerabilities.
The Google Cloud and CrowdStrike partnership provides access to a range of offerings that combine Google Workspace with CrowdStrike Falcon's industry-leading protection. This combination can help any organization that needs to provide a secure collaboration environment, including those that rely on a mix of legacy technologies and limited in-house expertise to fully address these hybrid work challenges. 
CrowdStrike Falcon® Elite helps customers take their breach protection to the next level as the industry's only unified security offering that combines next-gen AV (NGAV) and endpoint detection and response (EDR) with real-time identity protection, elite threat hunting and IT hygiene. Falcon Elite enables frictionless identity security with real-time threat prevention and IT policy enforcement using identity, behavioral and risk analytics. This is delivered by the  CrowdStrike Falcon platform, which regularly processes more than 1 trillion security events per day and is powered by AI-based machine learning and behavioral analytics designed to stop breaches.
Customers can also take advantage of CrowdStrike Falcon® Complete, managed detection and response as well as managed XDR, which delivers 24/7 expert management, threat hunting, monitoring and end-to-end remediation, across all key attack surfaces. This offering relieves customers of the burden, overhead and costs of deploying and managing their own security stack.
A Safer Future with CrowdStrike and Google Workspace
CrowdStrike brings cloud-scale AI-powered technology for real-time protection and visibility across organizations in combination with Google Workspace's architecture, eliminating an array of cyberthreats across multiple attack surfaces. This partnership combines industry-leading security tools of choice for superior protection while also making modern security accessible to communities around the globe in the productivity and collaboration environments already in use. 
Find out more about CrowdStrike's Google Cloud product offerings and integrations.
Additional Resources

Related Content