FALCON
COMPLETE
The highest level of endpoint security maturity delivered immediately, without the burden of building and managing it yourself.
Cybersecurity Maturity Assessment
Falcon Complete

Endpoint protection delivered as-a-service and backed with a Breach Prevention Warranty up to $1M.

Fully managed endpoint protection

delivered as a service by a CrowdStrike team of experts.
REAP THE BENEFITS OF CROWDSTRIKE'S
FALCON COMPLETE
Sets the new standard in endpoint security with the first comprehensive cloud-native platform that delivers the essential elements of next-gen endpoint protection to immediately provide better protection, better performance and better value.
GUARANTEED TO PREVENT BREACHES
CrowdStrike stands behind Falcon Complete. The solution comes with a guarantee that CrowdStrike will provide up to $1 million of coverage to address breaches that occur within the protected environment.
Falcon Complete saves time and resources, and reduces cost by bringing customers to the highest level of endpoint security by combining CrowdStrike's best protection technologies with the people, expertise and processes necessary to provide a total hands-off approach to endpoint protection.
Reduces the time required to remediate endpoints by providing the skills and expertise required to take proper action. The Falcon Complete team does the remediation for you, eliminating the arduous task of reimaging the endpoints and reducing the risk of a breach.
Achieves Instant
Security Maturity

Maximizes Security
Productivity

Reduces Time
to Remediate

Mitigates and
Transfers Risks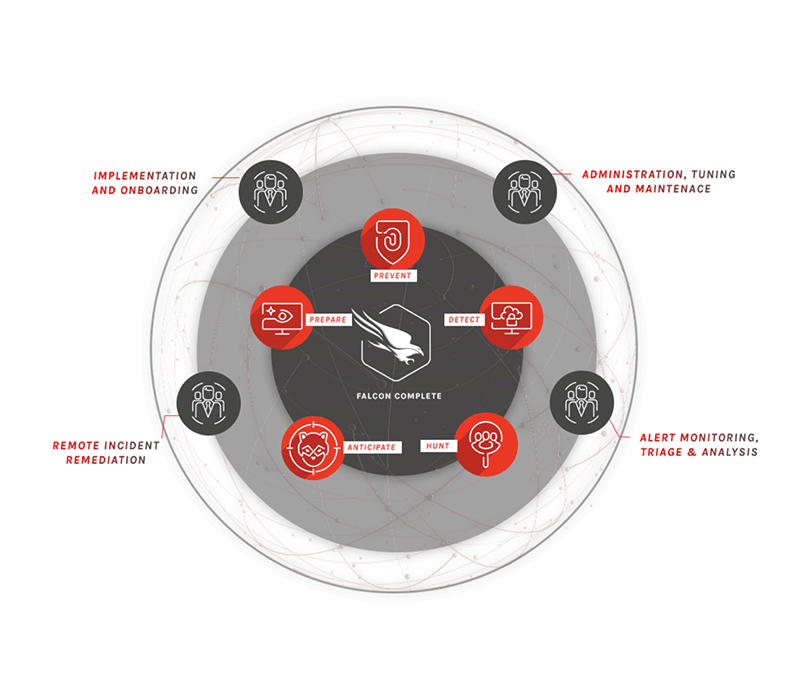 A POWERFUL COMBINATION OF PEOPLE, PROCESSES AND TECHNOLOGY
LET THE CROWDSTRIKE EXPERTS


Help you with implementation and on boarding




Proactively hunt for threats on your behalf




Alert you on critical incidents




Prioritize the most urgent alerts




Guide you through the response process




Respond on your behalf




Remediate incidents for you
INTERESTED?
A CrowdStrike security expert is standing by to offer information, advice, or help with your purchase.
Request Info